5 Impactful Ways to Maximize Your Small Logistics Team
08/19/2022 — Jen Deming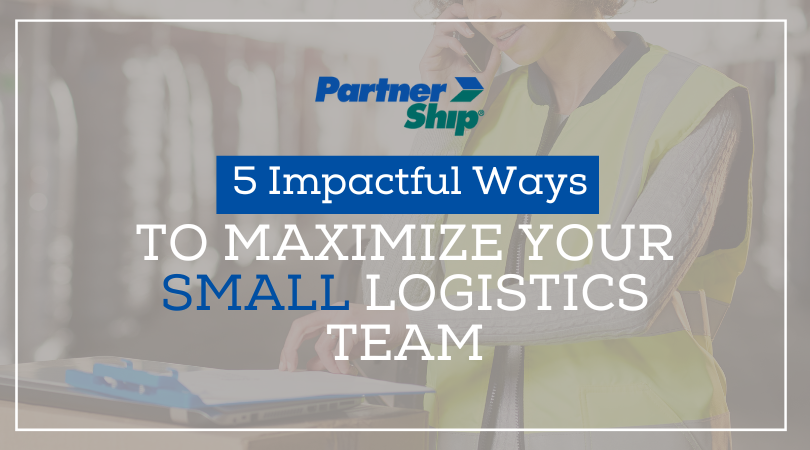 These days, businesses are expected to do more with less, and that doesn't stop at freight shipping. Small logistics teams need to be efficient multitaskers, and the demand to juggle so many responsibilities can be overwhelming. As a business owner, you can help set your logistics team up for success with a little extra planning and five tactics to maximize a small workforce.
Tip #1: Stay on top of industry updates and make resources available
Staying in the loop with freight industry news is great advice for any-sized shipping team, but it's extra important for those operating with limited manpower. Be on the lookout and be proactive about communicating updates that are released by carriers, such as tariff changes, rate increases, service interruptions, and deadlines. Commit to publishing a regular newsletter or bulletin that communicates these changes. Post them in your warehouse and breakroom along with notices of any upcoming holiday service disruptions.
Be sure to implement regular training sessions with staff. It's also best practice to keep a running list of solid freight shipping resources that your team can refer back to, as needed.
With a small logistics team you'll need to ensure your everyone has at least a base level of knowledge for each shipping function.
Tip #2: Prioritize your relationship with the carrier
While larger businesses may be able to operate on a more transactional level with carriers, developing relationships with transportation companies and their drivers is super important for smaller teams. By strengthening these connections, a business is more likely to become a shipper of choice, which is key when your logistics staff may run into unforeseen challenges. The current state of the freight industry can present obstacles. Limited truck availability means a carrier can either choose to move or pass up your freight, and in this volatile market any leg up on the competition can help.
Offer amenities for drivers like Wi-Fi, plenty of overnight parking, and free coffee. Be friendly and flexible with arrival times and communicate any delays or hang-ups. Paying it forward and becoming a preferred customer with the carrier can go a long way. A happy driver is more likely to help bail your team out in times of trouble or go the extra mile to help out.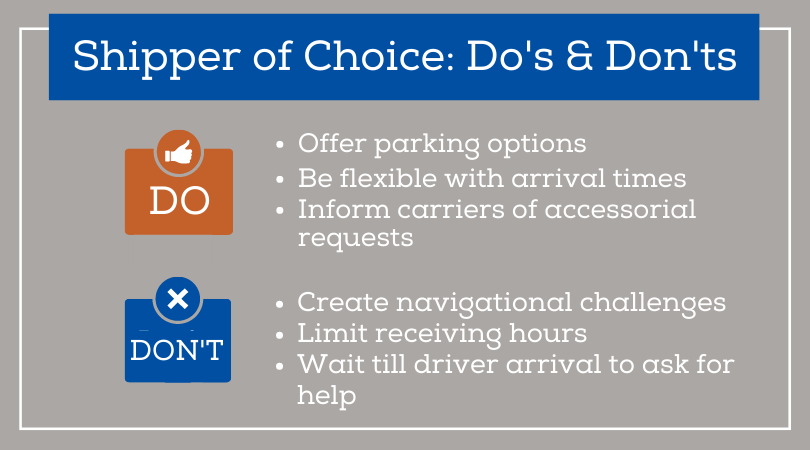 Tip #3: Be extra mindful of minimum charges for LTL shipments
Smaller businesses generally ship smaller LTL loads, so it's extra important that your team understands minimum charges to avoid sabotaging your freight costs. Minimum charges are the lowest prices that a carrier will set for its' service and are implemented to offset operating costs. Each carrier may refer to the charge differently, but they are commonly known as an "Absolute Minimum Charge" or "Minimum Floor Charge". Usually, the charge is applied for loads that are under 500 lbs.
In order to get the most bang for your buck, there are a few strategies that your packing team can implement. Maximize the amount of available pallet space by improving stacking technique and planning the layers of your load. Pack like-sized products together to improve density and overall volume.
Keep in mind that you can optimize your freight by consolidating loads. There may also be additional opportunities to group multiple small package orders into one, larger freight shipment. Review your smaller parcel shipments and determine if there are openings to use a freight service for cost savings and better efficiency.
Tip #4: Spend your money on quality loading equipment
It's probably a pretty safe bet that if you're working with a small logistics team, you're likely working with limited resources. That may include restricted dock space – or a complete lack of a dock. If that's the case, it's critical that your team and warehouse/loading areas are well-stocked with fully functioning, safe loading equipment.
Investing in equipment like forklifts, pallet jacks, dollies, hand trucks, and hoists are all necessary to help with the loading process. More importantly, these tools can help avoid costly accessorial fees associated with extra services like liftgates and driver assist fees. While these loading supplies may have a high initial cost, this one-time expense can spare you hundreds of dollars in fees and help avoid overtaxing your team.
Tip #5: Work with a freight broker to access more savings and the right answers
You don't have to tell us twice – freight shipping is super complicated and can be a lot to manage. It's impossible to know everything when you have limited time, workforce, and resources. We know your small logistics team can pull out the stops, but partnering with a freight broker can offer invaluable help. Freight experts can help fill in any gaps when specialists are required, and offer competitive pricing options you may not typically have access to.
Knowledgeable freight brokers can also help identify areas you may be spending more than you need to or are experiencing operational inefficiencies. The freight professionals at PartnerShip can supplement your existing workforce and help shoulder some of the weight so you're not overtaxing your team.