Pallet Packing Mistakes to Avoid
06/10/2021 — Leah Palnik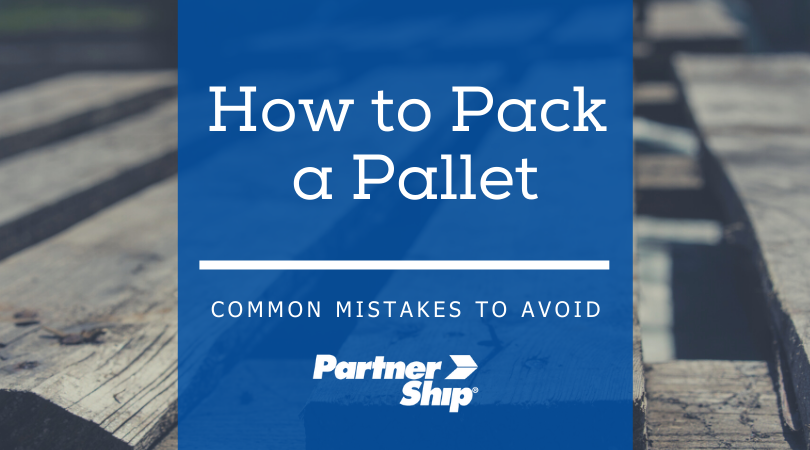 Pallet packing isn't something you can take lightly. One wrong move and the whole shipment could lose strength and stability – risking damage to your freight. Rather than conducting your own experiments, check out these common pallet packing mistakes so you know what to avoid.
Mistake #1: Choosing the wrong pallet
Pallet packing begins at the very foundation of your shipment – the pallet itself. It may be tempting to reuse old pallets for your shipments but if you're not looking out for structural integrity, you could be in trouble. Avoid using pallets with broken boards or protruding nail heads.
Using an alternative material pallet can also cause some issues. Wooden pallets are the standard, but pallets made from metal, plastic, and corrugated materials have all entered the market. However, not all pallets are created equal. These pallets are good alternatives for certain specialized needs, but issues like weight, movement, and pallet strength make them not suitable for all types of freight. Before you consider swaying from wooden pallets, make sure to do your research.
Mistake #2: Not properly packing individual boxes
Before you can stack your pallet, you need to pack your individual boxes or cartons. Even if your boxes are secure on the pallet, the contents inside the cartons can shift. Leaving excess space and not providing proper impact protection is a common mistake that many shippers make. Start by right-sizing your boxes – leave just enough room for the product and the needed impact protection. Anything more is wasted space that you will need to fill with cushioning like paper pad or packing peanuts.
Mistake #3: Stacking inadequately
You may think that the way you stack your cartons is just about making it fit on your pallet. However, neglecting to follow certain best practices that increase strength can be a fatal mistake. During pallet packing, not evenly distributing weight and not placing the heaviest boxes at the bottom is a quick way to increase your risk of damage. Using pallets that are too small and thus leaving overhang is also a common mistake that will make your freight vulnerable.
The stacking patterns you use when packing your pallet are also extremely important. One of the biggest offenders is pyramid stacking. This kind of pallet packing pattern leaves the cartons at the top at greater risk of being damaged and makes the load less secure. When possible, an aligned column pattern is best. Stacking your pallet in a way that ensures it is level and flat will put you in the best position to avoid damage.
Mistake #4: Skimping on stretch wrap
If you don't currently use a stretch wrap machine, you want to make sure your manual wrapping technique is up to par. There are a couple common mistakes to look out for. First, make sure you're wrapping around the pallet enough. You should be making at least 5 wraps around the entire shipment. Second, twisting the wrap is something that is often overlooked. You should twist the wrap every other rotation to increase the durability.
Mistake #5: Not labeling correctly
After you go through all that work of ensuring you've packed your pallet in a way that reduces its risk of damage, you don't want to run into issues just because you neglected to label your shipment properly. One label is not enough. You want to make sure the shipping label is on each side of your pallet, with the consignee information clearly visible.
Pallet packing may seem simple, but these missteps can create complicated issues. If you've discovered that you've made any of these common mistakes and want to learn more about packaging best practices, download our free white paper!