Our Technology
Our technology is your connection to smarter shipping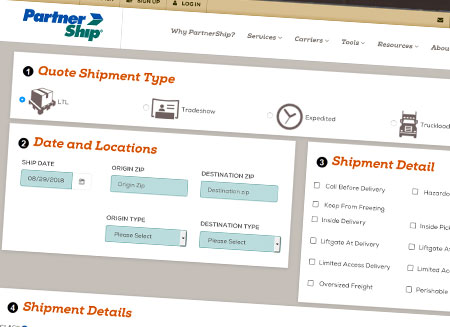 Technology is important. In logistics, technology gives shippers, consignees and carriers transparency into their supply chain, and knowing where your freight is at all times helps you stay competitive. Our shipping technology also helps keep you aware of where LTL and truckload capacity can be found, where it is short, and what freight rates shippers can expect to pay for their shipping lanes.
Freight visibility for a transparent supply chain
We are integrated with a load tracking system that enables truckload shippers to receive 24-hour, real-time GPS position updates to help improve freight visibility, increase their on-time delivery, and stay ahead of potential freight disruptions along the way.
Pricing tools to help you stay competitive
The PartnerShip freight experts are armed with several pricing tools to help provide our customers with the most competitive rates available. We use algorithms derived from multiple public and private sources and combine them into a single platform to help improve spot market quoting which also helps us analyze freight bids for all modes of transportation.
Our full-time technology team keeps you connected
PartnerShip has relationships with the best LTL and truckload freight carriers in the industry and we have to remain connected to them to connect you to the best rates. To do so, we employ a full technology team to make sure our logistics technology systems talk to each other so you can ship smarter.
Electronic data integration
PartnerShip has long used electronic data interchange (EDI) to help our customers ship smarter.
Whatever format your data is in, we can manage it, or make suggestions to improve its handling. Our goal is to exchange data seamlessly, easily, and efficiently so you can stay competitive.
We can exchange data using:
» API
» FTP
» XML
» JSON
» Flat Files
To get set up using EDI, your PartnerShip account representative will work with our IT team to provide you with fast, accurate and reliable exchange of data to help you improve your shipping operations and save you valuable time.
PartnerShip.com is available 24/7/365
Our easy-to-use website provides 24-hour access for all of your shipping needs and activities. With PartnerShip.com, you can:
» Manage your account and vendor addresses
» Get an LTL or truckload freight quote
» Track your shipments
» Create bills of lading
» Manage your inbound shipments by building vendor lists and creating customized routing letters
» Pay your invoices
» Live chat with customer service (during business hours)
PartnerShip.com is mobile-optimized so you can do everything on your phone or tablet.
Not yet a customer? Sign up for a PartnerShip account and take advantage of our easy-to-use online freight management tools and ship smarter so you can stay competitive
Transportation Management System
PartnerShip uses a state-of-the-art Transportation Management System (TMS) to manage our truckload shipping operations, which is integrated with the best load boards in the industry to help find available capacity. We relentlessly try to match our freight carriers' needs with our available customer loads because we understand that when your truck is full, you can stay competitive. When you're looking for a backhaul load or consistent shipments to fill daily and weekly runs, let us know so we can help!
Let's get started!
If you're interested in learning more about our shipping technology, Contact Us, call us at 800-599-2902 option 1, or send an email to sales@PartnerShip.com. If you're ready to ship, let us provide you with a no-obligation rate quote.
If you're a carrier looking to be part of our team, call us at 800-599-2902 option 2, send an email to carriers@PartnerShip.com or visit our Become a PartnerShip Carrier page.