Picking Your Pallet Type: How to Best to Support Your Freight
10/25/2018 — Jen Deming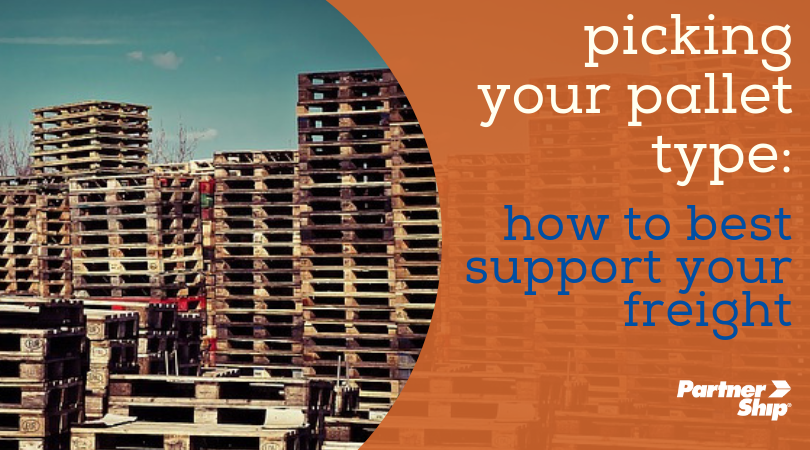 Not all pallet types are created equal. While it's always smart to properly palletize your freight shipments, construction style and material can vary more than you'd expect. Some structures are better suited for certain types of loads. Before you can understand the best way to organize and stack your freight on a pallet, it's helpful to know the advantages and disadvantages of each type, so that you can better secure your freight and protect yourself against potential damage and loss.
Pallet Structure Types: Stringer vs Block
A stringer pallet is a pallet structure that uses "stringers" (2x4 or 3x4 pieces of board) sandwiched between the top and bottom decks to help support the weight of the load. Sometimes, stringer pallets are notched along the bottom deckboard to allow for partial fork lift entry on all sides. Otherwise, typical construction can limit mobility via forklift.
A
block pallet
uses around 4-12 blocks of solid wood or plastic to support the weight of the shipment resting on the top deckboard. Because the pallet construction uses multiple pieces with open spaces at the bottom, there is better allowance for forklift entry on all four sides, allowing for easier lift and mobility.
Now that we've covered the two basic pallet structures, shippers need to understand the differences in construction components so your valuable freight doesn't get damaged. Different industries and commodities require different specifications based on the load. There are 4 primary material groups when it comes to pallet types: wood, plastic, metal, and corrugated paper. Each has its own advantages and disadvantages regarding cost, durability, availability, and sustainability.
Wood Pallets
Wooden or plywood pallets are the most recognizable and commonly used pallet type for a wide variety of industries.
Advantages: These pallets are the cheapest and also easiest to customize for a commodity's specific needs. They are typically reusable and can hold up in multiple transits. If they are damaged in transit, wooden pallets are very easy to repair. They are easy to stack, and the used wooden materials are popular to re-purpose for mulch, paper, and other project construction.
Disadvantages: Wooden pallets become fragile after carrying heavier loads and are at risk to weathering, splitting, and splintering. This pallet type can be heavy and therefore more costly to ship. Wood is difficult to clean and porous, growing both bacteria and mold, so food, beverages, and chemicals aren't ideal commodities to ship using this type of pallet.
Plastic Pallets
Notably more expensive than wood, plastic pallets are a great all-around option for those shippers willing to shell out a bit more.
Advantages: While being the most lightweight of available pallet material options, plastic is still super durable and ideal for heavy loads. The material is easy to clean (safe for transport of food products) and are generally stress, heat, and weather resistant. Plastic pallets are easily recyclable and can be quickly ground down and turned into new pallets. Since they are often made of a single piece with no screws or other hardware, they can be safer to handle than standard wooden pallets.
Disadvantages: Plastic pallets are pretty inflexible. If they break or crack, it isn't cost efficient to fix, and they have to be melted down and remolded entirely. Because of this, and the effort that goes into making them, they are at a distinctly higher price point than some other pallet types.
Metal Pallets
Strong and resilient, this premium option is one the the least common pallet types, but a very sturdy alternative for certain industries.
Advantages: Metal (often aluminum) pallets are a great option used for transporting heavy goods because they are the sturdiest and most secure alternative. They are also excellent for businesses moving foodstuffs because of sanitation and safety. They do not break down or rot easily, and are not susceptible to warping or splintering like wood. They are less easily recyclable, but can still be melted down and reused.
Disadvantages: Up-front initial costs for the purchase of metal pallets is very high. While very durable, these pallets are also extremely heavy, so keep in mind the actual transportation cost may be higher as well.
Corrugated Paper Pallets
As the newest pallet type on the block, this environmentally friendly option is becoming more popular across a variety of industries.

Advantages: Corrugated paper pallets are lightweight but still strong enough for moderate shipments and typically less expensive than more commonly found wooden pallets. They are completely recyclable and transportation costs are typically lower due to their weight. Because they are intended to be "single use" by nature, they are more sanitary than wooden and plastic pallets.
Disadvantages: Paper pallets cannot withstand extreme weather conditions, and they are more easily damaged by forklifts and during loading/unloading. Because they are not very reusable, while they are cheap, replacement costs can get pretty high if you are shipping frequently.
While it's pretty common knowledge that you can better protect your freight by palletizing your shipments, it may come as a surprise to many shippers that there are so many different pallet types. Advances in the construction of the basic pallet have greatly improved both durability and cost. Pallet building materials and the engineering of the structure can literally make or break your load. If you would like to learn more about how to best package and palletize your freight, download our free white paper below!