The Best Ways to Become a Shipper of Choice and Why it Matters
02/06/2019 — Leah Palnik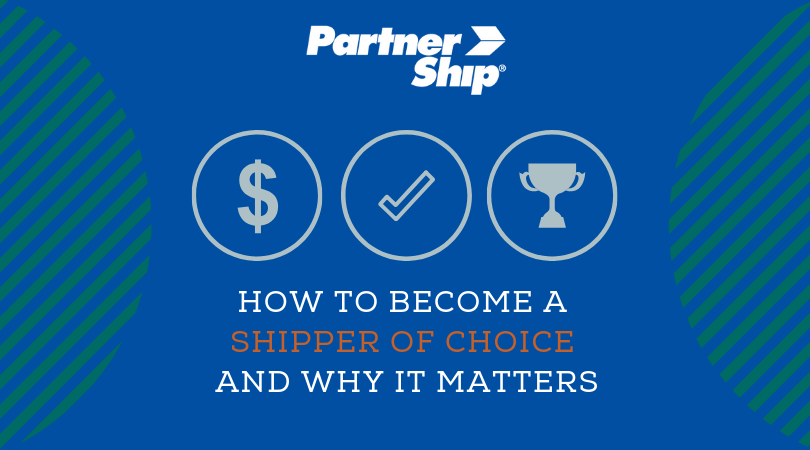 Carriers have more power than ever, which means it's increasingly important that shippers find ways to make their load more appealing than the next guy's. Becoming a "shipper of choice" is a great way to get a leg up and ultimately get better access to capacity and reasonable freight rates.
How did we get here? The tight capacity freight market
It's basic economics – the demand for freight services is higher than the current supply of tractor-trailers and drivers. This has been the trend over the past several years, due to a number of factors. For starters, there is a driver shortage. According to ATA's 2017 Truck Driver Shortage Analysis, the trucking industry was short roughly 36,500 drivers in 2016. The appeal of the open road isn't what it once was, and not enough qualified drivers are entering the workforce to make up for those who have left or retired.
On top of that, there has been an increase in regulations that have put some constraints on carriers. Hours of services (HOS) rules dictate that truckers can't drive more than 11 hours a day in a 14 hour period, and thanks to the electronic logging device (ELD) mandate, enforcement of that rule is harder to get around. As a result there are less trucks available to move your freight. Carriers hold the cards and can be picky about the loads they want and what shippers they'll work with.
What is a shipper of choice?
Becoming a shipper of choice means that your load, your location, and your business practices are in line with what carriers consider desirable. They want to make sure that they're protecting their bottom line and not losing precious time. This is a status that is achieved by showing carriers respect and committing to a long term strategy that enables best practices.
Why you should care about becoming a shipper of choice
Being a shipper of choice will help you secure a truck at a competitive rate when you need it most. It used to be true that having a large volume of freight is what makes a shipper desirable to carriers. While that often doesn't hurt, it's not enough anymore. If you have a great deal of freight but constantly create headaches for your drivers, they will likely turn elsewhere for business or charge you more.
Carriers are becoming savvier when evaluating whether they should work with a shipper or not. Think about how you use apps like Yelp. It's now incredibly easy to see if a restaurant has bad service or isn't worth the cost. Truckers have apps like Dock411 that help them easily communicate and access information about load/unload time, parking, security, dock conditions, and more.
How to become a shipper of choice
Reaching shipper of choice status is not something that you can do overnight. You need to commit to making long term changes that are advantageous to both you and your carriers.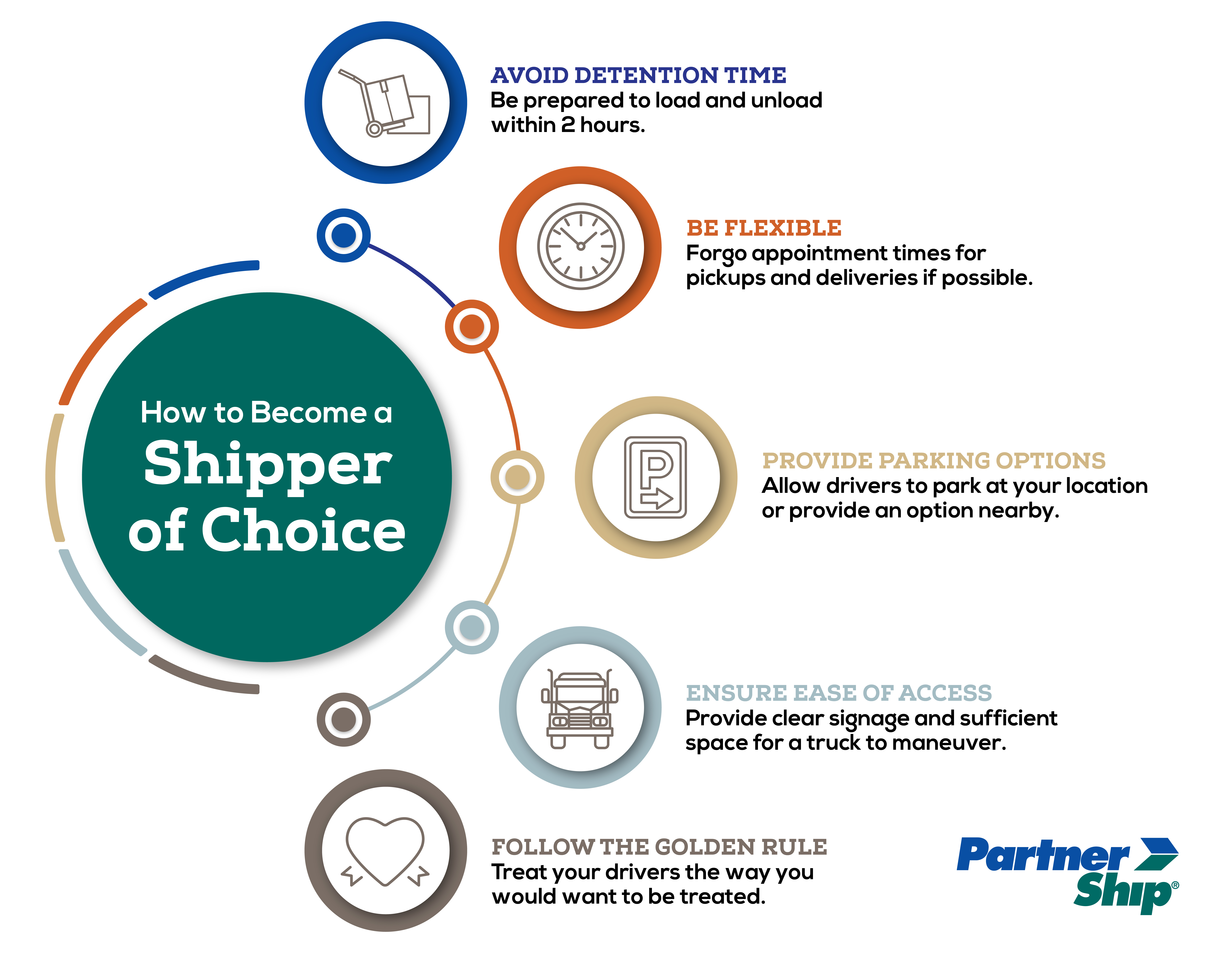 Here are a few ways you can achieve this:
Avoid detention time at all costs.


The last thing you want is to get a reputation for holding up drivers. To them, time is money and it's important to show that you respect that. HOS rules and the way drivers' time is strictly tracked through ELDs means that every minute they're waiting at your dock is taking away from the time they could be earning on the road.

According to a survey conducted by DAT, most carriers consider detention a serious problem and the majority of them rank it in the top five challenges facing their business. Making sure you're able to load or unload within the 2 hour window is a good way to keep your driver happy and be a shipper of choice.

Be flexible with pick-ups and deliveries.


When you require a strict appointment time, truckers can't maximize their time on the road. Also, limiting your hours to weekdays forces drivers to travel during the most heavily trafficked times. By opening up options for your carrier, you increase the chances of your load being covered. And when you make this the rule, rather than the exception, you're more likely to become a shipper of choice.

In lieu of strict appointments times, you could request pick-up or delivery by a particular day and allow for early arrival. If that doesn't work for you, you might consider moving from appointment times to a window of time. Being open on off-peak hours and during the weekend also will open up your access to capacity.

Provide parking options.


Thanks to the HOS rules and ELD mandate, drivers have to be efficient at managing their time. However, as you know, there are a number of factors that can cause them to be tied up including traffic, roadside inspections, and maintenance. If they hit their hours while at your dock, it can be a major risk for them to drive to the next available rest stop.

Allowing drivers to park at your location or having an option nearby can be a major plus. It also shows that you care about the challenges they're up against. While this may fall more in the "nice to have" category, having parking available could make the difference when carriers evaluate if they want to cover your load over another shipper's load.

Make sure your location is safe and easy to access.


One major component that carriers take into account is ease of access. There's nothing worse than arriving at a location that doesn't have sufficient space for a truck to maneuver easily or has hazards that make it difficult to navigate.

You might not be able to change where you're located, but shippers of choice will make it a point to eliminate any potential obstacles they can. It's also important that you provide clear signage that can help direct the driver appropriately when he/she arrives.

Treat your drivers the way you would want to be treated.


Truck drivers don't have an easy job, and they spend a tiring amount of time on the road. If you deny them basic amenities like access to a bathroom and a place to stretch their legs while they wait, that is not something they're likely to forget.

Showing respect and being kind goes a long way. Greet your drivers and provide an area where they can relax and refresh while being loaded or unloaded. Some shippers are even providing full lounges designed to make drivers as comfortable as possible, with wifi, refreshments, and showers. You can't be a shipper of choice if you aren't willing to show a little bit of empathy for your drivers.
Next steps
Now that you know what it means to be a shipper of choice, why it matters, and how you can achieve it, the next step is create a plan. Carrier relationships are incredibly important in today's freight market, and when you make them a priority, you'll benefit your business in the long run.
PartnerShip maintains strong alliances with the best carriers in the industry. Our shipping experts can help you find ways to become a shipper of choice, gain access to capacity, and save on your freight rates. Contact us today to find out how you can ship smarter.