A Practical Guide to Parcel Shipping Rates
04/23/2020 — Leah Palnik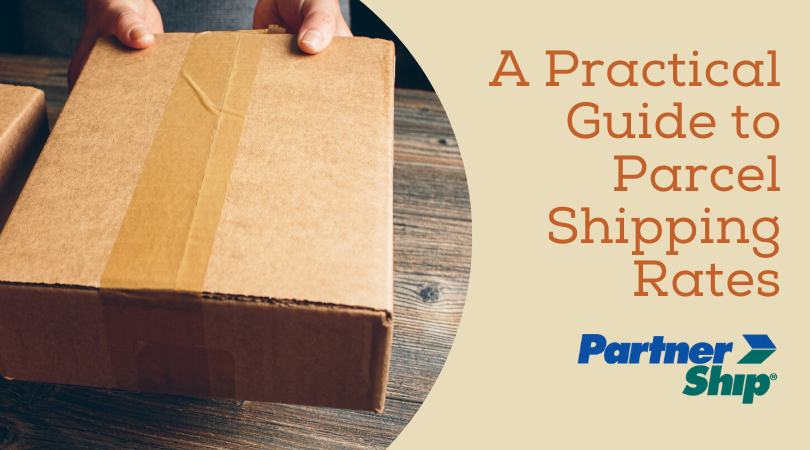 The ever-rising cost of parcel shipping is a hot topic. FedEx and UPS raise their rates regularly and find clever, new ways to recoup costs. The changes aren't always clear and can catch shippers by surprise. However, if you have a solid understanding of what determines small package rates and what to look out for, you'll be in a good position to manage your costs.
How parcel shipping rates are determined

Weight.

No surprise here, but how much your shipment weighs plays a large part in how much it will cost to ship. If you take a look at the service guides for UPS and FedEx, you'll notice that the heavier the package, the higher the rate.

Dimensions.

You can't look at just the weight alone. In fact, your package dimensions could cause your shipment to be rated at a higher weight, thanks to what is known as dimensional (DIM) weight pricing. Carriers use this to ensure you're paying for the space that your shipment takes up in their delivery vehicles. Larger packages take up more room, leaving less space for other deliveries. To avoid this increase in your parcel shipping costs, it's imperative that you're efficient with your packaging.

Service.

If you need your shipment to get to its destination sooner rather than later, you're going to pay for it. Air services that offer delivery overnight or next day will cost you the most. In comparison, if you can plan for some extra time, using a ground service will save you.

Distance.

Your origin and destination ZIP codes play a big part in determining your rate. The farther your shipment needs to travel, the more you'll pay. This is based on groups of ZIP codes that parcel carriers refer to as zones.

Fuel.

This is a tricky one to put your finger on because both UPS and FedEx will make adjustments on a weekly basis based on information published by the U.S. Energy Information Administration (EIA). The surcharge is a percentage and applies to the base rate, as well as a number of accessorial charges.

Surcharges.

Based on your shipment's characteristics, you can be hit with additional fees known as accessorials or surcharges. These fees are assessed for things like residential deliveries, additional handling, and oversized dimensions. The best thing you can do is educate yourself on the common fees so you can budget for the unavoidable ones or make some changes to avoid the ones you can.

Discounts.

Not every account is created equal. You may be able to secure discounts directly with your carrier if you have significant volume. For everyone else, you can get discounts by working with a third-party like PartnerShip.
The history of FedEx and UPS rate changes
At the end of every year, FedEx and UPS both announce a general rate increase (GRI). In recent history, it has been an average increase of 4.9%. However, that is only an average – meaning that some rates will actually increase by more or less based on service and package characteristics. Throughout the year, keep track of the type of parcel shipments you process – the services you're using, the weight and dimensions, and zip codes. That way you'll be able to focus on determining the rate increases that will affect you the most when the time comes. This information can be overwhelming to go through, so get help where you can. PartnerShip publishes a guide to the rate increases every year that can be a great resource for when you're planning your budget.
Changes to parcel shipping costs to look out for
It's hard to predict exactly what changes FedEx and UPS will make to their rates, but it's important to note that they don't leave them untouched outside of the GRI. In fact, over the past few years they have been making more changes throughout the year. These changes tend to affect surcharges rather than the base rates. Not only how much they'll cost you, but also how they're defined. For instance, FedEx and UPS recently lowered the weight threshold for the Additional Handling fee. That means that more packages will get dinged with that surcharge. Obviously this isn't a rate increase, but it's a way that your costs could increase.
FedEx and UPS also make changes based on long-term industry trends, seasonal demand, or unforeseen changes in the market. When their networks are strained the most, FedEx and UPS are bound to react. For example, during past peak holiday seasons when online orders are known to be at an all-time high, UPS instituted a surcharge for residential shipments. And most recently, during the COVID-19 pandemic, FedEx and UPS instituted a temporary surcharge on international shipments due to air cargo capacity being limited.
The bottom line on parcel shipping
Understanding all of the factors that make up your parcel rates is the first step to uncovering opportunities to cut your costs. Along with having that solid foundation of knowledge, keep a good record of your parcel shipments and their details so you can accurately forecast your needs and make adjustments. Lastly, stay on top of the latest updates from FedEx and UPS by reviewing their published changes and signing up for service alerts.
You don't have to navigate these changes alone. PartnerShip provides resources to help you make sense of parcel shipping rates and can help you cut your costs. Contact us to get started.