Your Essential Guide to the 2024 FedEx and UPS Rate Increases
10/27/2023 — Leah Palnik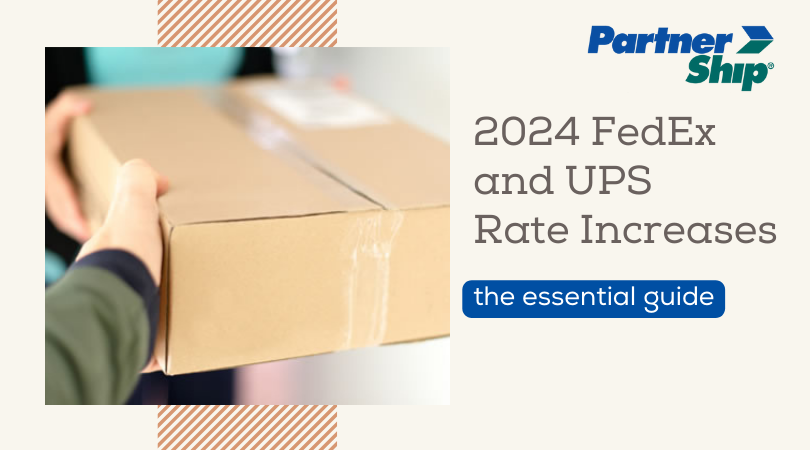 FedEx and UPS will be increasing their rates by an average of 5.9% in 2024. While that is lower than last year's General Rate Increase (GRI), don't start celebrating just yet. The frustrating truth is that your actual shipping costs will likely go up more than 5.9% in the new year. The changes that FedEx and UPS are making are more complex than meets the eye - it's essential to understand them so you know how your costs will be affected and what you can do about it.
Here's your guide to the FedEx and UPS rate increases for 2024. Jump to:

FedEx and UPS have a long history of mirroring each other's pricing. They typically announce the same GRI and appear to have very similar pricing strategies. Bottom line, published rates aren't a major differentiator between the two carriers.
For 2024, both FedEx and UPS are facing a slowdown in demand, as indicated by a GRI that is less aggressive than the increase we saw for 2023. Let's do a quick history lesson. In 2022 the carriers took a 5.9% increase and then bumped that up to an all-time high of 6.9% in 2023. That was thanks, in part, to all of the supply chain disruptions and surges in demand that resulted from the pandemic. For several years prior to that, both carriers had been raising their rates annually by an average of 4.9%.
This year, FedEx made their GRI announcement earlier than they typically do, and many speculated it was a way to put the pressure on UPS. Over the summer, UPS faced threats of a driver strike and during the heated negotiations, the carrier lost some business to its competitors. While UPS and the Teamsters eventually averted a strike and came to an agreement, the new contract comes with a steep increase to labor costs. Many were expecting a higher GRI in 2024 from UPS as a result.
Some important quick facts about the new FedEx and UPS rates:
The new FedEx rates take effect on January 1, 2024, while the UPS rates take effect a week earlier on December 26, 2023.
The 5.9% average doesn't take surcharges into account - many of which are increasing by more than 5.9%.
How much your costs actually go up in 2024 will depend on several different factors. The services you use, your shipment dimensions and weight, and how far your shipments are traveling all have an effect.
So you already understand that FedEx and UPS rates are going up in the new year. What does that look like exactly? First, you'll want to review the released service guide previews:
If all of those tables and numbers are making your head spin, you're not alone. But there are some key takeaways. Let's take a look at a few of the general observations from the base rate changes:
In general, longer zones are getting hit with higher increases than shorter zones. Many of those increases are higher than the announced average.
For Ground Commercial services, many of the rates come in lower than the 5.9% average increase, especially for lightweight packages.
Many of the highest increases can be found on Express/Air services.
Both FedEx and UPS have increased their Ground Minimum charge to $10.70
When you are reviewing your shipping costs, you can't look at the base rates alone. Surcharge fees often make up a significant chunk of the amount you end up paying. Here are a few noteworthy surcharge updates:
Fees for larger, more difficult to move packages continue to rise to hefty prices. These fees are already very costly, and in 2024 they're rising significantly higher than the GRI and other surcharges. You could be paying an extra $1,250 for a shipment that qualifies for the Unauthorized Packages fee by FedEx or the Over Maximum Limits fee by UPS.
Pickup fees are also changing. With regular pickups being a necessity for many businesses, it's critical to factor in those costs when budgeting for the new year.
Many other common surcharges are increasing, with a significant amount increasing by more than the 5.9% GRI.
There are also a couple of other changes that are important to be aware of:
FedEx is joining UPS in renaming "peak surcharges" to "demand surcharges".

Several years ago FedEx and UPS started implementing peak surcharges to address the increased demand the holiday season brings. Then the pandemic hit, leading to UPS and FedEx implementing additional peak surcharges to address the atypical surge in demand straining their networks. The decision by FedEx to rebrand these fees matches the change UPS made last year. Calling them "demand surcharges" signals the carriers will implement them anytime there is an uptick in demand, rather than based on seasonal predictability like the "peak surcharges" of the past.

UPS is changing the list of zip codes for zones and the Delivery Area Surcharge.

Depending on where you're shipping, you may have to pay based on a longer zone than before. On top of that, you could get hit with a Delivery Area Surcharge on a shipment that it didn't apply to in the past. It's changes like these that make budgeting for your annual cost increase very challenging.
You can't take the announcement of a 5.9% increase at face value, unfortunately. You'll need to determine which services you use the most, how far your shipments travel on average, and how much of your invoice charges can be attributed to fees.
Most shippers will see their costs go up over the announced 5.9% average. With that in mind, let's look a few factors that could put you at risk for higher-than-average cost increases:
If you're shipping larger packages or your packages require special handling.

For the past several years, FedEx and UPS have been raising these fees at an alarming rate. 2024 is no different. Any shipment they can't run through their normal systems costs them more time and money, and these fees are a way to discourage those types of shipments from entering their networks.

If a high percentage of your shipments go to longer zones.

It's always been true that the further your package travels, the more expensive the rate. This year that's especially true. Longer zones are seeing more increases above the announced average than shorter zones.

If you're using Express/Air services.

These faster delivery services continue to be the most expensive. They're seen as a premium service that other smaller carriers can't compete with thanks to the robust networks that FedEx and UPS have. But this year, with some of the highest increases being on Express/Air services, you'll pay even more.

If you ship a lot of low density packages.

The pricing structure that FedEx and UPS have in place punishes larger, lighter shipments. The carriers prefer denser packages that take up less space because they're able to fit more packages on their delivery vehicles. If your package dimensions cause your shipment to be rated at a higher weight due to dimensional (DIM) weight pricing, your cost increase could be compounded. Many of the higher weight breaks are getting hit the hardest with increases over the average this year.
Right-size your packaging.

While FedEx and UPS rates are based on weight, that's not actually the whole story. If your dimensional weight is higher than the actual weight, your package will be rated using the dimensional weight - meaning you'll be paying more. This makes any excess space within your package extra costly. Focus on packaging that allows space for the items you're shipping and the necessary cushioning and nothing more.

Consider opening or using a new distribution center.

Shipments with the longest distance to travel cost you the most every year. But in 2024, this will be even more important as the longest zones are seeing the highest increases. Getting closer to your customers could be a great strategy for keeping those costs down.

Evaluate the services you're using.

Ground services are the more economical option and often the transit times are comparable to what you can get with some Express/Air services. Where you can, utilize Ground services to save on your costs.

Take advantage of discounts available to you.

Many trade associations and chambers of commerce will offer FedEx or UPS discounts to their members. Oftentimes the annual cost savings from those discounts more than make up for the cost of joining. PartnerShip works with over 130 groups to provide their members with discounts on FedEx services. Contact our team to find out if you qualify.
Wrapping your head around all of the changes for 2024 FedEx and UPS rates can be challenging. But, using this guide to understand what's behind the announced average and published service guides is a good first step. Use this information to properly budget for the new year and set up any mitigation tactics that work best for your business.