Your No-Nonsense Guide to Dimensional Weight Pricing
06/28/2021 — Leah Palnik
If you regularly ship with UPS or FedEx, you've likely encountered dimensional (DIM) weight pricing whether you realized it or not. Essentially it's a way for the carriers to charge you more for larger, but lighter, packages. And if you're not careful, it can drive up your costs significantly.
What is dimensional weight pricing?
Dimensional weight pricing is a way to rate your packages based on density in relation to weight. What that means is that instead of rating your package purely based on its actual weight, it also takes into account how much space your package takes up on the carriers' delivery vehicles.
How do you calculate dimensional weight pricing?
Luckily for you, we have a DIM weight calculator you can use. But if you're curious about the formula behind it, it's fairly simple. Start by calculating the cubic size of your package – multiply length by width by height. Then take that total and divide it by 139, which is the dimensional divisor determined by FedEx and UPS. If the resulting DIM weight is higher than your actual weight, the DIM weight becomes the weight you'll be rated on – otherwise known as your billable weight.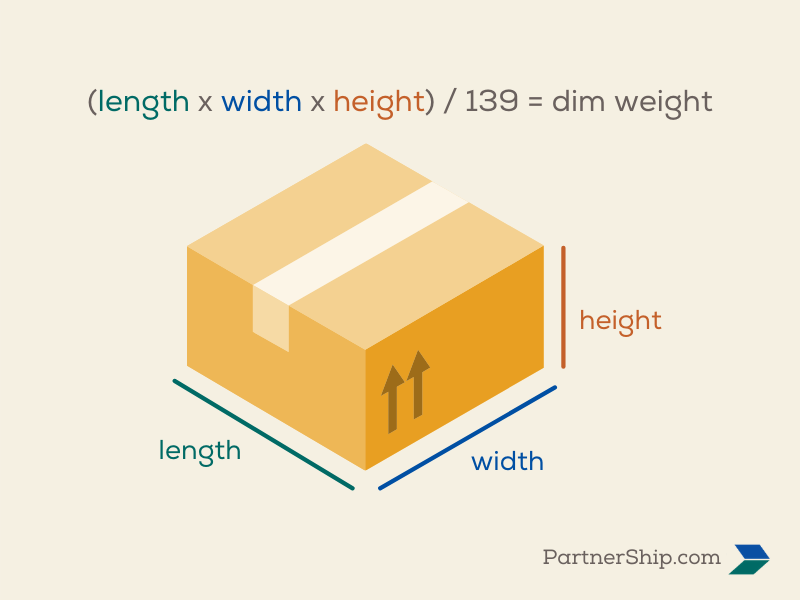 Let's look at a couple simple examples. If you have a 12x12x12 box, the dimensional weight will be 12 lbs. So if you're shipping 15 lbs. of books, your package will be rated based on the actual weight of 15 lbs. But if you're shipping 5 lbs. of ping pong balls, your package will be rated based on the DIM weight of 12 lbs. since it's the higher weight.
Why is dimensional weight pricing used?
UPS and FedEx want to discourage shippers from using unnecessarily large packaging, and there is one main reason for this. The larger your package is, the more space it occupies on their planes and trucks. This in turn, leaves less room for other packages. UPS and FedEx make more money and work far more efficiently if they're able to fill up their delivery vehicles with more packages.
The history of dimensional weight pricing
Once upon a time, not all shipments were subject to DIM weight pricing. The DIM factor that FedEx and UPS use has also changed over time – and not in a way that's favorable to shippers. While the DIM weight formula and shipment qualifications have remained steady for a few years now, there's no guarantee that it'll stay that way. Let this be a lesson on how important it is to stay alert on any announced changes from both carriers.
How do you avoid overpaying due to dimensional weight pricing?
The most important thing you should be doing to avoid DIM weight pricing is right-sizing your packaging. You need to consider both the size of the item you're shipping and also how fragile it is. Items that are at a greater risk of damage will need more cushioning, which will take up more space. Try to find packaging that allows enough room for the needed cushioning, but no more. The smaller you can make your package, while still keeping your item safe, the better.
There are a few resources available that you can use to find the right packaging for the items you're shipping. UPS has a Packaging Advisor tool on their website that allows you to select your merchandise category and enter your dimensions to get customized packaging and cushioning guidelines.
FedEx also has a number of packaging guides based on the type of item you're shipping. But beyond that, FedEx even has a Packaging Lab where you can send your packaging in for durability testing or request a design consultation to improve the efficiency of your packaging. Many of the services are free if you have an account.
Keeping your small package costs low
While ensuring you have efficient packaging to avoid DIM weight pricing is one way to help reduce your shipping costs, another is securing discounts with the carriers. That can be difficult for small and medium sized businesses to negotiate on their own. However, when you work with PartnerShip you can access savings that are typically reserved for high volume shippers. Contact our team to learn more.