4 Freight Mistakes You're Making This Summer and How to Keep Your Cool
07/07/2022 — Jen Deming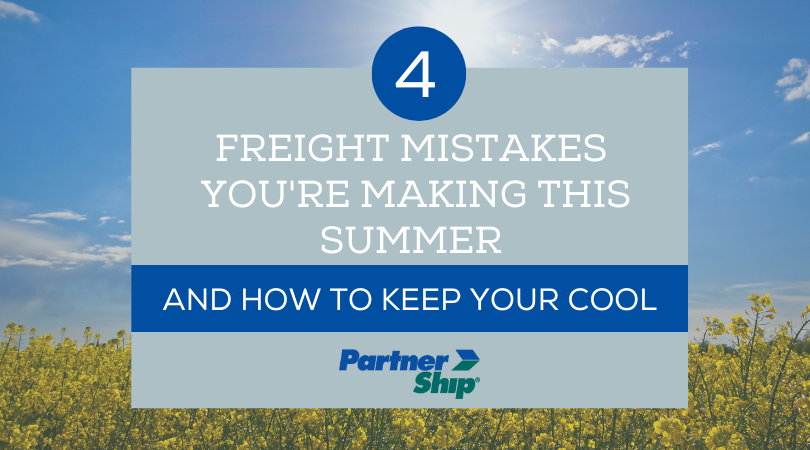 Your LTL freight shipments have an arduous journey and can encounter any number of obstacles while traveling the long, winding road to their destination. Certain seasons of the year can lead to increased risk, and shipping in the summer is no exception. In addition to temperature sensitivity, there's a variety of other factors that can make summer shipping extra prone to issues. We've boiled down the major summer freight shipping mistakes that you should avoid, to keep your costs and blood pressure low in the summer heat.
Mistake 1: Neglecting the boom in summer shipping volume
Summer is a busy time for many industries, from retailers who are busy boosting inventory to farms and growers sending produce loads to grocery distributors. We see a huge increase of freight shipments hitting the road in the summer months. This can affect carrier capacity and make it even more difficult to find available trucks. Time-sensitive loads will be more difficult to cover, too, since last-minute truck booking will be harder to accomplish. It's nearly impossible to understate how much this boost in volume affects the market.
Solution: Make your loads desirable to the carrier
To claim first dibs on your favorite carriers, you need to make sure that your loads are as appealing as possible. Stay in good standing with the driver – have a clear loading dock, organized loading process, and make sure your packaging is ideal and easy to transport. The main goal for a driver during these busy seasons is to get in, get out, and get on the road. The more time wasted on navigating your parking lot, loading your shipment, or collecting paperwork is going to set them back for the day. Making life easy for your carriers might be the boost you need to get your loads covered quickly in the summer.
Mistake 2: Assuming rates will be the same year-round
Freight rates are directly related to capacity, and in seasons when it's extra crunched, you'll see them go up. Other variables like fuel costs can fluctuate unexpectedly as well, so keep these factors in mind when you are building shipping costs into your customer orders. Always keep in mind that a freight quote you received months ago in preparation for a load will no longer be accurate. And if the freight rate is more costly in the present, you can't exactly go back and ask for more money to cover the difference.
Solution: Check spot rates regularly and build in extra cost
Your best tactic for getting an accurate estimate on freight costs is to run sample quotes periodically, through every season. Gather several from a variety of carriers, being mindful of accessorial costs and other extras. Take an average and use this rate to build in the cost of shipping in your customer orders. It's always a great idea to cut costs as much as possible in less busy months, as well, to offset the increase during the summer. Creating a nice buffer for your budget can go a long way.
Mistake 3: Taking risks with temperature sensitive loads
It goes without saying that summer's soaring temperatures can cause extra risk to your loads. Creating a protective environment for your product is key to limiting damages during transit. Frozen goods and fresh produce are commonly known risky loads, but items like pharmaceuticals, electronics, chemical agents, and more all need some extra love during the summer. Now is not the time to risk an "economy" or budget carrier for the sake of saving a few bucks.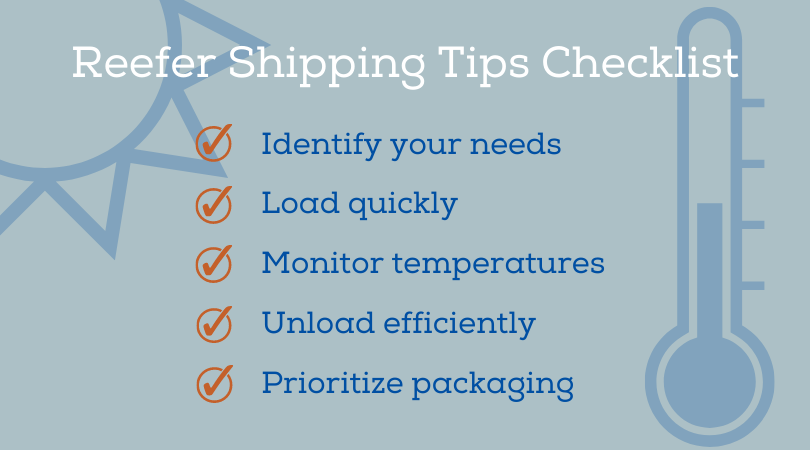 Solution: Research and use quality specialty carriers
Just as in any industry, freight carriers can leverage expertise and specialize, as needed. Make sure you are looking at carrier companies that are experts in temperature-controlled services and employ refrigerated vans. Understand that these types of specialized equipment are in high demand, and will be more expensive and harder to find. When reviewing reefer carrier options, ask questions on how the equipment is maintained, how loads are stored and separated, and what they do to address potential delays while in transit. Even if you have a product that may walk the line between needing a reefer or regular dry van, taking the chance during extreme heat isn't going to work in your favor.
Mistake 4: Miscalculating summer freight transit times
If you haven't figured it out already, shipping freight in the summertime can create a two-fold risk for your shipment. Warmer weather can cause product to deteriorate quickly, and capacity issues may lead to more delays than during slower times of the year. Combined with extreme weather, you have a recipe for disaster, namely damaged freight. Also, keep in mind that while many areas of the U.S. will welcome temperate weather in the summer months, other areas can experience heavy rains, impact from hurricanes and tornados, and severe drought or wildfires – all events that affect transit times.
Solution: Be extra mindful when scheduling long-haul shipments
Planning and being proactive about any potential delays is your best bet for success. Try to avoid shipping over weekends and holidays – most carriers will stay off the road and your freight will be left waiting. By avoiding those blackout dates, you can help protect your freight and also keep your costs low – rates skyrocket for carriers willing to move loads. If your load is liable to deteriorate due to temperature or transit-time related risk, you should always opt for services that can offset those factors.
Keep your cool this summer
Shipping freight in the summer doesn't need to cause extra headaches and stress – it just requires better planning and a thorough knowledge of your product needs. By selecting the right carrier and equipment, planning for efficiency, and being proactive about truck capacity, you can minimize risk and ensure you're shipping safely. The freight experts and PartnerShip can help answer any questions about your temperature-controlled loads and help navigate your summer freight successfully.