Parcel vs Freight: What Works Best for You?
10/22/2019 — Jen Deming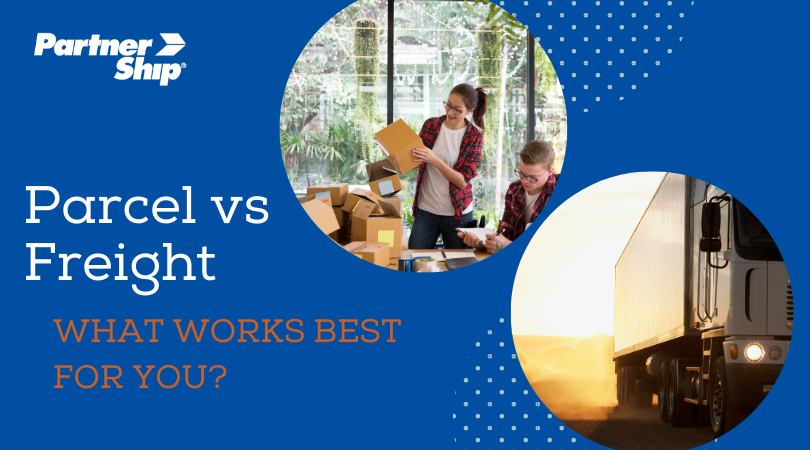 The differences between parcel shipping and less-than-truckload (LTL) freight shipping can be difficult to identify, at least on the surface. If you're not using either service regularly, it can be challenging to know which shipping option you really need. But, there are some definite factors that make a difference to a shipper's experience, like transit times, pricing structure, and security risk. Knowing more about the key differences of parcel vs freight shipping can help determine which makes the most sense for your shipment.
Risk and security
Packaging and handling practices can vary between parcel vs freight shipping, affecting your freight's risk of damage. Typically, parcel shipments are smaller, individually boxed shipments that move separately within the carrier system. Most are under 70 lbs., but they are accepted up to 150 lbs. Freight loads are larger and most often consist of multiple boxes or items collected onto a pallet, or within strapped-together crates, and ship together as a group. Both types of shipments have packaging requirements that include protective material inside the container to help prevent damage. Because freight shipments often use shrink wrap or other binding material to keep boxes together, loss is minimized.
Because of their smaller size, parcel shipments can be easily handled and are generally auto-sorted through the carrier conveyor system. They are then taken to a regional location and transferred through multiple stops and service terminals until final delivery. Because of all the handling, combined with the smaller size of loose parcels, there is an increased risk for lost or misrouted boxes. Freight shipping also includes loading and transfer at multiple stops, but it's less frequent than parcel services. Fewer stops means less loading, but because the pallets may need to be moved with a forklift, there is a risk of damage associated with handling that shippers must keep in mind.
Driver service level
A key point to keep in mind when considering parcel vs freight shipping is the truck driver's level of involvement when it comes to handling the shipment. Parcel shipments moved by common carriers such as FedEx or UPS are loaded, unloaded, and delivered by hand. A shipper is responsible for proper packaging and labeling, and a receiver must check the shipment carton count and for damages. But generally, a driver will take care of handling, including front door pick-up or inside delivery.
Freight shipping is an entirely different story. The driver only moves your freight from pick-up to destination; it is up to the shipper and consignee to have a team ready for the loading and unloading of the freight. This means the driver will not assist. Driver assistance can be requested, but because it is considered a special service, expect to pay extra. Additionally, accessorials such as inside delivery or limited access locations may incur other fees on top of regular shipping charges.
Pricing and cost efficiency
One of the most significant differences in parcel vs freight shipping relates to how pricing is calculated. Freight pricing is determined by several variables, including distance traveled, fuel cost, weight, additional services, and the classification of the shipment. Lane pricing is set by carriers and certain routes across the country can be more competitively priced than others depending on the volume of industry or location type. For example, shipping off-mainland or to a densely congested city's downtown area can be pricey. Depending on your product type, or the density of your shipment, the freight class can either increase or decrease. Lastly, carriers tend to have different levels of liability coverage, depending on freight class, in the event of damage claims on a shipment. Freight class is an extremely important factor for freight shippers as it pertains to cost.
Parcel pricing can also be complicated. The shape, weight, and size of a package all affect the cost, in addition to the type of service requested. Shorter, expedited transit times cost more than standard ground shipping options. Additionally, dimensional (DIM) weight pricing has become popular with common carriers. Dimensional weight bases price on the package volume in relation to its actual weight. The practice was implemented in an effort to minimize awkwardly-sized shipments that waste space in a carrier's truck. It's important to properly calculate your dimensional weight so that you can accurately predict the cost of your shipment.
Knowing the differences of parcel vs freight shipping can help you make the right choice in service and save you in shipping costs. If you're shipping larger, heavier items, or can combine multiple shipments into a single load, using an LTL freight service is right for you. If you're shipping smaller, single boxes and want faster door to door service, parcel shipping is the better option.

Understanding how pricing is calculated for both, and what you can expect your shipment to encounter during transit, will help you ship smarter. If you're still unsure which would make the most sense for your business, call 800-599-2902 or contact us today.