Freight Class Made Easy: Top Resources for Every Shipper
09/07/2023 — Jen Deming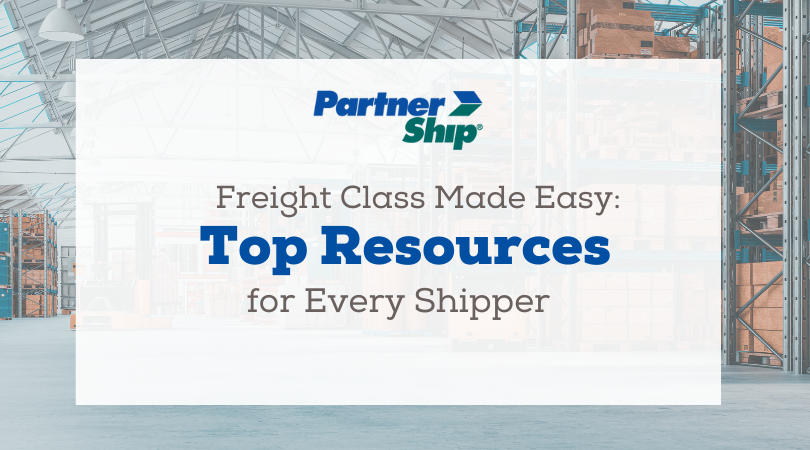 When it comes to shipping goods via less-than-truckload (LTL), understanding freight class is essential. Freight class is a numeric code that categorizes different types of products or commodities for shipping purposes. It plays a crucial role in determining the cost of your shipment and other factors such as weight, distance, and additional services. In this comprehensive list of resources, we will delve into the intricacies of freight class, covering everything from the very basics to tools that can help you determine class.
Resources that will help you understand everything you need to know about freight class:
Understanding the basics of a freight class

.
Freight classification is a crucial component of LTL shipping, but the system can be complicated. Factors such as density, storage/stowability, and liability all impact class, and the higher the number usually means the higher the rate. This article will help you understand the basics of freight class, and includes information about a valuable tool, ClassIT, that can help shippers accurately determine their product classification.


Grasp the impact of density in freight shipping.
Packaging, commodity type, and specs all impact the cost of your freight, but some products have an added layer of mystery (and math) when it comes to class - density. Density is calculated by measuring the height, width, and depth of the shipment, including skids and packaging. Learn more from our insights about why carriers are putting such an emphasis on shipment density and how it affects your freight costs.


Decipher the complicated nature of an FAK.
An FAK is a class agreement between a carrier and a shipper, allowing the shipper to move multiple products of different classes at one standardized freight class. Sounds simple, right? The catch is that carriers have held back in entering these agreements more now than they used to. This article takes a closer look at what defines an FAK, what shippers are likely to qualify, and if it's something that makes sense for your business.


Master the factors that affect your freight class.
Freight classification is an essential process in LTL shipping that involves categorizing products based on specific criteria like density, stowability, liability, and handling. Understanding these variables is crucial for calculating the class and cost of shipping. This infographic can help you more easily understand the factors that determine class and how to get it right.
Tools that will help you determine your freight class:
Shippers should have access to the tools they need, when they need it. That's why we've made two resources available online that can help sort through some of the toughest parts of freight shipping - calculating density and freight classification.
Let the freight experts determine class for you.

Finding a freight class can be complicated but working with the team at PartnerShip can help take out the guesswork. By providing details on our online form such as the dimensions, weight, density, and product type, our team can help sort through the jargon and provide you with an accurate class for your shipment.

Calculate density accurately with this free tool.

A density calculator is a tool that helps shippers determine the density of their shipments. It measures how heavy a shipment is relative to its size. By inputting the weight and dimensions of the shipment into our calculator, you can easily determine the density and check your estimated freight class.
Get a handle on freight class with the right resources and tools
Freight class is a critical component of shipping your LTL loads, but it's confusing and making a guesstimate is risky business. Your shipment's freight class plays a huge part in everything from your initial rate estimate to your payout for any potential damage claims. How can a little number mean so much? The team of experts at PartnerShip can help put an end to your freight class frustration. Say goodbye to head-scratching and hello to efficient solutions. Contact us to learn more.