Freight Brokers and Carriers: 3 Major Distinctions
04/02/2020 — Jen Deming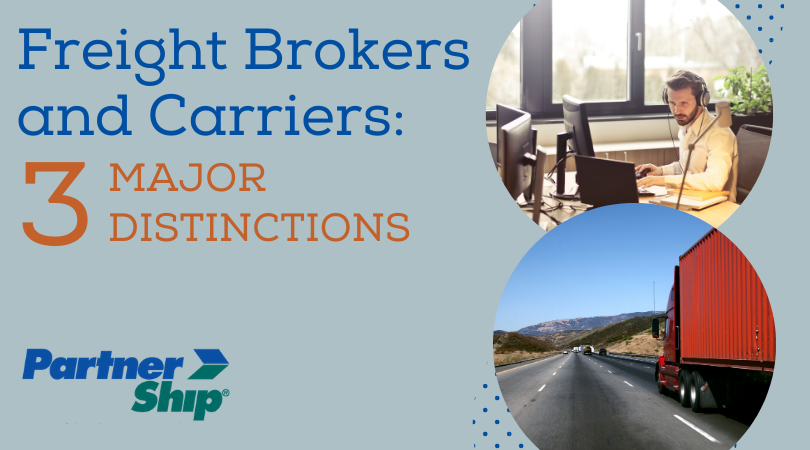 It's pretty easy to get lost in freight shipping terminology. A basic question that still puzzles even experienced freight shippers is understanding the differences between a freight broker and carrier. The distinctions between both affect factors like geographical coverage, liability, and responsibilities. Pinpointing these key differences will help you better understand each part they play in getting your loads from here to there.
Responsibility to shipper
When looking at a freight broker and carrier, it's important to understand the primary responsibility of each party in the physical transportation of your freight. A carrier refers to the company, or operator, that directly handles the transportation of your shipment. Common national carriers include UPS Freight, YRC Freight, FedEx Freight, and more. Carriers can specialize in less-than-truckload (LTL), dedicated truckload freight, or even specialized services such as refrigerated or oversized freight equipment.
A freight brokerage is a company that serves as a transportation intermediary rather than directly operating a truck fleet and physically moving your freight. A freight broker's job is to contract available loads with a carrier and find an acceptable rate within a specified time frame according to the shipper. The freight broker cuts down the time and effort it may take for a company to look for its own carriers and may decrease costs by shopping quotes.
Geographical restrictions
Most freight loads are moved by common carriers - the big name, national trucking companies like UPS Freight and others we mentioned earlier. Most national carriers have terminals, or hubs, set up in areas where there is a very high demand for freight shipping. This is where they have the greatest truck availability and most competitive pricing for their loads. For areas outside of these shipping hubs, common carriers may have a limited pick-up schedule or work with regional carriers for rural deliveries. Regional carriers consist of smaller businesses and fleets that operate within a specific area. So while a common carrier can theoretically get your freight anywhere in the U.S., it may take a longer amount of time due to the need to contract a regional carrier.
Because a third-party logistics provider isn't managing assets and trucks themselves, they can essentially operate out of anywhere. Many brokerages have offices set up in hot shipping locations with satellite offices nationwide. Some brokerages specialize within a certain industry and become experts in specific types of loads such as oversized freight or cross-border shipping. They may also develop mutually beneficial relationships with local businesses and local carriers, allowing greater flexibility and premium service levels for special requests. In addition to domestic moves, brokers can also serve as a valuable resource for shippers moving freight internationally, offering guidance and expertise in addition to coverage options.
Liability and ownership of freight
A major difference between freight brokers and carriers is the ownership of the freight while in transit. According to the Carmack Amendment, when a carrier agrees to move a load, a contract is formed per the shipper load and count (SLC) noted on the bill-of-lading. By signing the BOL, the shipper is accepting responsibility by stating that the freight was loaded securely and counted. At the time of pick-up, and until delivery, the motor carrier is fully responsible for the freight that it has on board. This means that should the load experience any loss or damages, then the carrier is responsible. If a claim needs to be submitted, the claim is with the carrier, rather than a broker who may have arranged for the transportation of the freight.
From a legal perspective, a freight broker is not liable for damages to freight because the ultimate responsibility lies with the carrier. However, that doesn't mean that a freight broker can abandon their customer. A quality freight brokerage will have claims experts on staff that are knowledgeable about shipper's rights and responsibilities, liability restrictions, and proper claims filing procedures. While a carrier may have a legal responsibility to damaged freight, a freight broker has an ethical obligation to educate shippers and help out whenever a shipment encounters complicated roadblocks like a damage or loss claim.
The advantage of using a freight broker
When you work with a quality freight broker, you gain expertise, increase operational flexibility, and add a cost-saving alternative that you may not have when working directly with a carrier. Working with PartnerShip can ensure you have a team in your corner to help you navigate even the most unique shipping challenges.