3 Times You Should Consider Regional Freight Carriers
05/14/2019 — Jen Deming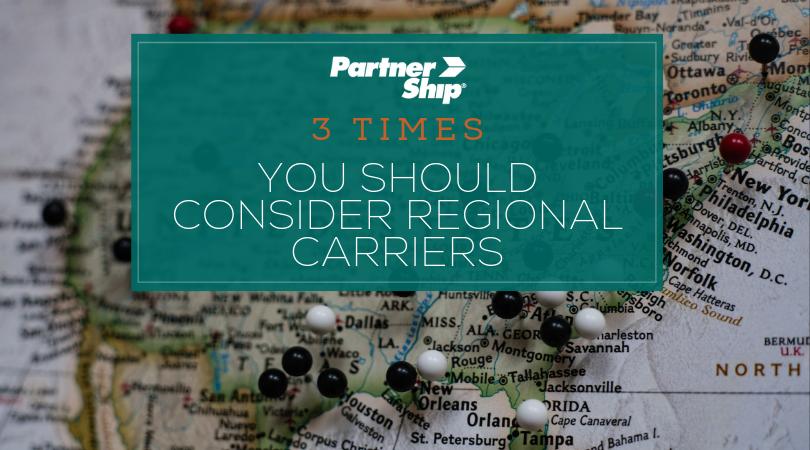 Most shippers are familiar with the large network of national freight carriers commonly seen on the road, but regional freight carriers tend to be a little less recognizable. While larger freight carrier organizations have many benefits, including a sizable service area and the resources to have a large pool of available trucks, many shippers are not aware of the lesser-known benefits associated with using smaller local or regional carriers. In order to make smart shipping decisions, it's important for shippers to weigh the advantages of working with different types of carriers. Consider whether they may make sense for you, so that you're getting a service that best accommodates your business.
When using a regional freight carrier makes sense: if you don't need to ship far to reach your customers
In terms of size, regional freight carriers operate in a smaller, more concentrated geographic territory than national carriers. Typically, the trucks are traveling 500 miles or less, though there are several companies that service larger areas or specific lanes. These carriers territories tend to fall into one of two categories: multi-state lanes or local transportation that operates within a certain city lines or borders. Examples of regional freight carriers include PITT OHIO, Dayton Freight, and AAA Cooper.
If your business is shipping mostly to local customers that are located within state, or even in the same general geographic area of the U.S. (Southwest, Great Lakes, Northeast, etc.), you may want to consider using a regional carrier. Because these carriers aren't servicing larger cross-country lanes, they tend to have shorter hauls since they are delivering locally. This may limit where you can ship to, but keep in mind that there are still larger, national carriers at your disposal. There are many benefits to shorter hauls, as well. Typically, these hauls do not undergo as much loading and unloading at carrier terminals like longer hauls do. This can mean less damage and more on-time deliveries for your freight, ultimately getting you happy customers and better business. Smaller companies can sometimes spend more time focusing on continuing safety and service training. For example, Dayton Freight, a top regional freight carrier, dedicates time and energy pursuing the continued education of its team. In-house programs like "Dayton Freight Academy" to focus on improving and supplementing the skills of drivers and other employees when it comes to safety, truck maintenance, and freight handling. This intentional focus on service at the employee level helps regional freight carriers like Dayton improve the customer experience.
Also because regional freight carriers specialize in a smaller geographic area, drivers may have greater familiarity with the region in general. They may be much more knowledgeable about things only locals drivers may know, like which complicated delivery addresses are located where, whether they are likely to be classified as a business or residential location, what time of day traffic is most congested, or other route obstacles to avoid. This can help avoid potential pick up and delivery challenges or other issues that may delay a shipment.
When using a regional freight carrier makes sense: if service level is of utmost importance
There are many service benefits in working with regional freight carriers. Due to their smaller size, they can often offer a more personalized class of service that puts a greater emphasis on the customer experience. Because these carriers are working with a smaller customer pool, they often can offer better flexibility and responsiveness when issues come up with a shipment. Many regional freight carriers have smaller corporate offices in local areas which may mean live, reachable customer service teams versus automated service lines. That way, shippers can have more direct contact with local terminals rather than being given the run around by calling a general customer help line. All in all, this may lead to better management of a shipment from pick up to delivery for some shippers who value a high level of customer service.
When using a regional freight carrier makes sense: if you need to be particularly mindful of your freight spend
Using a regional freight carrier can lower your freight costs, especially if your business needs specialized services, such as liftgates or other accessorials. It's relatively common that regional carriers do not have to pay delivery area surcharges and have fewer accessorial costs and lower minimums than national freight carriers, which means they can pass on these savings through lower prices to shippers. Another benefit associated with working a smaller service area? Next-day or expedited delivery is more reasonable. For example, PITT OHIO, a regional carrier based in the Midwest, offers some of the most expanded next-day lanes in the nation. A small service area means a shorter haul, quicker transit time, and less work overall for the carrier to hasten delivery. Because of that, these expedited shipping costs can be lower than with national carriers.
Finally, because regional freight carriers are also typically smaller organizations, shippers may have more negotiating power when it comes to discounted rates or lowered accessorial fees. Regional carriers are likely to be more flexible in order to compete with the huge volume of business that national carriers naturally pull from the market.
For some shippers' needs, bigger isn't always better. There are very specific instances when a business may benefit from utilizing a smaller regional or local carrier network over a national carrier company. The first thing to consider is whether your customer base is located in a targeted geographic area. If you're doing business with local customers, and factors like price, service level, and timeliness are important, a regional freight carrier may streamline your shipping procedures. To learn more about the benefits of using a regional carrier, and whether they are right for you, call 800-599-2902 or get a free quote today.