Beyond Boxes and Pallets: 10 Other Ways to Move Freight
01/03/2020 — PartnerShip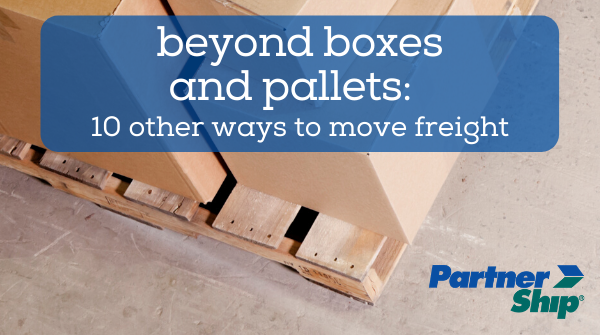 When most people think of freight, it's usually an image of the ubiquitous 40" x 48" wood pallet that comes to mind. But there are many other ways to move freight, including these lesser known, but still important, methods.

Pallets. They are so important to freight shipping that even though we've covered pallets in depth before, we can't not mention them here.

In addition to wood, pallets can be made of plastic or metal. Plastic pallets are popular for export shipments because they don't have to be heat treated to be used for international shipping, like wood pallets do. Aluminum and stainless steel pallets are strong and lightweight, and since they can be cleaned and sanitized, they can be used in food processing and pharmaceutical plants, where cleanliness is essential.


Gaylords. Named after the company that first introduced them, Gaylords are pallet-sized corrugated boxes used for storage and shipping. Sometimes called pallet boxes, bulk boxes, skid boxes and pallet containers, Gaylords can have between 2 and 5 walls and are meant to be single-use containers. Frequently used as in-store displays as well as shipping containers, Gaylords can be used to ship items as diverse as watermelons, stuffed animals, and pillows. Depending on configuration and how many walls they have, Gaylords can hold from 500 to 5000 pounds each.


Metal bins. Metal bins are typically made of steel and are mainly used in industrial applications where strong-sided containers are required to hold and move heavy and irregularly shaped items, like metal castings and forgings, stampings and scrap metal. Metal bins can be found in many different sizes and are essential in safely shipping heavy and potentially sharp objects.