5 Key Things to Know About Shipping Stone
09/12/2018 — Jen Deming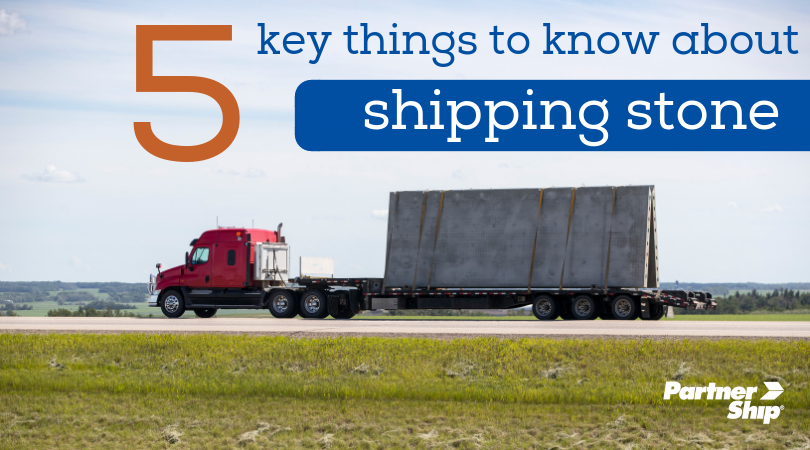 One of the most common, and most difficult, commodities being moved either LTL or full truckload is natural stone materials. These are used mostly for construction projects, both residential and commercial. The stone can be cut, crushed, blocked, or moved upright in slabs, and each come with different requirements for packaging and handling. As dense and heavy as stone is, it can be very fragile, brittle, and difficult (not to mention dangerous) to transport. Whether you are going either LTL or full truckload for your stone shipping, there's a slew of potential complications you need to be aware of in order to ship safely and securely.
1. Packing and Packaging
First and foremost, proper packing and packaging materials are very important for stone shipping. In the most ideal of scenarios, smaller freight shipments can be packed in custom crates, with built-in foam material for cushioning. The crate shouldn't be too large, and should contain minimal extra space to limit movement of the product inside. Stone material can be separated in bags within the crate for easier removal and distribution upon delivery. Customized crates can be a little pricey, but it's well worth the extra cost in security. This is especially true if you are moving through an LTL carrier. In that case, your stone will likely be loaded and unloaded several times throughout the process, both initially and through terminals during transit.

Palletizing your stone shipments is another recommended option for larger freight loads, and are often stacked with wrapping materials in between to prevent scraping. Ideally, a specialized piece of equipment should be used to transport stone shipments cut into slabs, called an A-frame. Typically, these are made of both wood and steel and include a base with A-shaped bars angling upward acting as a sturdy support for heavy slabs. They can be used for both storage and transport, and many have wheels that can be locked into place or removed. These frames can be loaded onto the truck by either forklift or crane.

2. Trailer Types
There are many truck types that are able to transport stone, and the equipment required depends on how the stone is packaged.a 53' dry van (enclosed trailer) with swing or roll-up doors will work well for most smaller shipments going LTL. Shipments are loaded at the rear, using a loading dock and forklift. If a loading dock is not available, some trailers have lift-gates, but this additional service does come with a fee and makes it more difficult to find available trucks. It's important to note that palletized shipments of stone are generally not recommended to go LTL, unless plenty of corner guards, foam or other packing materials are being wrapped with the product.

There are a few additional trailer-type options for truckload stone shipping. A flatbed is an extremely popular trailer type that is widely used for its versatility. There are no sides so the deck is open, and freight is typically loaded over the sides and the rear. A step-deck or drop-deck is a variation of a flatbed that consists of both a top and bottom deck. The lower part is designed to haul freight that may be too tall to be hauled with a standard flatbed. Additional open deck options include RGN (Removable Gooseneck Trailers), stretch RGN, or low-boys. All of these options are designed to be used for exceptionally tall or long freight loads. These open types of trailers will most likely require straps, chains, or tarps to help protect the freight from wind or weather damage and will need to be requested by the shipper so that the carrier is prepared. A conestoga is a trailer that comes with a roll-up tarp system that creates sides and a top to offer protection of the freight, which is an added benefit to fragile stone shipping. Keep in mind, due to the specialized nature of these pieces of equipment, they may be more expensive and more difficult to find.

3. Over Dimensional Concerns
It's very common for large stone orders or building materials to be over dimensional when going full truckload. Knowing what to expect when it comes to legal requirements and how your shipment may be affected are very important in planning the haul. Every state has different legal requirements for obtaining a permit in order to transport over-sized freight. There are not only restrictions on hours of operation varying by state, but also restrictions on drivers for hours of service - meaning there is less time your shipment can be on the road. As the shipper, it's crucial to plan as much as possible beforehand and to give accurate estimates for transit time. It may be smart to plan an extra day or two when communicating with your customer. Since the load will more than likely go through checkpoints in each state it travels, each stop stop can potentially hold up your load. Make sure your drivers are prepared with the necessary permits, paperwork, and commodity information (likely including product spec sheets and packing slips).
4. Insurance Coverage

Due to the fragility and potential hazards and risk for damage in shipping stone, making sure you have proper insurance coverage is crucial. Carrier liability is typically limited, especially for LTL common carriers. So, if your shipment and damaged in transit, the probability that you will receive full compensation for the value of your product is very unlikely. Usually, in LTL shipments, the payout depends on a dollar per pound amount based on the class and commodity. In order to get this payout, you will need to go through all of the necessary steps to file a claim and prove the carrier is at fault for damaging your shipment. It can be a tedious process with a very limited return. Many shippers find it much more beneficial to obtain additional freight insurance to have more complete coverage of their freight.
Truckload carriers are required by the FMCSA to meet specific primary insurance minimums. Cargo liability is the type of insurance that covers your freight while it is in transit. Typically, up to $100,000 in cargo liability is covered, but it's important to note not all types of commodities are covered. Restrictions can vary depending on insurance company, so it's always a good idea to look into purchasing additional cargo insurance to be sure your freight is covered.

5. Accessibility of Site/ Unloading Teams

Another huge challenge for shippers moving stone materials is accessibility of the pick up and delivery locations. Oftentimes, these loads are being picked up directly at the quarry, and it can be difficult for the driver of a 53' dry van or a flat bed to maneuver in these locations. Delivery can be at construction sites, or even residential lots, which poses even more difficulty for drivers. It's important to know that the driver of your delivery truck typically will not assist in the loading or unloading of your freight. And with thousands of pounds of hard-to-move, bulky product, you need to be prepared and have a well-trained and reliable team ready at your disposal - possibly even after hours. Most truckload carriers charge detention after 2 hours for loading/unloading, which means extra money in fees off your bottom line. The time can go quickly, so have any equipment and areas cleared that are needed for loading and unloading. Being better prepared on the front side can save you lots of money and time wasted later on.
Stone shipping is one of the most challenging and problematic types of freight shipping out there. It's also very common. As both commercial and residential builders are more frequently using natural stone in their designs, the demand for transporting these materials is increasing exponentially. Stone shippers have to equip themselves with as much knowledge as possible about the many issues that may arise both during and before and after transit. Being well-informed is the best way to ship as smart and as securely as possible while minimizing the potential for costly damage. Working with a freight broker can lend you some expertise from finding reliable and vetted carriers, to knowing just what type of equipment you need to get your freight to its destination safely. Contact PartnerShip for your next stone shipment!