5 Crucial Holiday Shipping Strategies for Ecommerce Sellers
10/09/2020 — Leah Palnik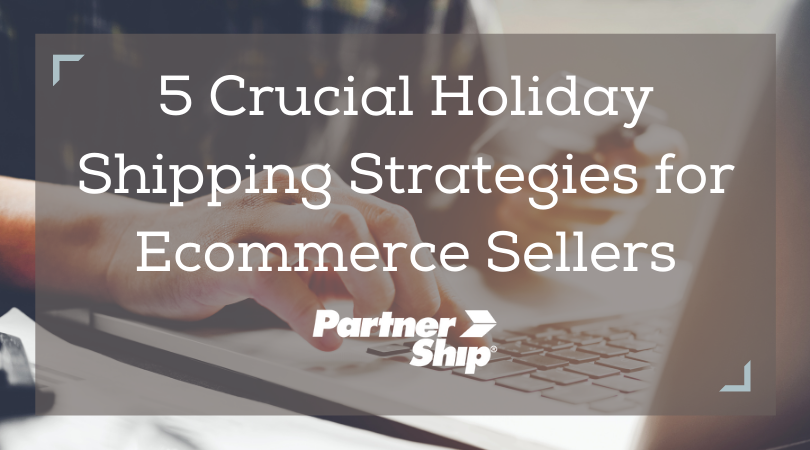 As a consumer, it might feel like it's too soon to start thinking about the holidays, but retailers know that waiting is not an option. If you're an ecommerce seller, you've probably already been stocking up your inventory and preparing for the increase in traffic to your site. As you're getting ready for this busy time of year, keep these crucial holiday shipping strategies in mind.
Reduce your parcel rates


Shipping orders to your customers can get expensive, fast. While some of the big players in ecommerce can negotiate discounted rates directly with FedEx and UPS, that doesn't mean that the smaller sellers have to suffer. If you belong to a trade association or a chamber of commerce, check out their member benefits. Many groups offer parcel discounts with UPS or FedEx that are included as part of your membership.



Consider on-demand warehousing options


If you don't need year-round warehouse space, but your orders ramp up significantly during the holiday season, consider using on-demand warehousing. This can help alleviate the pressure on your existing operations, in a time when it's crucial that everything runs smoothly. A key part of this strategy is also the added ability to reach your customers sooner. It's no secret that meeting customer expectations for deliveries is essential to your business, and with the right warehousing partner, you'll be able to reduce transit times and gain access to cost-effective expedited services.



Clearly communicate shipping deadlines


There are some of us who are guilty of waiting until the last minute to do their holiday shopping. When's the last day to order for Christmas? Do you offer expedited options or any special seasonal guarantees that could give you a leg up over the competition? Managing customer expectations for holiday shipping will increase your customer satisfaction. Clearly communicate this information on your website, during the purchasing process, and in emails to your subscribers.



Consider special promotions


Now is the time to pull out all the stops to maximize your sales. People are looking to buy, and it's your job to incentivize them to spend their hard earned dollars on your site. According to a report by the National Retail Federation, 50% of shoppers cited a limited-time sale or promotion as the reason they were swayed to purchase an item they were on the fence about.

Even more notable, 64% of shoppers said that free shipping has influenced them to make a purchase. Offering free shipping has become the new normal in the world of ecommerce. If you're worried about the costs of "free shipping" there are several different strategies you could try. For example, try setting the free shipping threshold above your average order amount to increase the amount people spend when making a purchase on your site. When executed properly, consumers will be more likely to add items to their cart to meet the minimum and it becomes a win-win.



Set up a streamlined returns process


With increased holiday sales comes the inevitable – returns. According to a Narvar Consumer Report, 74% of customers said return shipping fees will prevent them from making a purchase. On the flip side, 72% said that a "no questions asked" return policy would make them more likely to buy from a retailer. The influence of the return policy on the purchase decision is undeniable. Make your return policy as customer friendly as possible and communicate it clearly at the beginning of the shopping experience. Also, take proactive steps like providing return labels in the original order and offering in-store returns so it is less of a headache for you and your customers.
Striking a balance between appealing customer promotions and the right holiday shipping strategies can help make your season bright. If you need to reduce your parcel costs or could use some help with storage and fulfillment, PartnerShip has you covered. Our shipping and warehousing services set ecommerce sellers up for success. Contact us today to learn how you can ship smarter.