On-Demand Warehousing: 7 Ways Your Business Could Benefit
11/14/2019 — PartnerShip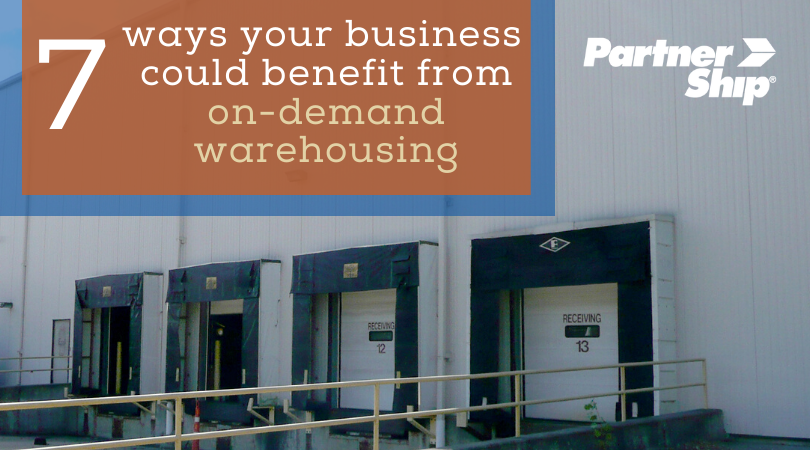 A rapidly growing need in the warehouse and logistics industry is for on-demand warehouse space. So, what is on-demand warehousing?

The simple answer is on-demand warehousing is a logistics strategy that matches businesses with a need for short-term or temporary warehouse space with warehouses that have excess capacity.

As recently as two years ago, the topic of on-demand warehousing was relatively unknown, but several factors have led to the rapid increase of its awareness and market need. Let's look at 7 ways your business could benefit from on-demand warehousing.

The Amazon Effect.

Basically, the "Amazon Effect" has changed consumer expectations and means that anything and everything is available online with one-day or even same-day shipping. The eCommerce giant has created "get it now" expectations, and if your business can't offer one- or two-day shipping to your customers, you are at a distinct disadvantage. If you are based on the west coast or east coast, you should seriously consider adding additional warehouse storage and order fulfillment in strategic locations to reduce shipping time to your customers.

Increasing demands of eCommerce fulfillment.

If you are a retailer, you've seen the headlines about the decline of brick and mortal retail as more and more B2C and B2B commerce shifts online. If the increased demand for eCommerce has stretched your facilities to their limits, you should consider on-demand warehousing and order fulfillment to take the pressure off of your existing infrastructure and help meet your customers' higher expectations for short shipping times.

It's less expensive to borrow space than build it.

Start-ups and small companies are finding it advantageous to rent warehouse space as they grow rather than build their own distribution centers and warehouses. By utilizing warehouse space on an as-needed basis, your small business can focus on growing sales and market share instead of adding the overhead a dedicated warehouse requires.

When peak season is your only season.

If your company relies on a single season for the majority of your revenue, it makes more sense to use an on-demand warehouse for your peak season than to pay for year-round warehouse space.

When its time to outsource to save resources.

When your resources are limited, its best to outsource functions that fall outside of your company's strengths, and warehousing and logistics is usually one of those functions. By working with an on-demand warehouse that can "store it and ship it," your company can devote its precious resources to product development, R&D, or marketing; whatever it is that you do best.

Inventory overflow.

Even if your company has its own distribution network you may find yourself in need of temporary warehouse space. Expansive new product launches, importation of a years' worth of goods, or stockpiling of raw materials to hedge against increased costs can create the need for extra storage space.

"Micro-warehousing."

If your company sells (and needs to store) goods and products near population centers that use them more than other areas, like Ohio State branded products in Ohio, air conditioners in the southeast, or snowblowers in the northeast, then you could benefit from temporary warehouse space outside of your existing distribution network.
Of course, there are many other reasons that have helped fuel the growth of on-demand warehouses, such as warehouse consolidation, rising import and export tariffs, international companies expanding in the U.S., large regional construction projects, and many others, and it all means the need for on-demand warehouse space is growing.
PartnerShip has provided a full range of third-party logistics (3PL) services for three decades and now offers on-demand warehousing in our 200,000+ square foot facility, conveniently located near 5 major interstates in Ohio. If you need help with your warehousing needs and inbound and outbound shipping, call us at
800-599-2902
or send an email to
warehouse@PartnerShip.com
.