Your Guide to the 2019 FedEx and UPS Rate Increases
12/17/2018 — Leah Palnik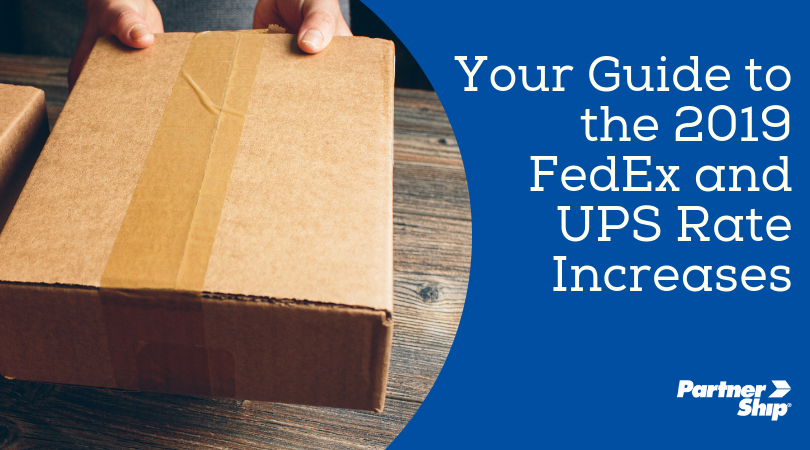 FedEx and UPS rates will be going up in 2019, and it's more important than ever that shippers know how to mitigate the impact to their business. In November, FedEx announced that its small package rates will increase an average of 4.9% as of January 7, 2019. In December, only a few weeks before the change is set to take place on the 26th, UPS announced the same average increase.
If you're thinking that means you can budget your costs to go up by 4.9%, you are sorely mistaken. There is a lot to unpack with these rate increases. For starters, some services are increasing at a higher rate than others – meaning that depending on the services you commonly use, your costs could go up significantly more than the announced average.
Other factors determine how much more you will pay for your FedEx and UPS shipments in 2019. You will need to look at the new rates based on your package characteristics, as well as how far your shipments are being sent. Here are the released rates for 2019:
FedEx and UPS surcharges
The announced average increase only covers the base rates. You'll also need to consider what fees and surcharges apply to your shipments. Many of these surcharges are increasing quite a bit. Here are the announced changes:
One surcharge to take note of is the Third-Party Billing fee. A couple years ago, UPS introduced this in response to the growing popularity of drop shipping. Right now if you use third-party billing, you will incur a charge of 2.5% of total cost. Beginning December 26, UPS will be increasing that charge to 4.5%. FedEx is leaving its Third-Party Billing charge unchanged at 2.5% for 2019. This is just one example of why it's important to evaluate the changes that come out each year from UPS and FedEx. One small difference can have a huge impact on your costs.
The most costly surcharges continue to be those that apply to shipments that qualify as "Unauthorized" or "Over Maximum Limits." If you send a package with UPS that weighs more than 150 lbs., exceeds 108 inches in length, or exceeds a total of 165 inches in length and girth combined, you'll be looking at a $850 charge on top of your base rate. That same package will incur a $675 charge if you ship it with FedEx. Either way, you'll be paying a huge premium to ship larger, bulkier packages.
Peak season strategies
It's also important to note that ahead of the 2019 general rate increase (GRI), FedEx and UPS both announced peak season surcharges. For those larger packages, the carriers applied additional surcharges during the busiest time of year. A huge difference between the two, however, was an additional charge on residential shipments. UPS applied a $0.28 peak surcharge on residential ground shipments, while FedEx decided that for the second year in a row, it wouldn't follow suit. If you're a retailer that delivers a large amount of customer orders over the holidays, that charge can add up fast.
Trends in the small package industry
If you zoom out on all of these changes from FedEx and UPS, there are a few insights to glean.
FedEx and UPS tend to institute similar pricing strategies. The carriers have a habit of matching each other when announcing average increases, and when one introduces a new charge or a different way to account for something, the other tends to do the same down the road. That doesn't mean that it doesn't matter which carrier you use. Instead, it's important to stay on top of the changes and evaluate your options on a regular basis so you're always using the service that works best for your budget.
Many of the changes over the years have been put in place as a result of the ecommerce boom. With more shipments coming from online orders, comes more trends that strain the carriers' networks. For example, ecommerce has led to more residential deliveries and more deliveries of oversized packages. That's why you'll see the carriers making changes that help them to recoup some of the costs associated with these trends.
Both carriers have been making changes throughout the year, instead of just during the GRI. For example, FedEx and UPS both increased their Additional Handling surcharges ahead of the new year – in September and July respectively. When UPS first introduced peak surcharges for residential ground shipments, that was also done outside of the annual announcement. This just highlights how important it is for shippers to stay aware throughout the year.
We know you don't want to comb through every tedious page of the 2019 FedEx and UPS service guides and compare them to your current rates. That's why we did the leg work for you. In our free white paper, we break down where you'll find the highest increases and explain some of the complicated changes you need to be aware of. If you're looking for ways to offset the rate increases, we can also help with that. If you're a member of one of the many associations we work with, you can get access to exclusive discounts. Contact us and we'll find a way to help you save.