Why It's Never a Good Idea to Fudge Your Freight Dimensions
01/12/2021 — Jen Deming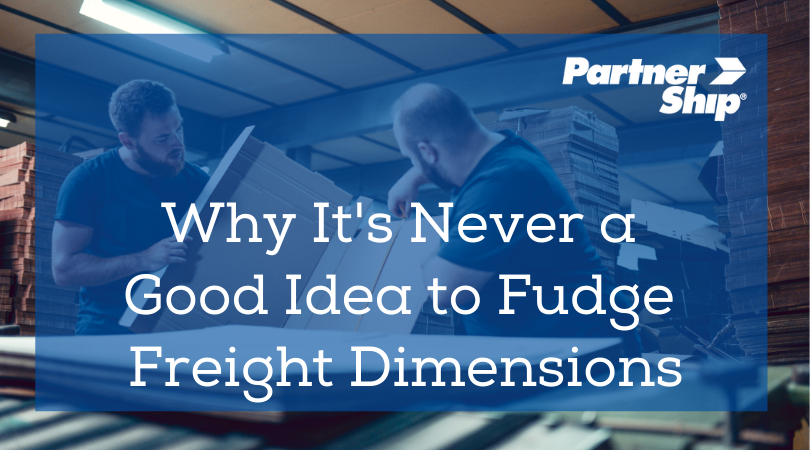 While constancy isn't something you can always expect in the freight industry, there are a few steady trends we've seen in recent years: less truck availability, an oversaturated network, and rate increases. Both sides are using tactics to offset these variables. Carriers increase fees, and in response, shippers explore means to cut costs. A trend we've seen among novice and experienced shippers alike is either estimating or downright falsifying the freight dimensions and weight of their LTL shipments. But, we're here to tell you that going either route is a risky maneuver that can have major fallout.
Incorrect dimensions can delay your shipment
Carriers have an entire arsenal of tools at their disposal that check for discrepancies in weight and freight dimensions. Once LTL shipments are picked up and the BOL (bill-of-lading) is tendered to the carrier, that paperwork serves as a legal document — a contract between the shipper and carrier. Because LTL shipments stop at multiple terminals while in transit, there is plenty of opportunity to get "caught" if your weight or freight dimensions stated on this document are incorrect. If a carrier suspects misrepresentation on a BOL, intentional or not, your shipment will be flagged for an audit and an inspection. This process takes some time and your shipment will be detained. Depending on the volume going through that particular terminal, it's tough to say how long that could be. Your shipment delivery will likely be delayed or missed, which can be a disaster if it was a time-sensitive shipment or if it holds up other operations for you or your customer. It's just not a good look.
You could be subject to reweigh, reclass, and over-dimensional fees
As outlined specifically in each
carrier's rules tariff
, freight rates are determined on a variety of variables. When it comes to weight, cost is often calculated on a per pound basis and a maximum "standard" shipment length. Intentionally underestimating weight and size in order to save money can be tempting. However, if the actual weight and length is determined to be more than stated on the provided BOL, the final cost will be adjusted to reflect that. But, how much can that really be, right? If you're still thinking about estimating your freight dimensions, think again:
fees associated with these inaccuracies
can affect your bill twofold.
Firstly, the audit and subsequent reweigh or measurement will incur an inspection fee. The standard inspection itself can cost anywhere from $20 to $50 for weight changes. According to
their rules tariff
, UPS Freight charges $25 for a reweigh. As for restricted lengths, the fee can vary greatly by carrier and is often calculated on a cost per foot basis. For example,
UPS Freight charges
$90 for "extreme length" LTL shipments that fall within 8-12 feet. Larger than that, but under 20 feet can cost you $125. Of course, it increases incrementally from there.
Secondly, changes to your shipment details may affect your freight class, another important component of your freight rate. Some types of products are
classed based on density breakdowns
; a dimensionally-large but lightweight shipment can be expensive. If your weight is incorrect, your density and class may change significantly, which will affect the overall cost of your shipment. Combined with the initial fee, these two factors can ultimately tack on hundreds of dollars in unexpected fees alone — in fact, they may add up to more than the original cost of your load.
False freight dimensions can lead to disappointing claim payouts
So let's talk about another worst-case scenario: your freight shipment is damaged or lost while in transit. It's a daunting prospect, but unfortunately, a pretty common occurrence, especially as more freight enters the network. Most shippers know that in order to recoup losses, you can always file a
claim with the carrier
. But
payouts can be complicated
, and what many shippers don't know is that a final claim payout can be majorly affected if the provided shipment details are inaccurate.
Most carriers determine claim payouts on a dollar per pound basis, with heavier shipments receiving higher payouts. Even if your dimensional fudging makes it past the carrier unnoticed, a payout based on these inaccurate details may be much less than what you were hoping for. To make things even more complicated, certain classes of products aren't covered at all. If the carrier does find out you inaccurately disclosed weight, dimensions, or other details, the claim can be completely denied.
How to ensure you have accurate dimensions for your freight
While it's clearly not a great idea to guess or fabricate your freight dimensions, mistakes can also be made when you have the best intentions of providing the correct measurements. There are a few tips you should follow to ensure the details of your shipments are as accurate as possible.
Invest in quality scales and other tools used within warehouses
Audit and calibrate your measurement tools regularly
If you aren't able to acquire the proper equipment, use the manufacturer's specs
Don't forget to add in weight and size measurements from packaging such as pallets, cartons, etc.
Always calculate proper freight density
If you are receiving the freight shipment but are responsible for the shipping costs, make sure those details are being calculated accurately
Shippers are always going to be looking for ways to cut transportation expenses in order to improve their bottom line. While shipping costs may be a flexible area for that opportunity, fudging your freight dimensions to get there is both unethical and extremely risky. If you're stuck on how to save,
PartnerShip can help
.
Inaccurate freight dimensions is just one of the common slip-ups shippers make that have costly consequences. Check out our free guide on the top 5 most common mistakes to avoid so you can ship smarter.