What Determines LTL Freight Rates? 9 Things You Should Know
02/16/2017 — PartnerShip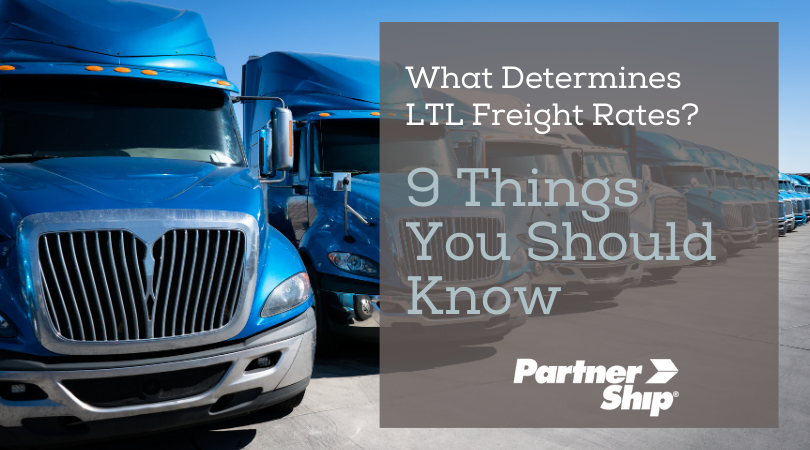 We often get questions from shippers like, "Why do freight rates fluctuate so much?" or "How are LTL rates calculated?" LTL freight rates can be a bit confusing because of their variability. While truckload freight rates are typically calculated on a per-mile rate plus a fuel charge, there are many factors that determine LTL rates, and they can significantly impact the cost of your shipment. We'll cover nine factors that influence LTL freight costs one by one.
Weight.
The more your LTL shipment weighs, the less you pay per hundred pounds, also known as hundredweight pricing. Freight carriers will refer to a chart that lists cost per hundredweight (abbreviated as CWT, or centum weight) that contains weight breaks. As your LTL shipment weight increases, it moves into the minimum weight of the next highest weight category, which has a lower rate per CWT.
Density.
Density is the space a shipment occupies in relation to its weight and is determined by dividing the weight of the item (in pounds) by the volume (in cubic feet.) Freight density is a major factor in determining your shipment's freight class. There are 18 freight classes, numbered from 50 to 500. The higher density your product is, the lower its classification (50-85). Less dense products usually have higher classifications (125-500).
Freight Class.
Generally, a shipment's density, value, stowability, handling and liability are how freight class is determined by the National Motor Freight Classification (NMFC) system. Lower classes represent very dense freight that is difficult to damage and is easy to handle. These lower classes have lower LTL shipping rates per pound. Higher classes represent lighter and less dense freight that typically takes up more space. The higher the class, the higher the freight rate.
Distance.
As a rule, the longer distance your freight must travel, the higher the price per-hundred weight will be. Fuel costs, driver costs and equipment costs all increase with distance, as does your cost.
Base Rates.
All LTL carriers establish their own LTL base rates which are quoted per 100 CWT. These carrier base rates are based on its volume, demand and gross costs. For example, one carrier may have a lower base rate for shipping lanes where they have a good balance between trucks and freight than another that may not.
Freight All Kinds (FAK).
The Freight All Kinds classification is a pricing arrangement that allows multiple products with different classes to be shipped and billed at the same freight class. For example, a shipper that ships multiple items ranging from class 50 to 100 could negotiate an FAK to rate all items at class 70, reducing costs on higher class shipments.
Minimums.
The absolute minimum charge (AMC) is the cost below which a carrier will not go. The costs a carrier experiences for a minimum charge shipment typically exceeds the costs they experience for larger, heavier shipments.
Negotiated discounts.
Third party logistics (3PL) freight brokers can often save an additional 18 to 25% off LTL freight rates based on the volume of business that the 3PL brings to the freight carrier. For every $10,000 in freight costs, that's an extra $1,800 to $2,500 in savings!
Accessorials.
Freight
accessorial charges
are extra services performed by the carrier that go beyond dock-to-dock pick up and delivery. Common examples include lift gate service, residential pickup or delivery, limited access locations and inside delivery. A fuel surcharge is the most common accessorial and is typically included on every shipment.
LTL freight costs can be reduced by managing one (or more) of these factors. Working with a freight broker like PartnerShip will help you ship smarter and stay competitive by matching your LTL freight shipping needs with one of our many carrier partners, and in many cases, allow you to get the best LTL freight rates possible. If you're not sure where to start, or have a challenging shipping puzzle, we'd love to help!
Contact us at 800-599-2902 or

get a quote

now!