Trade Show Shipping Tips
01/26/2018 — Leah Palnik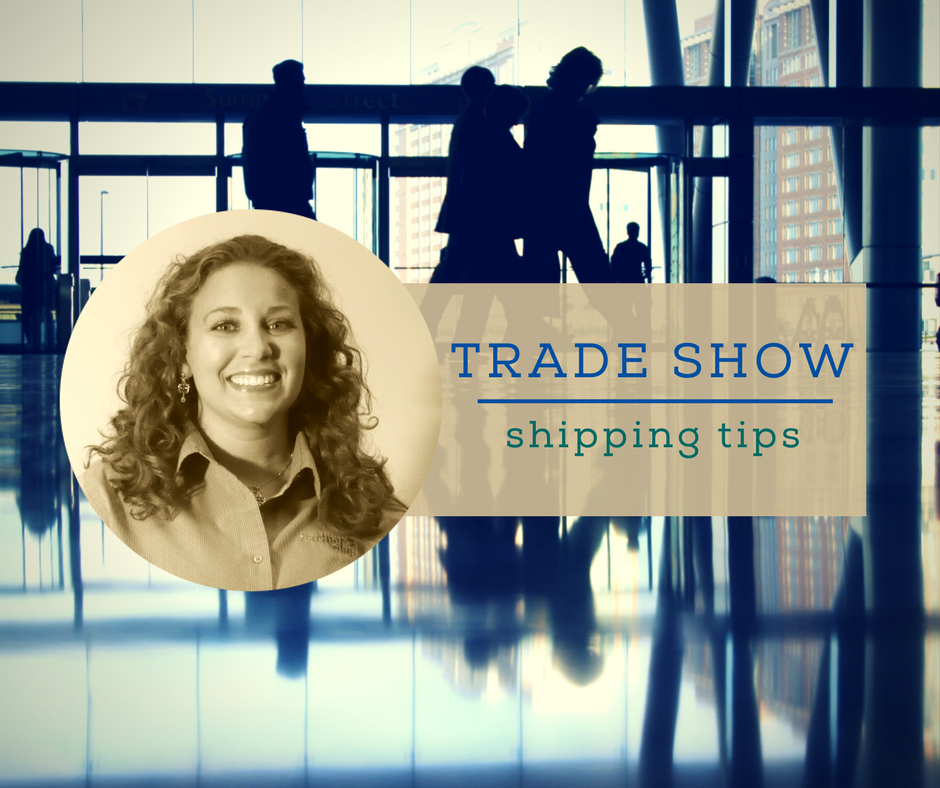 Trade show shipping can be nerve-racking and a bit confusing for exhibitors. Nobody knows this better than Jennifer Hammersmith, our Customer Service Manager. Her team helped exhibitors ship to 215 different trade shows last year, and she has seen it all. I asked her a few questions and she was kind enough to share some wisdom about what exhibitors can do to make everything go as smooth as possible.
How far in advance should you get a quote for your exhibit shipment?
One to two months out from the show is the ideal time to get a quote. Any farther out and rates may change due to fuel. But you don't want to wait until the last minute either. Use the advanced warehouse rather than shipping directly to the show site to ensure your exhibit materials are ready to go for the show.
What tips do you have for first time exhibitors?
Don't overdo it. Start small with a 10x10 booth and a modest stock of product. Your first year is a great time to learn and gather new ideas. Once you're there, make sure to walk the show floor to look at what other exhibitors are doing and to get inspiration. Also, take plenty of notes about what worked and what didn't. That way when you plan for the following year you'll be ready to take it bigger.
What is a common question you get from exhibitors?
Exhibitors usually ask about the roles between PartnerShip, the carrier, and the decorator. As the broker, PartnerShip helps exhibitors set up their shipment. One of our customer service representatives will recommend specific days to ship your materials out, secure a discounted rate with the carrier, and help you schedule your shipment. The carrier then picks up and delivers your shipment. Once it arrives, that's where it's handed off to the show decorator. The decorator is responsible for the drayage and material handling, meaning they get it to your booth.
What's the best way exhibitors can plan around bad weather?
The advance warehouse exists for a reason. Take advantage of it and ship early! Keep an eye on the weather – not just in your city and the show city, but also nationally. Think about what happens to airlines when one city is hit with a bad storm. Flights in and out of that city aren't the only ones affected. Airlines will often have to delay and cancel flights across the board. Shipping is very similar. Bad weather in one area affects a carrier's network all across the country, causing costly disruptions.
What are some best practices exhibitors should follow?

Ship early (have you noticed a trend?). It's the best way to ensure you're all set for the show. If there's damage to your shipment or you experience delays due to weather, you'll have time to create a contingency plan.
Use bright, unique packaging. The best way to think about this is how you mark your luggage when flying. The more you can make your luggage stand out, the easier it is to identify it as it comes through baggage claim. A simple way to do this is to find patterned duck tape and wrap it around your container.
Track and confirm delivery. When you confirm delivery with the decorator you can also have them send you a picture. That way you're able to see if there's any visible damage ahead of time. This extra step will save you from potential heartache when you arrive to the show.
Take a picture of your freight before it leaves. If you have a picture of your freight (with a time-stamp if possible), you can easily help the carrier or decorator locate it if it's lost. You'll also have evidence of its prior condition if it sustains damage during transit.
Create a pack list. If the shipment is lost or damaged, you'll have all the information you need ready to go. Include a list of your products, along with the quantity and costs.
Be prepared for the worst case scenario. To compare trade show shipping to flying again, think of how you might protect yourself against lost baggage by putting some essentials in your carry-on. Bring some extra product or collateral in your luggage, just in case something happens to your shipment. Also, think of all aspects of the show – not just your shipment. Have a plan for if you encounter any other disruptions like delayed/canceled flights or the wrong carpet in your booth.
There are a lot of things that can go wrong when you're exhibiting at a trade show, but if you follow Jennifer's advice, you'll be in good shape. If you have a show coming up, you can reach our customer service team by calling 800-599-2902 or emailing sales@PartnerShip.com - or simply request a quote by clicking below.