New Excessive Length Restrictions You Can't Afford to Ignore
09/18/2018 — Jen Deming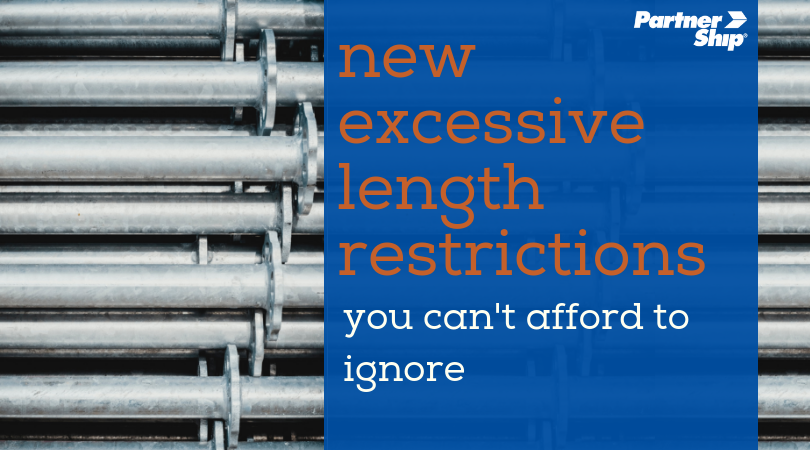 It's a tough time for shippers and carriers alike. It's no secret that the current capacity crunch is affecting freight rates and transit times, but now shippers are facing new excessive length restrictions as well. As the number of available freight shipments continues to increase at a record-setting rate, carriers simply cannot keep up. In an effort to free up for space for available loads, XPO will be implementing new restrictions on certain types of shipments. What are the changes being made, and what else can shippers expect from freight carriers as capacity continues to tighten?
XPO will be making a few specific changes that will affect the excessive length policies currently in place. The primary change that will affect customers is the following:
As of 9/24, XPO will no longer pick up shipments of pipes or bars that are not crated, regardless of length. Leading up to the 24th, all items should continue to move without problem unless over 20ft or more, which would be determined at the service center level
To summarize, if you are shipping pipes or bars of any length, they must be crated - simply palletizing your load will earn you a missed pick-up. Some shippers like to save time by combining multiple commodity types of different classes onto one pallet and one bill of lading. If you are used to combining your multi-class shipments into one load, and it includes bars or pipes, crate them separately from the rest of your freight and create an individual BOL. XPO has created a packaging guide with notable rules of thumb to help properly package your shipments and gives further insight into excessive length articles.

The active phasing out of excessive length shipments by XPO is anticipated to have a favorable impact on current available carrier capacity. It's a safe assumption that other carriers may follow suit. Many common carriers do not have the specific equipment needed to properly move long freight safely and efficiently. Historically, excessive length freight contributes to more damage claim submissions and creates much more wasted space than a standard dimensional shipment. This means less freight can be loaded into a truck at a time, and this can lead to an increase in missed pick-ups and longer transit times for other shippers.

Some carriers have already adopted special charges for small package ground shipments that are considered oversized. FedEx and UPS both charge higher surcharges on these types of shipments in order to discourage shippers from moving them. These fees range anywhere from $80 up to $500 on top of regular service cost, depending on the carrier and package size. Right now, many freight carriers already have excessive length fees in place, and it's entirely possible that carriers that do continue to move oversized freight loads may implement increases or initiate the same sort of surcharge system in the near future.

For customers who are shipping commodities that are consistently rated excessive length, it may be time to consider looking into truckload service options. Moving full truckload is a great alternative for businesses shipping many pallets of product at a time, but it's also a secure and efficient option for those who have fragile, large, or high-value freight. With this option, you pay for the cost of the space you take on a full 53' truck. Freight class doesn't affect your rate, and you may have more flexibility with packaging. Added security and quicker transit times typically are additional benefits. Depending on the length of your haul, a dedicated truck may be costly, but a freight broker can help look into partial truckload options that may better fit your budget. Whatever freight shipping option works best for you, it's a good idea to look into all available choices as the transportation industry continues to evolve.

The capacity crunch is an ongoing challenge, and carriers are responding by changing the industry as we know it. Pricing for both freight and small package services is rising, and policies are being adjusted to make room for an increase in demand. Working with a quality freight broker can help steer you in the right direction and make sure you are shipping smarter. Contact PartnerShip at 800-599-2902 or email sales@PartnerShip.com today.