The Impact of Natural Disasters on Freight Shipping
10/15/2018 — PartnerShip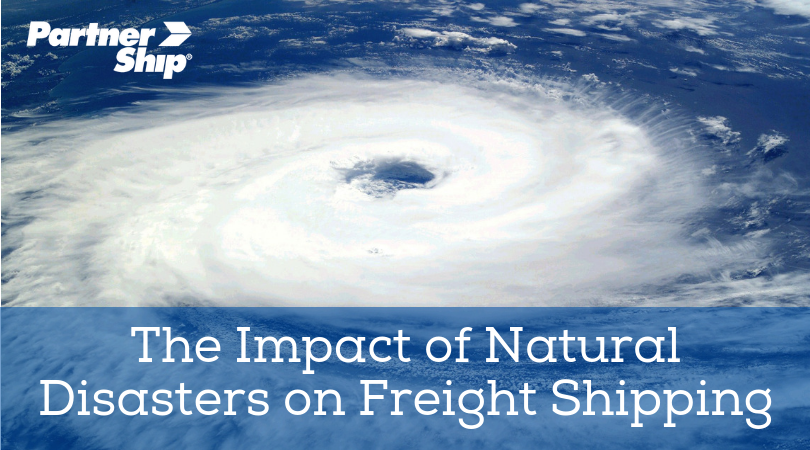 Our economy relies on the reliable transportation of goods and materials to link suppliers with manufacturers, manufacturers with retailers, and retailers with consumers. When natural disasters happen, they can negatively impact your carriers, your lanes, your supply chain, and your cost of moving freight.

The natural disasters that have the most profound impact on the movement of freight are floods, hurricanes, blizzards, earthquakes, and ice storms. Each of these natural calamities produces dangerous road conditions that make driving hazardous, and in extreme cases, can wash away roads or make them completely impassable.

Here are 6 ways that natural disasters can impact your freight shipping operations.

Rates. Obviously, your freight shipping rates will increase in a natural catastrophe. If roads become impassable, alternate routes will need to be taken, increasing fuel consumption and lengthening driver on-duty time, both of which are costs that will be passed along to you. Your freight rates will also increase due to tighter capacity with demand outstripping equipment or carriers refusing to travel to areas with impending, or predicted, severe weather. If you do find a driver and / or equipment willing to take the risk, you will pay for it.

Capacity. After a natural disaster, there is substantial competition for limited transportation resources and equipment. This limited capacity will naturally push costs up, but even if you can afford it, the capacity might be impossible to find.

Transit time. If your regular Atlanta to New Jersey lane is two days, it may stretch to three, four, five or more if a hurricane is bearing down on the east coast. The driver may need to wait it out inland until roads are passable, until the warehouse or factory is open again for business, or may just be caught in traffic. This will increase your transit time.

Fuel. Diesel prices always rise in the wake of a natural disaster, especially hurricanes, because refineries are frequently located near where hurricanes make landfall. This can close a refinery or damage it, making fuel more expensive. In 2017, Hurricane Harvey shut down about 17% of US oil refining capacity in Corpus Christi, Port Arthur, Lake Charles and Houston, TX. The disruption to oil refining drives up fuel prices and the fuel surcharges carriers charge you for every load.

Refused loads. Many times carriers will refuse to pick up or deliver freight in the event of a natural disaster. If your carriers refuse your loads, your supply chain will suffer. Your plants can go idle, waiting for materials or components; your customers' plants can go idle, waiting for you; retailers can run out of inventory; all of which result in opportunity and revenue lost.

Inbound delays. Your flight from Dallas to Los Angeles will be delayed if the inbound flight from Chicago is late due to weather. Inbound freight can be impacted in the same way. Even though your area might not be facing weather issues or a natural catastrophe, if your inbound freight is delayed due to facility shutdowns or power outages caused by severe weather, you will be affected.

Here are some suggestions to deal with the effects of natural disasters on your shipping:

Two tactics to manage unexpected increases in your freight rates are 1), accrue for contingencies in your annual freight budget and 2), shop around. Working with a broker that has access to thousands of carriers can help you move a load when your regular carriers cannot.
To alleviate difficulties due to a lack of capacity, think through different transportation options before disaster strikes, such as lining up backup carriers for different regions of the country or shipping lanes, and working with your existing carriers to map out alternate routes.
Build slack into your supply chain. Just-in-time inventory control is easier when you manage the assets moving your freight but is much more difficult to control when you are relying on carriers which can be delayed to natural disasters.
Leverage your freight spend. Giving more freight to fewer carriers can help you negotiate lower fuel surcharges.
Plan your transportation to optimize transportation modes. For example, it might be less expensive to ship your freight as multiple LTL loads rather than full truckload. Or moving everything in one truck might be the better alternative.
Working with a freight broker can help you mitigate the service interruptions, capacity issues and increased costs associated with natural disasters and severe weather. Contact PartnerShip at 800-599-2902 or request a quote to see how we can help you ship smarter so you can stay competitive.