PartnerShip Celebrates Manufacturing Day, Friday, October 5th!
10/02/2018 — PartnerShip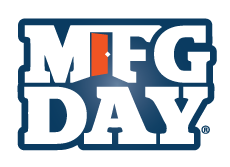 PartnerShip is proud to help celebrate Manufacturing Day 2018.

MFG Day was started in 2012 to acknowledge the large role manufacturing plays in the US economy and to help inspire the next generation of engineers and manufacturers. Its main purpose is to educate and inform students, teachers, and community leaders about how important manufacturing is to their local community and their local economy. PartnerShip is proud to partner with many organizations that support and promote manufacturing, such as NTMA, MAPP, PMPA, Manufacturing Works, and many others!

There is an increasing skilled labor shortage in the manufacturing sector, and MFG Day gives manufacturers an opportunity to open their doors and correct the misperception that manufacturing involves repetitive, unskilled tasks that happen in dark, dirty factories; it's an opportunity to show people what modern manufacturing really looks like. Manufacturing offers high-quality jobs and career choices. Consider these statistics:

US manufacturing is the 9th largest economy in the world. (Source: Bureau of Economic Analysis)
Manufacturing supports 18.5 million jobs in the United States. (Source: Bureau of Labor Statistics)
Manufacturing comprises nearly 12% of the GDP of the US. (Source: Bureau of Economic Analysis)

In 2017, the average manufacturing worker in the United States earned $84,832 annually, including pay and benefits. (Source: Bureau of Labor Statistics)

Over the next decade, nearly 3½ million manufacturing jobs will likely be needed. (Source: Deloitte and the Manufacturing Institute)
Last year, 600,000 people attended MFG Day events, including 267,000 students.


PartnerShip works with hundreds of manufacturers and we're proud to spread the word about the importance of manufacturing. If you're a manufacturer that wants to work with a shipping partner that understands your business, contact PartnerShip for a quote on your next shipment!