Navigating the Potential UPS Strike: How to Protect Your Supply Chain
05/25/2023 — Leah Palnik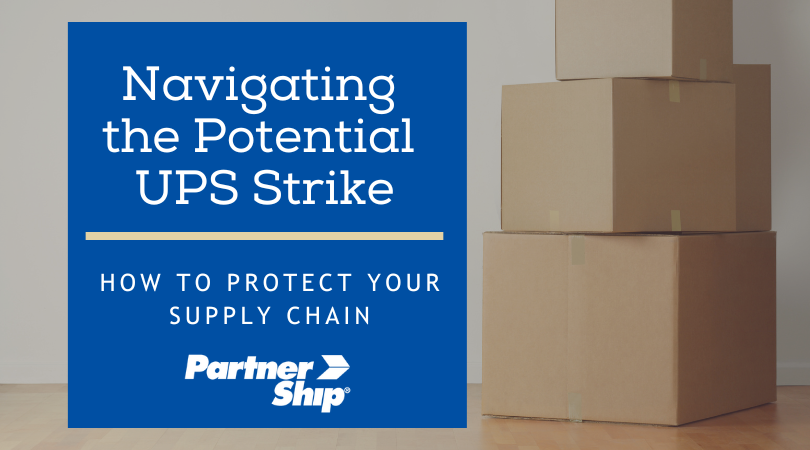 In today's interconnected business landscape, small businesses heavily rely on efficient and reliable shipping services to maintain their supply chains and meet customer demands. With the potential UPS strike looming, it is crucial for small businesses to understand the implications and take proactive measures to safeguard their operations. In this article, we'll delve into the details of the potential UPS strike, why small businesses should care, and provide actionable steps to protect their supply chains during this uncertain period.
Understanding the UPS Strike

Negotiations between UPS and the Teamsters, the union representing UPS employees, are ongoing and have reached a critical point. While it is uncertain whether a strike will occur, it is essential for small businesses to be prepared for such a scenario. The Teamsters and UPS have until August 1 to reach an agreement. The impact of a UPS strike can be significant, disrupting supply chains and causing delays in deliveries, which can have far-reaching consequences for businesses of all sizes.
Implications for Small Businesses:

Disrupted Operations: Small businesses heavily reliant on UPS services may face disruptions in their day-to-day operations, such as delays in receiving inventory, shipping products to customers, and meeting delivery deadlines. This can lead to dissatisfied customers, decreased revenue, and potential damage to the brand reputation.


Increased Costs: In the event of a UPS strike, small businesses might be forced to seek alternative shipping solutions, which could come at a higher price. Exploring other shipping carrier options and securing competitive pricing now will be a necessary lifeline.


Supply Chain Bottlenecks: A UPS strike can cause a ripple effect throughout the entire supply chain. Suppliers, manufacturers, and distributors relying on UPS may experience delays in receiving raw materials or components, leading to production slowdowns and potential stock shortages. Small businesses need to proactively address these bottlenecks to mitigate the impact on their operations.
Protecting Your Supply Chain:

Diversify Shipping Partners: Small businesses should consider partnering with alternative shipping providers such as FedEx, DHL, or regional carriers. Research and negotiate discounted rates with these providers well in advance, ensuring they can handle the business's shipping volume during a UPS strike.


Plan Ahead: Developing contingency plans and forecasting potential disruptions is crucial. Small businesses should communicate with suppliers, manufacturers, and customers, informing them of potential delays and seeking alternative arrangements if necessary. Implementing buffer inventory or safety stock can help mitigate supply chain disruptions during this period.


Explore Local Sourcing: In case of a UPS strike, small businesses can explore local sourcing options for raw materials or components. This reduces the reliance on long-distance shipping and minimizes the impact of any potential disruptions in the transportation network.


Optimize Inventory Management: Efficient inventory management becomes paramount during uncertain times. Small businesses should analyze their inventory levels, streamline their procurement processes, and leverage technology solutions to track and manage inventory in real-time. This ensures the availability of essential products and reduces the risk of stockouts during a UPS strike.


Communicate with Customers: Proactive and transparent communication with customers is crucial during periods of disruption. Small businesses should keep customers informed about potential delays, set realistic expectations, and provide updates throughout the process. Customer loyalty can be maintained by offering alternative shipping options or discounts during this challenging period.


Control Your Costs: One effective way for small businesses to safeguard their supply chains and keep costs under control during a potential UPS strike is by exploring discounted shipping options. PartnerShip works with over 130 associations to provide members with substantial discounts on FedEx services through the FedEx Advantage program. By signing up for the program, businesses can mitigate the financial impact of a UPS strike while maintaining reliable shipping services. These discounts can help offset any potential increase in shipping costs and ensure that businesses can continue to fulfill orders and meet customer expectations without compromising their bottom line. Contact our team to find out if you qualify for the FedEx discounts and how to get started.
From Disruption to Resilience

While the potential UPS strike poses challenges for small businesses, it also presents an opportunity to reassess and strengthen their supply chain strategies. By diversifying shipping partners, planning ahead, exploring local sourcing options, optimizing inventory management, and maintaining open communication with customers, small businesses can navigate through potential disruptions and emerge stronger. Being prepared for contingencies ensures business continuity and safeguards the customer experience, even during challenging times.