Just-In-Time Delivery Options You Need to Consider
11/07/2018 — Leah Palnik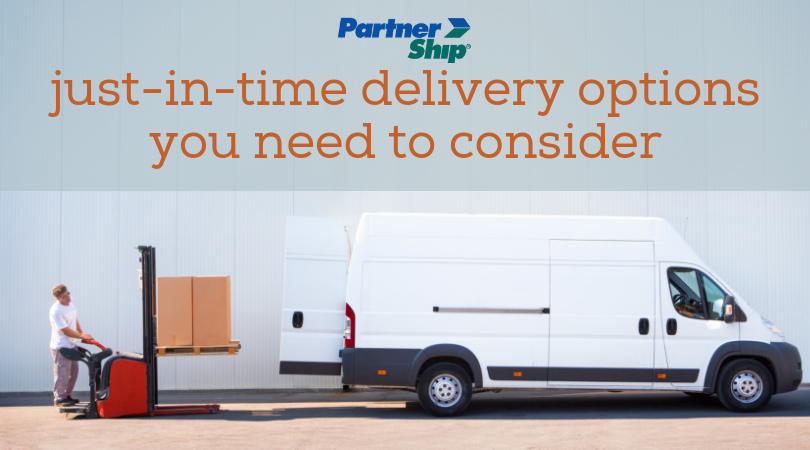 If you have freight that can't afford to wait, just-in-time delivery can sometimes feel like a gamble. Will the carrier deliver on time? Will my freight be safe? Will it cost me an arm and a leg? Knowing your options before the need arises can make all the difference.
Many carriers will offer expedited or guaranteed LTL services. These vary based on transit times and delivery windows. Guaranteed services come at an additional fee and you can typically choose between morning delivery or end-of-day delivery. Expedited LTL freight services help to shave off one or two days from standard transit times. However, sometimes hot loads require even more assurances.
For just-in-time delivery, dedicated moves by sprinter vans, cargo vans, or straight trucks can often be a smarter option. Cargo vans and sprinter vans are great for moving smaller loads for short distance trips. Straight trucks are ideal for medium sized loads and can handle longer trips. Since these vehicles vary from your traditional tractor trailer, it's important to be aware of their capacity:
Cargo van capacity is typically 2,000-5,000 lbs. and up to 8 ft.
Sprinter van capacity is typically 3,000-5,000 lbs. and up to 12 ft.
Straight truck capacity is typically up to 12,500 lbs. and up to 22 ft.
Advantages of expedited ground services
Capacity is just one way that dedicated vans and straight trucks differ from your typical freight services. Expedited ground services have some significant advantages for just-in-time deliveries:
You can get time definite delivery. Pick-up and delivery times are more accurate because your load is moved on a dedicated vehicle and often served by team drivers.
Your freight has less risk of damage. Your freight stays on the same vehicle the entire way and doesn't share the space with other freight.
Your freight moves fast. Because of their size, vans and straight trucks can be loaded faster, can move faster, and aren't limited by the same amount of restrictions that tractor trailers are.
Are these services right for your just-in-time freight?
Like any freight service, just-in-time delivery options aren't a one size fits all. There are some types of loads that are better candidates for dedicated vans than others. Here are some factors to consider:
Size

. What are the dimensions of your freight and how much does it weigh? Since sprinter vans and cargo vans are smaller than your typical tractor trailer, you need to know if your load will fit.

Destination

. How far does your freight need to travel? Cargo vans and sprinter vans are better suited for shorter distance trips. Are you delivering to an area that's hard to reach? Due to their small size and few restrictions, vans have better accessibility.

Delivery requirements

. Do you have a specific delivery window you need to meet or do you have some flexibility? Shipping in a van will give you more control since the move is dedicated.

Risk of damage

. Are you shipping fragile cargo? If safety is a significant concern, using a dedicated van can give you peace-of-mind. There are less stops and less freight on the vehicle to worry about shifting and impacting your cargo.
Shipments for manufacturing businesses are often good candidates for just-in-time delivery with a cargo van, a sprinter van, or a straight truck. With production efficiency being extremely important, these services can help keep an assembly line running by delivering a replacement part or new equipment exactly when they are needed. Manufacturers can also save a significant amount of money by having raw materials delivered right when they are needed instead of dealing with storage costs.
Another situation where dedicated vans or straight trucks can solve just-in-time delivery needs is with trade show shipments. Convention centers often have specific receiving times and restrictions that can result in hefty fees if not followed. Even worse, if your exhibit materials don't arrive in time for the show or show up damaged, it can be hard to recover. No exhibitor wants to make an investment into a trade show only to be left without their booth materials.
Just-in-time delivery carriers and brokers
If you think you could benefit from just-in-time delivery with a dedicated van or straight truck, you need to work with the right partners. Not all freight brokers have relationships with carriers that have cargo vans, sprinter vans, or straight trucks in their fleet. Working with a broker that can't offer these services can limit your options – and when you have a hot load, there's nothing worse.
The carriers your broker works with also need to be reliable and extremely responsive. Make sure your broker has standards in place that require the carriers they work with to have a history of meeting delivery expectations.
Overall, a quality freight broker should help you ship smarter. When you work with our team at PartnerShip, you only have to make one call for all of your freight needs. We understand the urgency of your just-in-time freight and we know how to find you the delivery options that are best suited for your needs and budget. Contact us today for a free quote.
Not using the right service for your freight is just one thing that could be hurting your bottom line. Download our free white paper to make sure you're not making any of these common mistakes!