It's Customer Service Week at PartnerShip!
10/05/2018 — Jen Deming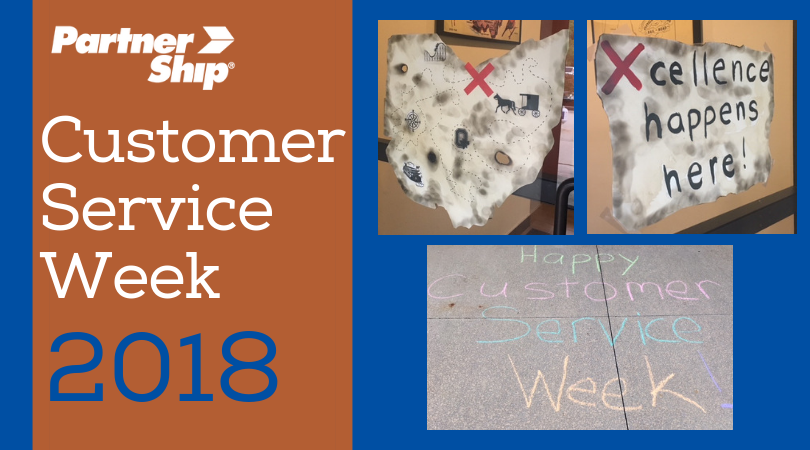 It's Customer Service Week and the time of year we like to especially celebrate our front line shipping specialists. Day in and out, these guys are making sure PartnerShip is giving the very best experience to every single customer. This year's Customer Service Week theme is "Excellence Happens Here" and it's a team value our reps demonstrate every single day. We played up the idea with a fun pirate spin for this weeks celebrations, because 'x' marks the spot for excellence at PartnerShip. And let's be honest--who doesn't love pirates?
In an effort to celebrate our PartnerShip Customer Service team, we've asked a few of them to share a bit about what inspires them to lead every day and what they've learned since they've joined the team!
What does a "good" customer experience mean to you?
Helping customers in an efficient and effective manner while maintaining a professional disposition and considering the company's bottom line. -Amanda B.
What is the most important skill to have for a career in customer service?
Excellent communication. -Andrea

What about customer service appeals to you?
Working with a lot of different people to help solve issues. -Vince

What is the best way you can help put out a customer service fire?
Listening, being empathetic and letting the customer know you understand their concerns. Follow up with the customer. -Amanda S.

How do you demonstrate that you are a team player?
Being there for my co-workers when they ask me for help. I try to offer help when I notice others may need something. -Amanda S.

What's the best customer service experience you've given?
A customer was leaving a tradeshow and failed to get a quote and shipment scheduled for the move- out. The customer called in a panic because the freight was going to be forced out and they were going to have to pay a very high rate. We were able to walk the customer through completing the material handling form and scheduled/arranged an emergency pick up. The customer was very pleased with the service and thankful for the discounts. -Amanda B.

What are you better at today than you were this time last year?
Everything! Every day in Customer Service I learn something new about shipping from my management team, customers, and co-workers! -Amanda B.

PartnerShip has a passionate team of Customer Service specialists who are an indispensable resource to both customers and other members of our organization. Though this week is dedicated to recognizing all that they contribute to our business, we know that these guys go beyond expectations every single day to elevate the customer experience and help customers ship smarter. Thank you all!