How To Best Protect Your Freight From Freezing
10/13/2022 — Jen Deming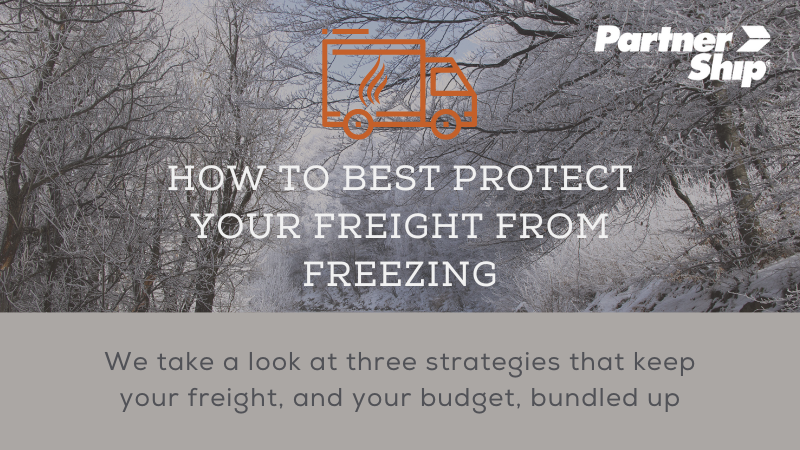 Winter is coming, and that means large parts of the nation will be impacted by cold, freezing temperatures, and adverse weather conditions. Certain types of freight, like beverages, electronics, and pharmaceuticals, are especially at-risk for damage during the winter months. The good news is that there are ways to protect your freight from freezing, which can help avoid both damages and cost challenges during the winter months. But you must be vigilant and follow three essential strategies.
Strategy 1 – Ensure your prep and packaging can handle cold temperatures
Protecting your freight starts with you, the shipper, and
proper packaging and preparation
. To make sure that your freight kicks off its journey safely, make sure to use the following tactics to avoid issues:
Know your product

: Different types of products have varying temperature minimums, so first and foremost, you should determine what temperature ranges are safest for your freight.

Group like products together

: When palletizing or crating your loads, make sure similar product types (and temperature ranges) are grouped together for maximum safety.

Use insulated packaging

: When boxing up your product, make sure items are packed with insulating materials, like foam core, cotton or paper fiber, or insulated box liners.

Wrap packed pallets

: Insulated pallet covers, or specialty cargo blankets can help trap heat inside, making sure your products stay a warm and consistent temperature.

Track temperature variations:

Many shippers opt to use smart thermometers that can help track shipment temperature and detect any shifts that may impact the product.

Load quickly and efficiently

: Your loading team doesn't have the luxury of time during the winter. Load carrier trucks quickly to minimize exposure to low temperatures and other weather risks like rain and snow.
Strategy 2 – Become familiar with specialized temp-control equipment options
To be completely honest, the equipment you choose will make or break your freight. Most carriers, especially large national carriers like TForce Freight and YRC Freight, offer temp-controlled services and have specialized trucks in their fleet that can manage freeze-protection. 'Reefer' (refrigerated) trucks aren't just used to haul frozen products during the summer. They can also be used to maintain a constant temperature for at-risk freight during the colder months.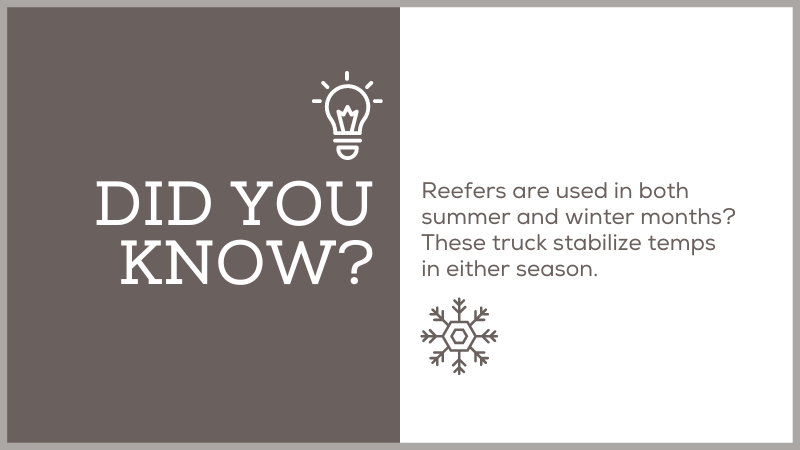 When arranging your temp-sensitive freight, it's important to contact your preferred carrier and learn about what options they offer. Communicate your shipment's needs, starting with product type and what the required temperature range must be. Carriers can help secure a reefer truck, offer heated truck options, or even may provide alternative heating solutions, like portable or built-in trailer heating units.
After communicating with the carrier and deciding which temperature-control options are right for you, it's important to note temperature requirements on your bill-of-lading. As with most special requests, this not only gives the carrier direction on your needs, but it can also be used as a point of reference for liability should something go wrong during transit.
Keep in mind, that temperature-control services are considered accessorials, and will incur charges and fees that may vary by carrier. Building those fees into your shipping costs is best done early on in the transportation process.
Strategy 3 – Stay on top of delays and weather conditions
Not every part of the United States will be impacted by inclement winter weather – but most of it will be. Snow, rain, ice, and even wind can create major issues for truckers during the winter season. It's super important to research the path that your shipment will be taking. Don't let your load fall prey to the common "out of sight, out of mind" misconceptions some shippers succumb to.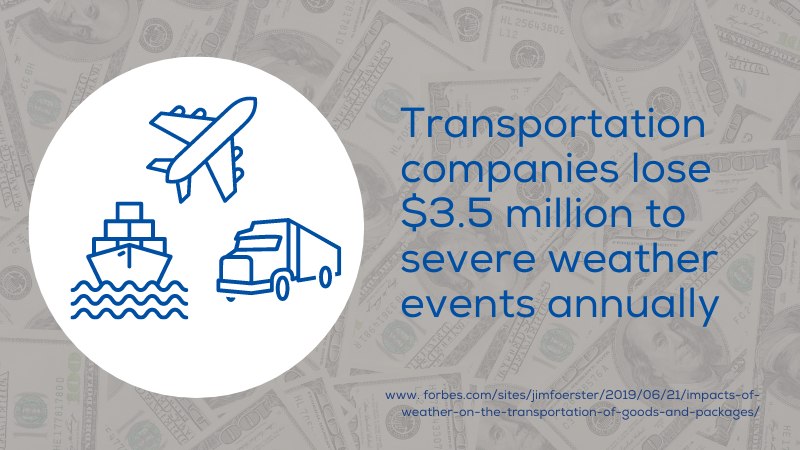 When shipping LTL, your load won't travel from point A to point B in one straight shot. The further your load travels, the more varied its path will be. If your shipment enters any of the high-risk zones like the Midwest, New England, or Central U.S., it's extra crucial you stay on top of weather updates for your shipping lane. When the weather is bad enough, it's in your best interest to delay shipping until it clears, if you can swing it. Road closures and rerouting may be hard to predict, so it's always smart to build extra time into your transit.
Shipping over the weekend is always tricky, even in the best-case weather scenarios. But in the colder months, you will likely encounter extra challenges. Because weekends are considered "dead freight" time, your loads will sit and be exposed. Your best bet is to ship early in the week and avoid weekends all together, but if you have to, make sure you communicate with the carrier about keeping the temperature-control running while idle.
Because freight transit can be so unpredictable during cold weather, always keep in mind that you should be keeping alternate shipping options open. If you have a larger freight shipment, a dedicated truck may be a viable alternative. While pricey, keeping room in the budget for emergency scenarios like weather delays is a smart plan of action.
Shipping freight safely in winter is possible
Winter weather freight shipping can be tricky, but it's not out of the question. You will need to strategize even more than you're used to, and take every precaution necessary to avoid slip-ups. Keep in mind that now is not the time to take any unnecessary risks just in an effort to save a buck. PartnerShip can help you keep on top of cold weather shipping issues, including communicating with carriers and staying on budget. If you're going to be shipping this winter, make sure to contact our freight experts so your freight is delivered safely.