Ask a CTB: Your Shipping Questions Answered
08/21/2018 — Jen Deming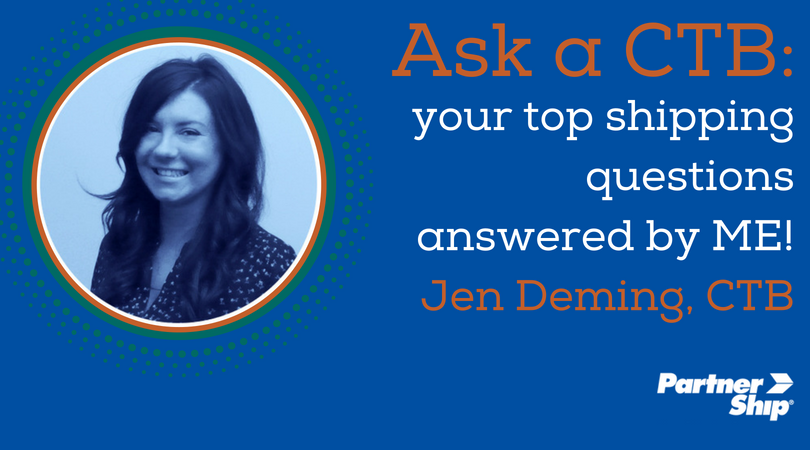 As part of an ongoing effort to be the ultimate shipping resource for our customers, we've compiled the most common shipping questions and had them answered by one of our CTB freight shipping experts, me! My name is Jen Deming and I've been with PartnerShip for 3.5 years. In that time, I feel like I've pretty much seen it all. Through my own personal experience, I've worked with all kinds of shippers - from newbie to veteran. I can help answer your most pressing shipping questions and help give you a better understanding of the shipping industry.
First up, it's back to basics: What is a CTB? And what's a 3PL, for that matter? Most importantly, should YOU be working with one?
CTB stands for "Certified Transportation Broker", and is an industry certification developed by TIA (
Transportation Intermediary Association
) to increase the professionalism and integrity of the freight brokerage industry. Areas of study include general business principles, traffic management best practices (for shipment, claims, fleet, and international traffic management), contracts and pricing, regulatory principles, and case law.
A freight broker is someone who assists shippers with finding qualified carriers to haul available loads, and works within a 3PL (third party logistics) organization by outsourcing shipping and logistics services. These individuals facilitate the relationships between the carrier and the shipper, and will negotiate rates with carriers, arrange the transportation, schedule pick-ups, provide follow-up on tracking, and will often offer claims assistance for loss or damage on behalf of shipper. A freight broker should serve as a shipper's strongest advocate, and is a great resource for expert shipping advice.

There are many advantages to working with a 3PL, such as cost and time savings, additional expertise, and flexibility. A knowledgeable freight broker can custom fit shipping options based on the specific needs of your business.
Next up: what's the difference between parcel shipping and freight/LTL? Small package shipments are typically under 70lbs but can go up to 150lbs, and are often shipped in your own boxes or carrier supplied packing materials. The packages are shipped singularly and should not be in excess of 108 inches in length. Small package shipments are subject to dimensional weight pricing, which can get expensive, so it may make more sense to ship via a freight service.

LTL or less-than-truckload shipping usually consists of multiple boxes or containers stacked on pallets and are over 150lbs. LTL shipments can utilize multiple modes of transportation such as rail or motor truck, and are sent with other shippers' freight to reduce cost. Depending on the length of the shipping lane, often these shipments are loaded, unloaded, and reloaded at multiple stops throughout transit. If you have multiple pallets (6 or more), need shortened transit time, or require enhanced security, it may make sense to use a truckload service instead of LTL.
Furthermore, what's the difference between LTL and TL? TL (or FTL/Full Truckload) refers to booking a dedicated semi-truck for your shipment, that will not be hauling other cargo along with yours. This option is most economical for shippers who have a very large shipment with multiple pallets, on that requires a lot of space, a high-value and fragile shipment, or one that needs to move at a faster pace. If your business requires strict pick-up windows or appointments for delivery, it may also make sense to work with a dedicated carrier. In the past, I've worked with customers who required set arrival times for pick-up, and though they may not necessitate the ENTIRE space within a 52 ft truck, appreciated the reliability of a dedicated truckload service over an LTL common carrier. Booking a dedicated truck also gives you the option should you need specialized equipment such as a flatbed truck or refrigerated van.

What is an NMFC/ freight class? How do I know which to use for my shipment? You'd be amazed at the variety of customer's freight shipments that I've worked with. From toy makers to hospital supply distributors, I've shipped the craziest stuff, and they all have a specific freight class or NMFC assigned to the category of shipment. The NMFC, or National Motor Freight Classification, can be rated as low as 50 and as high as 500. The higher you go, the higher the rate for your shipment. And details matter! Whether your work table is wood or plastic, assembled or broken down, each factor can affect the class of the freight. So it's important not to guess or mark whatever class you think may save you a few bucks. Freight reweighs and reclassifications are very real, and you don't want to have a $2,000 bill when you have $200 built into the budget. Your freight broker can be a good resource to determine your shipment's correct class - cutting down on costly errors in the long run.

What are these "accessorial" charges on my bill? Can I avoid them? My own customers brought me questions about the unanticipated service charges on their freight bills more often than anything else! Accessorials are fees a carrier charges for additional services. Common examples of these include lift-gate services, residential deliveries, inside pick-up/delivery, oversized freight charges, and limited access pick-ups or delivery. The difficulty with these is that the cost of the fees varies by carrier, and while one may determine one location "limited access", a different carrier may not. Your best bet? It's smart to do your research about every service your require before you get your rate quote. Find out if the pick-up location has a dock and a forklift. Know for certain whether your customer's delivery location is a place of business or their own home. Be accurate in your measurement of your shipment's dimensions and weight. Finally, consult your freight broker for any questions you may have about what incurs charges and what doesn't - they are your best advocate!
Just when you think you have this freight shipping thing figured out, carriers can throw you a curveball. It pays to be vigilant and ask questions of the experts so YOU can be sure you are shipping smarter and staying a step ahead. If you have any questions about your shipping practices, or how the shipping experts and PartnerShip may be able to improve your efficiency and lower your costs, email sales@PartnerShip.com or call 800-599-2902.