6 Considerations for Choosing an LTL Freight Carrier
03/13/2019 — Leah Palnik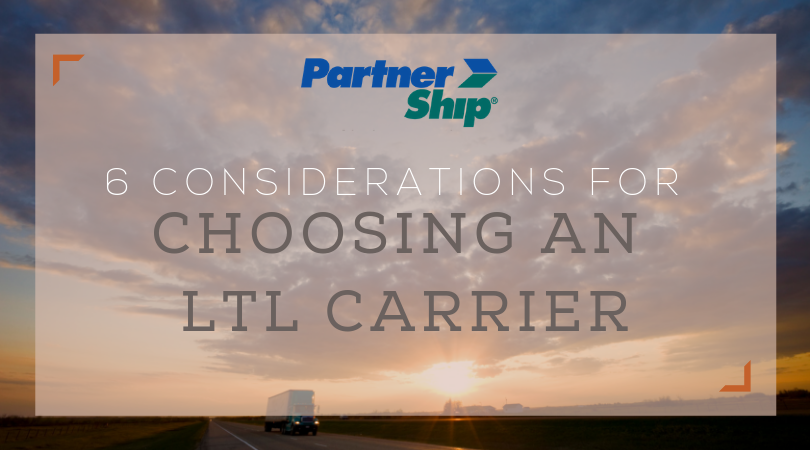 The 25 largest U.S. less-than-truckload (LTL) carriers collectively brought in $34 billion in revenue in 2017. That is a staggering number and a 7.8% increase over the previous year. When the numbers are in for 2018, don't be surprised to see another healthy rise. As the largest LTL carriers continue to command more of the overall marketplace, shippers must be resourceful when looking to source LTL freight services so as to not get squeezed on price due to the number of market players. Shippers should take the following six factors into consideration when finding the most efficient LTL freight services.
Transit Times - How fast do you need to get your shipment to your customer, or to receive your shipment from your vendor? Long-haul carriers tend to have slower transit times in regional lanes, while regional and multi-regional carriers are much faster in these lanes, but may not provide service in longer haul lanes.
Geographic Coverage - Once you get beyond the top 10 LTL carriers, most of the remaining players provide only regionalized direct pickup and delivery services. Understanding carrier coverage areas helps you optimize which carriers are best suited for the service.
Service Performance - On time pickup and delivery performance is not always the same. Often this depends on where your business is located relative to the nearest freight terminals. Long-haul carriers traditionally have been known to provide lower delivery reliability, while regional carriers tend to provide reliability in a higher range. Almost all of the LTL carriers will guarantee delivery or provide deliveries that are "faster than standard" for additional fees.
Liability Coverage - The amount of liability coverage you receive can vary and is set by the carrier. It's not uncommon to see liability restricted to $0.25 per lb. or less, which means shippers need to be diligent about understanding their options. Especially if the liability coverage doesn't meet the actual value of the freight.
Financial Stability - Most of the remaining LTL carriers in the industry are pretty stable from a financial standpoint. However, there are a few carriers that continue to struggle with profitability and debt issues. Anyone who may recall when industry behemoth Consolidated Freightways closed its doors in 2002 will understand the importance of not having your freight in the hands of a financially unstable carrier.
Pricing Factors - Lastly, and perhaps most importantly for many small business, is price. When working with an LTL freight carrier, there are many factors that will determine your true cost of transportation. These include:

Discounts, base rates, and net price
Most LTL carriers provide pricing in the form of discounts off of base rates, which will vary by carrier. So, a 68% discount from one carrier might actually be less expensive than a 70% discount from another. The main point to consider when comparing LTL carriers is not what the discount or the base rates are, but rather what is the final net price to you.


Minimum charge
Generally a flat fee under which the carrier will not discount its price. Some carriers offer big discounts, but set the minimum charge high which may result in less of a discount on smaller weighted shipments than you anticipated.


Freight classification
There are 18 different freight classes ranging from 50 to 500. These classes are based on the density of your product and will definitely impact your overall price.


FAK provisions
If negotiated, "freight-all-kinds" provisions may allow you to ship products with different classes under a single class from a pricing standpoint.


Weight
How much your shipment weighs will play a significant role in how your rate is calculated. Keep in mind that carriers will use hundredweight pricing, which means that the more your shipment weighs, the less you'll pay per hundred pounds.


Accessorial fees
Extra services performed by the carrier generally add additional fees to your overall freight bill. The fees that carriers charge for these services can often be radically different so it's important to educate yourself.
There are other factors not mentioned above that need to be considered when choosing an LTL freight carrier as well, such as equipment specifications (e.g., liftgate, trailer size, etc.), scheduling flexibility, and tracking capabilities, to name a few. It's easy to see why, what may seem like a simple service of picking up a shipment and delivering it, is often more complex than meets the eye.
Generally speaking, there is almost never just one LTL freight carrier that fits every need you may have. Unless you have spare time on your hands, your best bet is to work with an established freight broker like PartnerShip that can do the heavy lifting for you so that you can stay focused on running your business.
Need some help evaluating your freight shipping? Need help finding the right LTL freight carriers? Let PartnerShip provide you with a free, no-obligation quote to get you started.