4 Essential Holiday Shipping Tips for Retailers
09/04/2018 — Jen Deming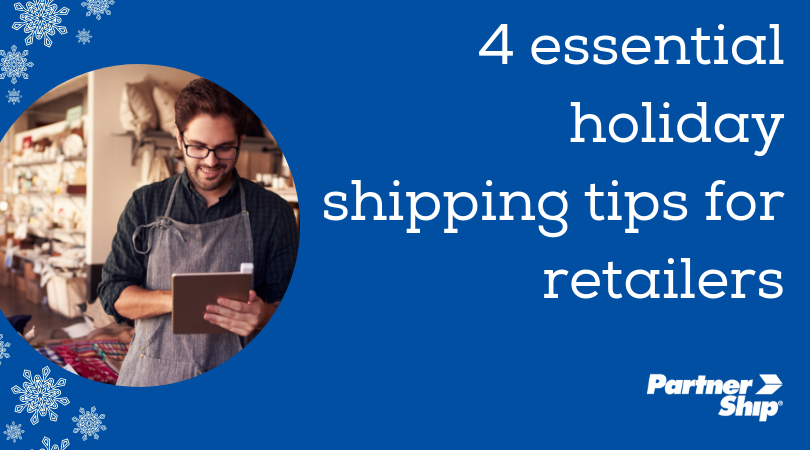 Holiday shipping is fast approaching for retailers. Though the season of gifting and good tidings seems miles away (and most of us have probably not even begun to think about our OWN shopping lists), it's never too early to start your holiday shipping prep. You may have already brainstormed your plan of action and received some inbound items and supplies, so now's the time to make that yearly best practices list. We've compiled a few holiday shipping tips specific for retails to make sure your busy season passes smoothly.
Tip 1: Prepare your inventory and manage your inbound shipments

As the saying goes, you have to learn to walk before you run. The very first step in great holiday shipping preparation is getting your inventory and inbound shipments from vendors in order. Taking control of your inbound shipping is crucial to being set up for holiday success. Plan ahead by looking at your past holiday seasons' wins and opportunities, check industry trends, and do your best to forecast just how much product you may need to make it through your holiday season. If you feel you will need a replenishment order, communicate with your vendors to make sure they are clear on when you will need the product (and build in some extra time as a cushion). If you are able to, consider managing your own routings by selecting your own carrier and directing your vendors on your precise shipping expectations and needs. This control can give you better peace of mind that shipments are being handled reliably and to your specifications. An added benefit to managing your own inbound shipments from vendors is that you can price shop for the best service level and carrier that fit your budget.

Tip 2: Invest time in planning and budgeting

The elevated cost of shipping during holiday peak season is just a reality for shippers, but most believe it's just the price of doing business.. Budgeting and planning what you can expect to pay during the crunch can make or break your bottom line. Not only will you be spending more overall due to an increase in volume, certain carriers implement surcharges during this period, so it pays to do your research. For the second year in a row, FedEx has announced it will NOT apply a peak season surcharge on residential shipments. UPS, however, will be implementing a surcharge on those shipments from November 18 through December 1 (in line with Black Friday) and again from December 16 through December 22 (last minute rush). The surcharge ranges depending on the service, from $0.28 to $0.99 on most residential packages, which can add up as volume increases. Larger packages will also include peak surcharges by both small package carriers, with the most expensive charge costing $165 per package. Which charges apply will depend on your package dimensions and weight, so make sure to educate yourself before the holiday rush begins.

Tip 3: Take control of setting customer expectations
The best way to ensure your holiday shipping will run smoothly, specifically from the customer's perspective, is to let them know what they can expect even BEFORE they make a purchase. It's a good idea to take a look at how your business performed last year, check through any customer issues for common themes, and adjust where you may need to. Use your website to its full potential - utilize clear and consistent language that addresses shipping costs, delivery times, order deadlines, and return policies, and make sure they are easy to find. Update your FAQ section and any links that may be relevant to holiday shipping time tables or price breakdowns.

In addition to your website, be sure to use email as an additional measure to touch base with your customers. Send out communications to past customers about any new policy changes BEFORE they put in this year's order. Send order confirmations, followed up by shipping confirmations. Many businesses send out notifications for delivery attempts or completions. These added touches not only communicate effectively to your customer but leave a positive impression of your company's reliability.
Tip 4: Make your returns process easy
As we touched on in the last tip, communication with customers is key to keeping expectations realistic and managing the consumer experience during the holiday shipping season. Another area that many retailers tend to overlook during peak holiday boom is the returns process. According to the National Retail Federation, three out of every four holiday shoppers checks the company return policy before committing to making any purchase.
Every retailer can do their best to avoid returns by being sure each product listing is as accurate and updated as possible, in order to avoid most surprises when it arrives at your customer's door. However, despite all of your efforts, returns are going to happen. If your business is going to handle and accept online returns, the more you can automate the process, the easier it will be on both you and your customer. The majority of customers are not willing to pay premium for return shipping. Price is the most significant deciding factor, so don't waste time offering faster, more expensive return services. Providing pre-printed return labels, packaging, and instructions can all improve the customer experience, lessen the returns headache for your operations team, and increase future value for your brand.

Summer may only just be winding down, but retailers are already thinking of what's on winter wish lists. It's never too early for holiday shipping prep, and being proactive is the best way to avoid a stressful peak season. In addition to our tips on planning, inventory, and streamlining your returns process, it's helpful to have the experts on your side. At PartnerShip, we know a thing or two about the peak season boom. We are happy to help you ship smarter, and with less stress, this holiday season, contact us today!