ELD Updates: From Exemptions to Enforcement
03/12/2018 — Jen Deming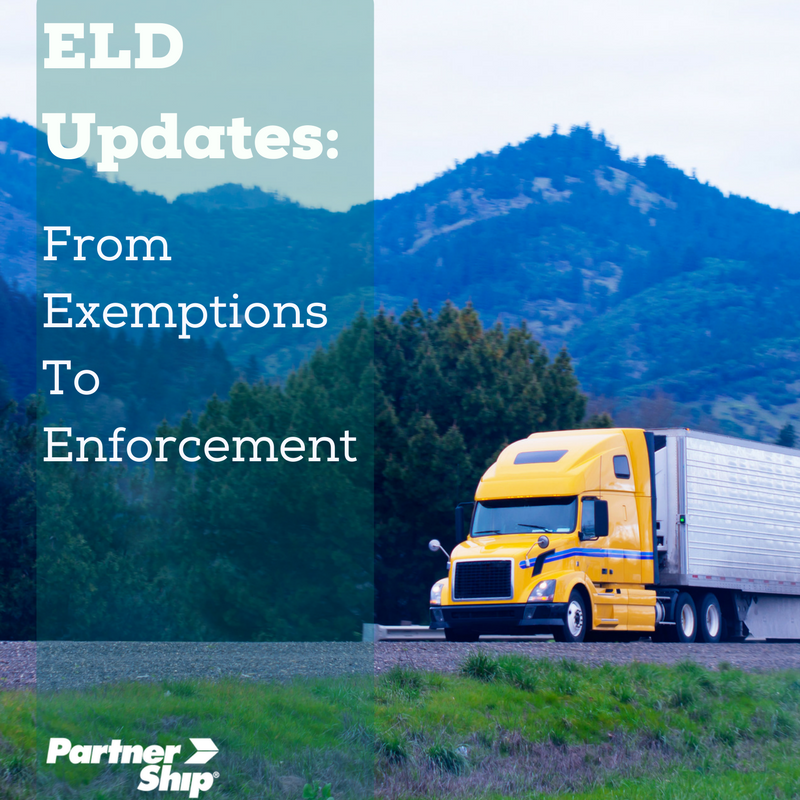 As we enter mid-March, we approach the three-month mark since the
Electronic Logging Device (ELD) mandate
deadline passed in December 2017. While the mandate has been "softly enforced" since the deadline, full enforcement will kick in beginning April 1. A stricter enforcement will include steeper fines, CSA points and subsequent out-of-service citations. That all adds up to tighter capacity and limited available truck drivers. So what does that mean for both carriers and shippers and what's been going on in the meantime?
As a review, several industries and specific groups have extensions and exemptions that are currently in effect, or will be approaching an expiration date. Most carriers will be required to adhere to the mandate, unless qualified by a series of standards set by the Federal Motor Carrier Safety Administration (FMCSA). If you are not currently required to keep a record of duty status, you do not need to equip your vehicle engine with electronic logging technology. Additionally, if you keep RODS (Record of Duty Status) less than 8 days in a 30 day period, you are exempt as well. If you are a "driveaway/towaway" driver, or your vehicle's engine (not body, cab, or chassis) was made prior to 2000, the new ELD mandate does not apply to you. Rental truck drivers and those covered under the 90- day agricultural extension also are exempt for now. Agriculture and livestock haulers will have to file again, or install approved ELD devices by March 18. If they do not, fines and citations can be issued, but drivers will not be put out-of-service until April 1.

Since the official implementation of the mandate in December, many additional groups have filed for further exemption requests. The Owner-Operator Independent Drivers Association (OOIDA) has been very transparent in its opposition of the mandate, and has asked for an oversight hearing in order to express its concerns over the mandate and it's implementation. The organization's main issue with the mandate concerns technical issues and malfunctioning, which is an ongoing concern with many of the approved devices. System failures and crashing, issues with GPS tracking and reporting, and mechanical difficulties linking to the truck engine are all cited challenges with the current ELD devices being used. On top of that, the current FMCSA list of approved ELD vendors includes many "self-certified" providers who are NOT actually compliant with requirements. It's a complicated vetting process that leaves many questions and lots of confusion for both truck drivers and law enforcement officials.

Enforcement of the mandate up until this point has been spotty as well, due to the technical issues with the devices and insufficient training of both drivers and enforcement personnel. In fact, 17 states have decided not to enforce at all until April 1, with the remaining states leaving it up to the individual officer's discretion. The FMCSA has given direction to use a specific code, 39522A, in order to report violations in order to track ELD compliance, but to this time, the code has not been showing up in reports. Namely, this is due to the complicated nature of the devices and the wide range of types being used. Put simply, both drivers and enforcement officers are finding it difficult to recognize whether a carrier's chosen ELD is truly compliant. As a result, drivers are required to carry cards indicating proof they are compliant, as well as instructions on how to operate their software, report device errors, and alternative options to record their hours of service.
With less than 3 weeks away to a more strict enforcement period, many carriers and truck drivers have yet to move ahead with becoming ELD compliant. Some are battling training issues or troubleshooting their current ELD technologies. Many small enterprises are simply waiting out the soft enforcement period and then find it easier to leave the industry entirely. Either way, it's safe to say that major changes will be occurring in the next few weeks and that the crunch in capacity will continue to affect shipping rates. PartnerShip can help make sure your shipments are covered at a competitive rate. Ship smarter with PartnerShip, get a quote today!