The Essential Guide to the 2021 FedEx and UPS Rate Increases
12/08/2020 — Leah Palnik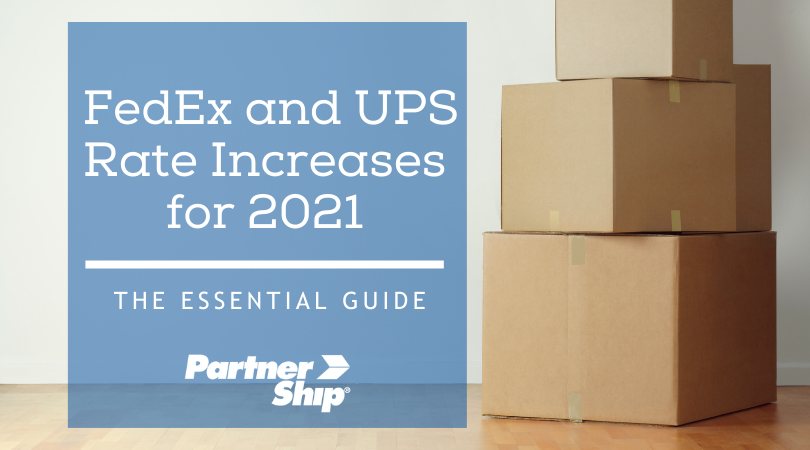 It's been a wild and unpredictable year, but there's one thing you can count on as we head into 2021 – the annual FedEx and UPS rate increases. For the fourth year in a row, both carriers announced an average increase of 4.9% for air and ground parcel services. The new rates for UPS will go into effect on December 27, while the new rates for FedEx will go into effect a week later on January 4.
How to budget your parcel costs for 2021
While it may be tempting to budget for a 4.9% increase, you have to dig a little deeper to uncover how much your costs will actually go up in 2021. The actual rate increases vary quite a bit depending on the service you use and your package characteristics.
Both carriers have made the new rates for 2021 available:
You will also need to account for updates to FedEx and UPS surcharges. Common surcharges like Residential Delivery and Address Correction will be more expensive in the new year. But on top of that, FedEx and UPS have both made changes that could cause a package to incur a fee that it wouldn't have in the past. For example, they both broadened the qualifications for their Additional Handling fee and have updated the list of zip codes for Delivery Area surcharges.
You can view a complete list of the changes that the carriers have each posted:
How to analyze the 2021 FedEx and UPS rate increases
While it's imperative for you to be aware of the changes coming ahead in the new year, combing through every detail of the new rate charts is challenging and time-consuming. A good place to start is to identify the changes that will have the most significant impact on your budget. First, take a look at your shipments from the last year and identify trends for the services you typically use, your package characteristics, and zip codes. From there you can use the new report from PartnerShip, which highlights the areas with the highest increases and outlines the important changes.
The state of the parcel industry
Aside from the general rate increases, it's important to understand what's happening within the parcel industry. Within the past several months, the coronavirus pandemic has brought on a great deal of logistical challenges. Carrier networks have been strained as they struggle to keep up with demand and deal with restrictions. As a result, both FedEx and UPS have instituted peak surcharges.
Most notably, since the beginning of the pandemic FedEx and UPS have been applying peak surcharges to international shipments. Air cargo capacity has been limited which has disrupted the global supply chain and driven costs up.
Additionally, residential deliveries have increased substantially as more people are relying on online shopping. High-volume B2C shippers specifically have been ramping up their business. FedEx and UPS have responded to this increased demand by instituting peak surcharges. Instead of simply applying a surcharge on all residential shipments during the holiday season like they've done in the past, UPS and FedEx are applying it to those shippers with a large volume of packages or those who are experiencing a significant increase. That's good news for many small businesses, but tough on those larger ecommerce retailers.
Even if these peak surcharges don't apply to your business right now, it doesn't mean that you'll forever be immune. There are still a lot of unknowns related to the coronavirus pandemic and how it will continue to impact the supply chain. You will need to stay vigilant and keep up to date on announcements from FedEx and UPS.
What you can do to combat rising shipping costs
With everything the industry is experiencing right now, shippers don't exactly hold the power. Add the general rate increases on top of that, and you may feel helpless against rising costs. However, there are things you can do to mitigate the damages. Download our guide to the 2021 FedEx and UPS rate increases to help identify the problem areas. Then contact PartnerShip to find out if you qualify for one of our discount shipping programs, and we'll help you ship smarter.