If You're Shipping Clothes, Don't Sleep on These Pro Tips
02/20/2023 — Jen Deming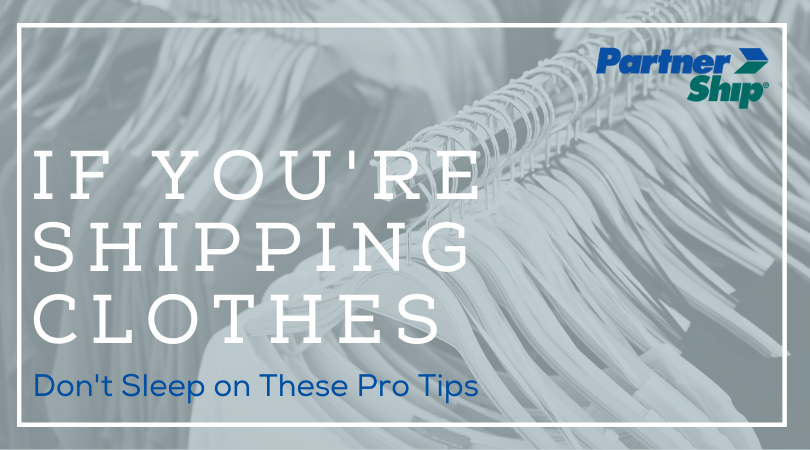 The online apparel industry is kind of a big deal. In fact, apparel and accessories accounted for 29.5% of all ecommerce sales in 2021 in the US alone. While shipping clothes seems pretty straightforward, you must master packaging, item weight, returns, and more to be successful. We've compiled the definitive list of unique tips for clothing retailers that will help ensure you'll have the competitive edge.
Tip 1: Keep costs low with flexible packaging options
Apparel shippers have a unique advantage over other ecommerce retailers: more packaging flexibility. This ability to use a variety of different packaging types allows greater cost control. Malleable items like clothing are tougher to damage than rigid, breakable items such as home goods, for example. Because of this, many apparel retailers can ship in alternative packaging types like poly mailers, envelopes, or recyclable bags instead of boxes, which can cost less and also offer greater customization options.
Another unique advantage of clothing is that it can be adjusted within the package to avoid higher shipping charges due to dimensional (DIM) weight. Most lightweight items are at an increased risk, but pliable fabric items like clothing can be folded and fitted to reduce extra space more easily. Whatever you can do to avoid wasting space will help you out in the long run.
Tip 2: Use apparel's high return rate to your advantage
Retail returns are a particularly impactful affliction when it comes to the apparel industry, especially with online shopping. In fact, 88% of customers have reported returning clothing in the past. Sizing, color, fit, pricing, or something as simple as buyer's remorse may encourage a customer to return their product. The key to navigating returns starts with shifting your perspective on them in the first place. Returns actually give you an opportunity to further engage with customers, and can convert online-only shoppers into brick-and-mortar customers. Your customer may initially prefer the quick refund of an in-store return, but after checking out your products in person, they may be more likely to exchange or accept a store credit for later use.
Shifting your attitude away from returns as a necessary evil to a more impactful part of your business strategy as a growth driver is essential. When used correctly, returns can actually result in higher net sales from your most profitable customers. Receiving excellent customer service during a return will increase confidence in a brand. Helpful measures such as adding return packaging and instructions, or sending follow-up emails to assess the buying experience, can strengthen the customer relationship and keep them coming back for more.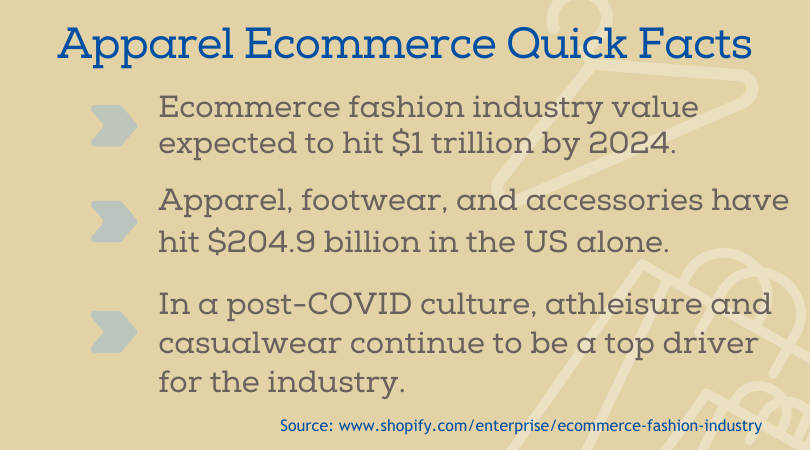 Tip 3: Offer free shipping more successfully with scalable threshold strategies
With free shipping as a major expectation amongst consumers, ecommerce retailers can struggle with how to implement a strategy that is viable. Apparel retailers have it a bit easier than other shippers, due to the variety of options available. Implementing free shipping by using a threshold ("minimum order") strategy often is the easiest way to give customers what they want while remaining a profitable business.
First, you must figure out what your minimum threshold should be by looking at gross profit margin and average shipping costs. After you come up with that figure, consider offering the following value-centric options so that it's easier to hit a specific order amount:
Product bundles

- consider bundling options of most commonly-purchased items that customers go for in multiples, and pricing the bundle at your threshold. Example: 6 pairs of socks for $25

BOGO offers

- offer BOGO deals that will get your average order value up and hit the minimum. Example: buy a pair of jeans for $40, get the second pair half off to hit a threshold of $60

"Shop this outfit"

- spotlight entire outfits, from basics to accessories. Make the price of each item clear, and display in virtual showrooms grouped by theme, like a season or occasion. Customers love to visualize how to put pieces together, and clearly breaking down the price for each item will help customers do the mental math to get to that threshold.
If you do offer free shipping, you cannot over-communicate the minimum order amount. It's important that the shopper knows how much they must spend during every step of the order process. That way, they don't reach the checkout and abandon their cart due to shipping frustrations.
Tip 4: Take advantage of shipping discounts exclusive to clothing retailers
No matter what industry you're in, you should be aiming to keep your shipping costs low. Optimizing your packaging, ensuring you have accurate shipping details, and leveraging returns can all help, but checking into discounts is always smart.
Some carriers may offer limited-time promotional pricing or volume-based discounts, but your business needs reliable discounts that don't have an expiration date. Many association groups and trade organizations within the retail industry offer shipping discounts as a member benefit. PartnerShip works with over 130 groups to provide members discounts that can offset daily shipping costs. Contact our team to see what's available to you.