Freight Quote vs. Invoice: Why Don't They Match?
08/13/2021 — Jen Deming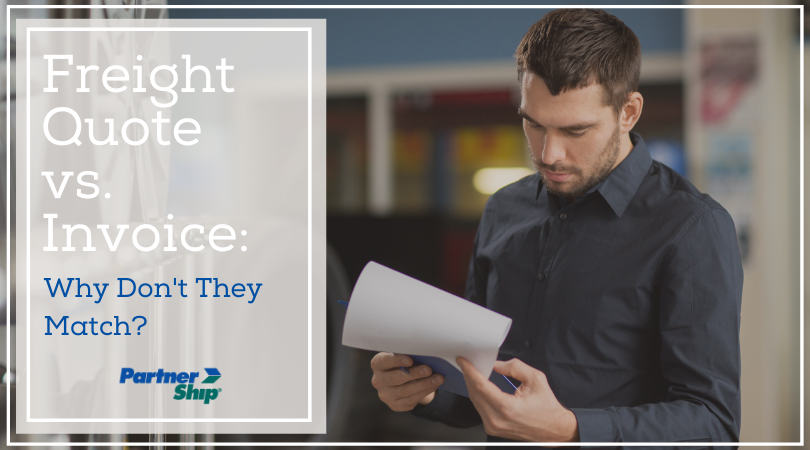 One of the most common questions we get is from customers wondering why the heck their final freight invoice doesn't match the rate they were originally quoted. It's a valid concern because once you have that bill, it's next to impossible to get more money from your customer and you're going to be eating that cost. Your knee-jerk reaction may be to blame the carrier, but the real reason they are different may sting a bit – it's usually a shipper error. Before you start pointing fingers, review these common reasons your bill doesn't match that original quote.
Reason 1: Your product is classed incorrectly
One of the most common reasons a quote differs from a final bill is because your product is classed incorrectly. With classification being a huge factor affecting your freight quote, even a small error can impact your price. If you guess or miscalculate, your class may be way off.
The issue may be that sometimes your product is difficult to fit in a particular NMFC category. Take glass jars for example. This type of product falls under NMFC code 87700. It's not as simple as that, however. Because glass jars are typically fragile, they are broken down by volume, and depending on that calculation, the class can be anywhere from class 65 to 400. In an average freight shipment, that's a difference of hundreds of dollars. Make sure you are utilizing ClassIT, and consulting freight experts if you have any questions on class, or how to properly calculate density.
Reason 2: A liftgate service inflated your bill
When checking your freight quote vs. invoice, unexpected extra services are the second most common reason for a mismatch. One example we see time after time is for liftgate service. If you didn't specify you would need a liftgate when you got your quote, but then your carrier provides the service at pick-up, it will cost you. Additionally, if your customer doesn't communicate they need one for delivery, that can be added on without your approval or knowledge, surprising you once you get the bill.
Communication between both parties and ensuring you have the proper equipment can avoid this completely. Make sure you both understand that the added cost of an accessorial may raise your rate, but will help your shipment get where it needs to. Understanding that these types of special trucks equipped with liftgates are not as common, both parties will know they need to be requested on the front-side.
Reason 3: Too much time has passed
First and foremost, it's important to know that a freight quote is an estimate to begin with.
So many factors can change - for example, fuel costs fluctuate frequently. Additionally, depending on when you are scheduling your shipment, peak periods can cause capacity issues, and this generally results in higher charges.
As a general rule, we like to inform our customers that quotes for standard LTL service are valid for about a week. That window is even tighter when you're using time-critical services. If you're wanting an estimate so you know what to bill a customer, build in some room for your final cost, or requote as close to the actual shipment pick-up date as possible.
Reason 4: Your delivery location has changed
While not quite as common, sometimes a change in delivery address can affect the final cost of your freight. Changes may occur after a load is quoted or may have to be made while the shipment is already in transit. Reasons for this might include a location being closed, or a consignee that isn't ready to receive the shipment.
LTL freight shipments can be rerouted, but that adjustment will definitely incur costs: distance and fuel will increase if the location is further out. On top of that, special service fees such as a redelivery charge or even location-specific fees like limited access could also be applied. Do your best to requote if any details of your delivery location change. If the change is made at the request of your customer, be sure to communicate that fees will apply. If you want to absorb those charges as a courtesy, be sure to build some room in your customer cost to begin with. Otherwise, make it clear who is responsible for those fees.
Reason 5: The wrong carrier picked up your shipment
You'd be surprised, but the wrong freight carrier picking up an LTL load happens much more often than you'd think. We've seen customers quote a general rate with one carrier and then hand it off to whatever carrier arrives that day just to get it on the road and off the dock. Your shipping department is likely very busy, but this sort of simple mistake can cost you so much time and money in the long run.
Not every LTL carrier has the same base pricing, and even accessorial costs fluctuate between carriers.
If you quote with one carrier, and hand it off to another, you could be paying much more if that carrier charges more for their services. Even worse, if you have negotiated pricing with one carrier, the incorrect one won't know to bill using your discounts. Worst case scenario, you may be billed at full-cost. Make sure your warehouse team is aware of what carriers are to move which loads. Creating color coded carrier labels and marking your shipments can help ensure a quick once-over to avoid this drama completely.
Reason 6: You have a paperwork error that affects billing
When comparing your freight quote to your invoice, also take a look at your paperwork and shipping documents. Billing errors and missing information can create an expensive and exhausting headache.
If you are arranging a shipment, and have special pricing or are using a third-party, make sure an accurate BOL states the correct carrier and "bill-to" party. If you are receiving the load, but responsible for the shipping arrangements, don't leave it to the shipper to create the BOL. In doing so, you run the risk of an incorrect billing party or other inaccuracies that mean your discounts won't be applied. Even after the fact, a letter of authorization (LOA) can sometimes fix this by informing a carrier of the correct billing party, but it's not guaranteed and it definitely delays the process.
Final thoughts
Don't freak out if you're seeing some discrepancies between your freight quote vs. your invoice. While they can be unexpected and troublesome, educating yourself and your customer about what can change your rate can help you make better decisions when planning your LTL load. Strong communication and a plan of action can help mitigate expensive invoice issues. If you have concerns about your freight quote vs. your invoice, PartnerShip can help dodge the guessing, help choose the correct services based on your shipping needs, and side-step costly errors.