FedEx and UPS Holiday Shipping Deadlines for 2022
10/21/2022 — Leah Palnik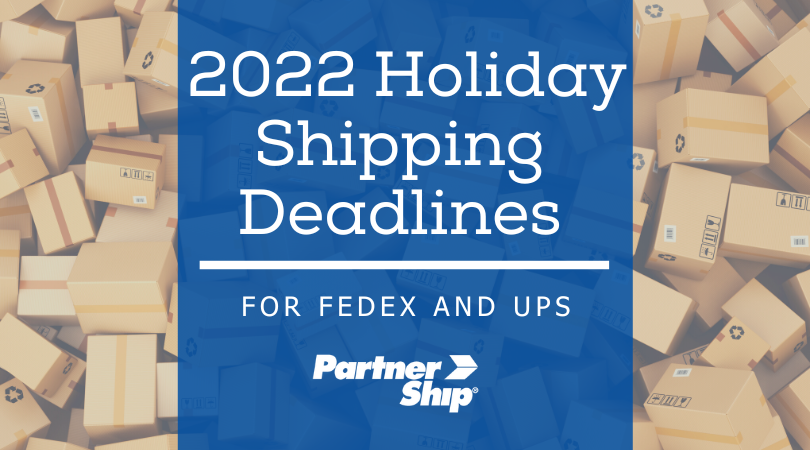 As you prepare your store for the influx of orders that come with the holiday season, you're going to want to keep an eye on the shipping deadlines. Both FedEx and UPS have announced the last dates you can ship your orders and make it in time for a Christmas delivery.
It's important to note these deadlines because demand surges this time of year. The carriers' networks are already strained, and it's only going to get worse the closer we get to the holidays. To keep your customers happy and set the right expectations, we recommend clearly communicating the shipping cutoff dates and adding in extra days in case of delays.
FedEx has published a complete visual list of the last days to ship. Here are some highlights for domestic shipments:
December 8 for FedEx Ground Economy
December 14 for FedEx Ground and FedEx Home Delivery
December 20 for FedEx Express Saver
December 21 for FedEx 2Day and 2Day AM
December 22 for FO, PO, SO, and Extra Hours
December 23 for FedEx Same Day
UPS has also created a list of the last days to ship for Christmas delivery. Unfortunately, one thing that is missing is a specific cutoff date for Ground shipments. You will need to get a quote on the UPS website instead. For domestic UPS air shipments, the dates are as follows:
December 20 for UPS 3 Day Select
December 21 for UPS 2nd Day Air
December 22 for UPS Next Day Air services
It's also important to note that service guarantees are currently suspended for both FedEx and UPS ground services. It's also suspended for select air/express services. The main takeaway? You'll want to encourage your customers to order early and do what you can to add in extra days when setting delivery expectations.
If you're looking for any additional guidance or need a way to lower your small package costs, PartnerShip can help. Contact our team today.