Laying the Foundation: Construction Shipping 101
04/09/2018 — Jen Deming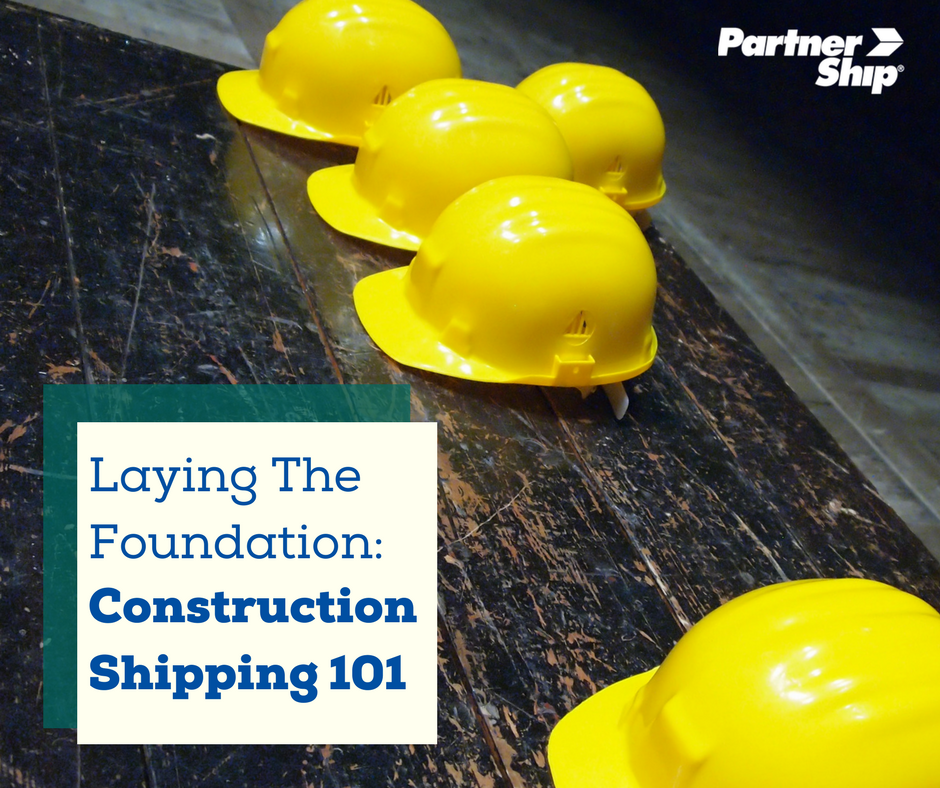 Warmer weather is finally creeping in and that means construction season will soon be upon us. Shipping in the construction industry is characterized by tight deadlines, oversized hauls, multiple stops and complicated loading and unloading
–
and unfortunately, a crew can only build as quickly as the materials arrive. Whether building a new home, sports arena, restaurant location or corporate parkway, there is a unique set of
challenges for shippers
who are trying to transport their materials to and from a staging area to an active construction site. It's important to know what to expect in order to anticipate any possible setbacks that can complicate your plan of action.
The product and materials being shipped to a construction site or for a building project vary wildly. Lumber, roofing material, windows/glass, dry wall, flooring, natural stone, plumbing fixtures/electrical components, home appliances, and landscaping elements are all commonly shipped construction loads. Additionally, the specialized equipment and large machinery necessary to build needs to be moved from rental location or site to site. Though the product materials may vary, a common denominator for many of these shipments is size of the load and tendency to be over-dimensional, particularly as it relates to width. Understanding and selecting the
proper carrier and trailer type
is essential in getting your loads transported safely and securely.
If the building material or equipment IS oversized, you will most likely need to obtain a permit, which can have different requirements depending on the state. You will need to adhere to the requirements for each state that your shipment travels through, so it's important to
review requirements
for each state beforehand. Maximum legal length for trailers is 53 feet; width is 8.5 feet. Maximum height is 13.5 feet and max weight is 40 tons. It's important to note that weight maximum is based on a per-axle limit, so sometimes simply readjusting the load can keep your shipment legal. Most frequently, if a load is determined to be oversized, it is due to over-dimensional width.
Pilot or escort cars are required in most states for loads that are over 12 feet wide. In many states, traveling with oversized shipments requires transit to take place during daylight hours, with nighttime restrictions in place up until 30 minutes before sunrise and 30 minutes after sunset. Keep in mind, as well, that traveling during weekends or holidays is often prohibited and varies by state. All of these factors help contribute to the importance of knowing your exact route and researching the requirements for each state that your shipment will be moving through.
On smaller shipments of a few pieces at a time, it may be possible to
ship via LTL freight
rather than a dedicated truck. Just like when delivering to schools, churches, or military base locations, active construction sites can sometimes incur "limited access" or "non-commercial" fees. These are charges similar to residential delivery fees that are common with most national LTL freight carriers. Unfortunately, these fees can be unpredictable as some carriers may charge, and others may not. Typically the fee is passed on by the carrier depending on the situation at the time of delivery; for example, extra time and effort spent in accessing the site for unloading. The difficulty in planning for the charge can be an added frustration for shippers.
Moving via LTL carrier service can also be difficult due to restricted items and
limited coverage on high-risk materials
such as glass or electrical equipment. It's also super important to be sure you have accurate dimensions, as many of these products will be classed based on density. One final note relates to the security of the shipment. These larger and potentially fragile LTL shipments may be specially crated and packaged, but depending on the length of transit, there is still a risk of damage during loading and unloading at terminals throughout the course of transit. A partial or dedicated truck may be a less competitive rate, but shippers could save money in the long run by avoiding damages and shortening the transit time.
Businesses looking to move construction equipment and materials can expect to experience quite a few "oh ship!" moments unique to the industry. Planning, researching, and serious attention to detail can help offset any unexpected difficulties that challenge your timeline
–
not to mention your patience. Rest assured, you aren't alone. The shipping experts at PartnerShip are familiar with the distinct challenges that come with shipping construction materials. From understanding the proper trailer type you need to helping classify your freight, we mind the details so you don't have to.