5 "Scary" Shipping Mistakes
10/26/2017 — Jen Deming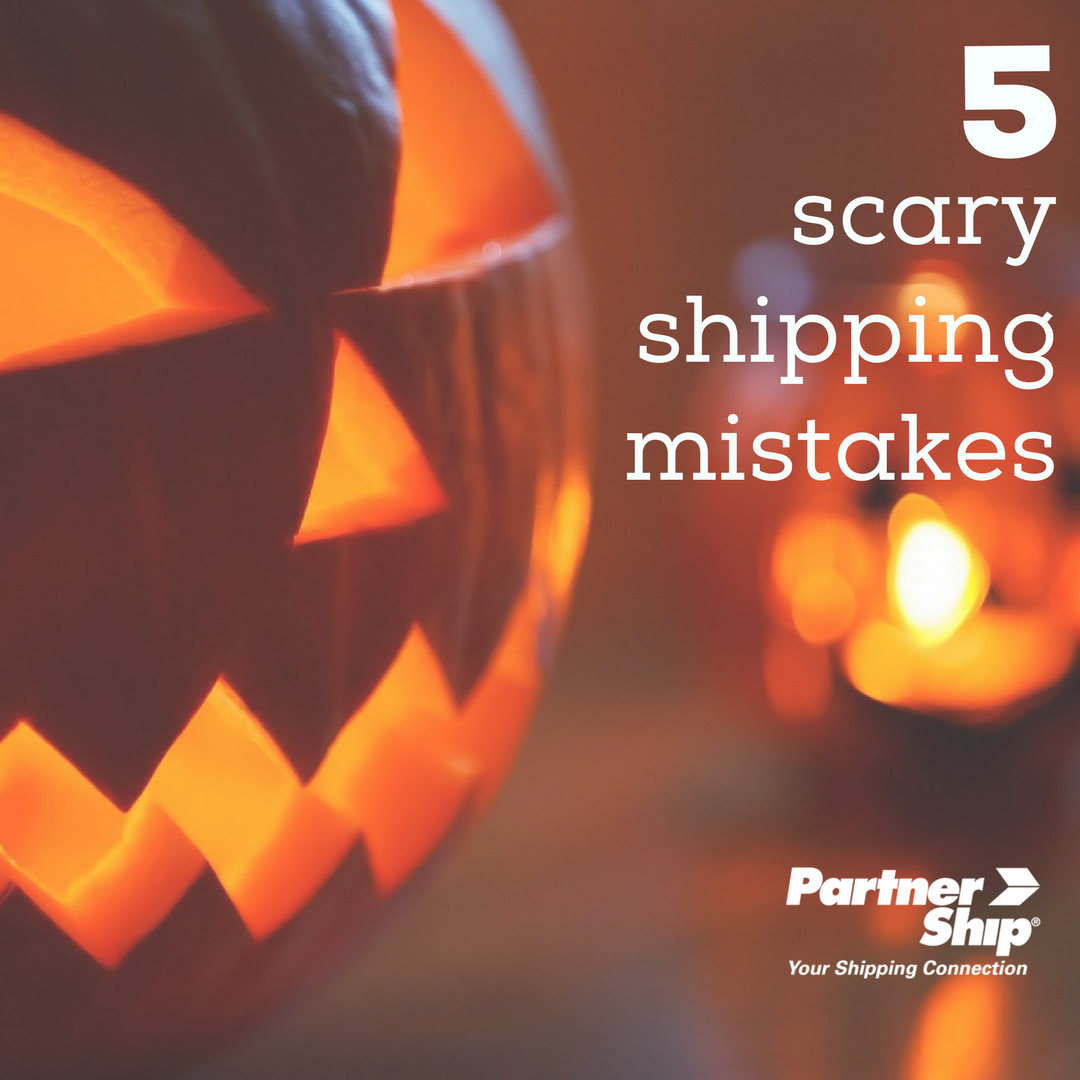 Halloween season is here! As pumpkins are being carved and candy bowls set out, it's also just the right time to discuss some scary mistakes made by shippers. Let's take a look at the top 5 errors commonly made in freight shipping, so we can be sure your fall business is full of treats, not tricks!
Mistake #1: Improperly Packaging Your Shipment
The first mistake freight shippers make happens even before a pick-up is scheduled and the load is in transit! Packaging your product critically protects from damages both during the move and unloading at multiple terminals. Whether you are shipping in boxes or on a pallet, it's important that both are sized just right, and in solid condition. In fact, a box can lose up to 50% of its structural integrity after a single shipment. Too much space can allow your product to shift, which can increase opportunity for damage. Use proper cushioning and foam inserts, as well as exterior wrapping especially if you have multiple pieces. Be smart, try to group multiple units into a single load so they do not get separated during the move.
Mistake #2: Bill of Lading (BOL) Errors
Another scary shipping mistake concerns paperwork errors. These include details such as entered weight, freight class, and shipping addresses provided on the BOL. All three are elements that help determine a freight rate for your shipment. Any errors made on these factors will most likely cause a discrepancy and an increase in rate due to re-weigh fees, adjusted classes, and re-delivery charges if an address is invalid or incorrect. Holding a shipment at a terminal for any length of time while determining the appropriate address can incur holding fees as well. Often, shippers will intentionally use a lower class than what is accurate for their shipment, hoping to slide by inspection. If flagged, the shipment will be billed at the higher actual class, and the shipper will be responsible for the difference. Guessing approximations for weight is risky too, because if the discrepancy is caught, the shipper will pay a re-weigh fee and the difference in weight. Having accurate details on your shipping paperwork is key in avoiding unplanned shipping costs.
Mistake #3: Forgoing Additional Insurance Coverage
A third scary shipping mistake refers to insurance and liability. This becomes extremely important in the unfortunate case that your shipment should become lost or damaged. Each carrier offers limited liability on freight shipments, with the amount of coverage set at a fixed dollar amount per pound of freight determined by carrier and commodity. It is the responsibility of the shipper to prove that the shipment was in good condition and packaged correctly at pick-up. The carrier will then attempt to prove that it was not negligent or responsible for the damages incurred in transit. The final approval or denial of the claim can take some time, and you cannot always count on getting damages paid out, no matter how thorough you are. Your best line of defense is looking into supplementary insurance. Freight insurance acquired on your own or through your shipping partner provides more protection than relying on the carrier alone. Even if you do win a claim and get paid out by the carrier, liability may be limited, and you may not get the full amount of your claim. Purchasing additional insurance can help, and it's important to understand your policy before you ship. PartnerShip understands you need peace of mind, and we offer supplementary freight insurance at a minimal additional cost as an option on all freight quotes.
Mistake #4: Choosing the Incorrect Service/Accessorials
Most carriers offer different time-sensitive service levels depending on the urgency of your freight shipment. Expedited, guaranteed, time-critical, and truckload are a few. Guaranteed services help you stick to a delivery schedule with a specified on-time delivery, by either 12 PM or 5 PM. Expedited and Time-Critical services offer faster transit times and a more urgent delivery. All of these services tend to be costly, so it is important to determine what your transit time needs are, well in advance. Delivery schedules can be delayed due to inclement weather, missed pick-ups, and a heavier shipping season. Building extra time into a delivery deadline can help avoid unnecessary expedited costs that add up, especially as we head into the holidays.
Another common error that shippers make is neglecting to add-in the cost of additional services, or accessorials, when they get their freight quotes. Be mindful of what is needed at the shipment's origin or destination. Does the shipper need a lift-gate at pick up? Do they have a dock? Is it being delivered to a residential location, or at a school or construction site? Chances are, there's a fee for that. It's important to learn everything you can about pick-up and delivery services that may be required, and inform your carrier or service provider before you get a rate for your freight.
Mistake #5: Leaving Inbound Shipping to Vendors
A final, costly error that many shippers make is leaving inbound shipping decisions completely up to their vendors. Commonly, businesses may allow the vendor shipping your order to arrange with their own carrier choice, marking the freight charges as "Prepaid," and then including those charges in your invoice. Taking control of your inbound shipping is one of the easiest ways to cut your shipping expenses, and working with a 3PL such as PartnerShip is one way to make sure you are saving on your inbound freight.
At PartnerShip, we can provide an inbound shipping analysis by looking at what you pay and whether we can save money on your shipping costs. Our team can contact your vendors on your behalf, create updated routing requests, and inform them of your specific shipping instructions. We offer consolidated invoicing and audit all of your inbound freight bills for accuracy. Think you might be able to save on your outbound shipment? We've got your back on those, too.
Keeping your shipping costs low and your freight safe may seem intimidating, but it doesn't have to be scary. When you work with PartnerShip, our shipping experts will double check shipment details, compare your pricing, and make sure you are covered from pick-up to delivery. Take your freight shipping from spooky to stress-free and contact us for a free shipping analysis!