5 Freight Broker Benefits You Can't Afford to Pass Up
03/23/2022 — Jen Deming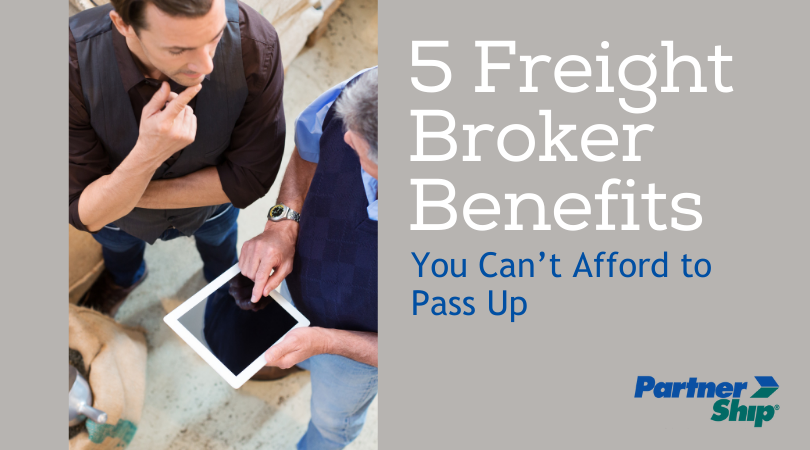 If you're shipping freight, then it's likely you've heard the term 'freight broker'. But maybe you've wondered what they actually do or why you should bother using them. A freight broker acts as an intermediary between a shipper and a carrier - they help shippers find quality transportation providers for their loads. Brokers, also known as 3PLs, can manage every step of the shipping process and help alleviate some work, especially if you're low on time and manpower. Whether or not you consider yourself a seasoned freight shipper, here are five freight broker benefits that will help level-up your shipping procedures.
Benefit #1 – Freight brokers offer guidance if you're just getting started
If your business needs have shifted recently, and you need to start using services for larger loads, your shipping department may be a little stuck getting past the basics. Stepping up from shipping small packages to shipping freight is an entirely different ball game. Packaging and pricing strategies differ, as well as the amount of work your team needs to put in during loading. Now is the time to look for assistance from experts, because by going in blindly, you may encounter a variety of pitfalls that result in damaged shipments or expensive bills.
Freight brokers can help get you started off on the right foot by getting to know your business and what you need to ship. They can assist by researching freight classes and determining any special equipment or packaging needs. A great broker can also help with quoting and booking procedures, by scheduling pick-ups and getting all parties any necessary paperwork. After pick-up, they will proactively track your shipment and provide updates, so you can stay on top of your freight's progress.
New freight shippers can be surprised how many checkpoints a load will encounter throughout transit. And with that, how many chances something may go wrong. For issues along the way, such as transit delays, inspections, or missed deliveries, freight brokers can troubleshoot quickly. Fixing these obstacles can take a lot time, a bit of run-around, and quite a few phone calls, so working with a broker can help shippers avoid that stress entirely. Many freight challenges stem from a lack of communication between shippers, consignees, and carriers, so brokers can act as conduit between the three and clear up matters quickly.
Benefit #2 – Brokers are your inside access to better freight rates
If you could save money on your freight shipping, you'd do it right? Better prices sound appealing, but it can be hard for small and medium-sized businesses to have enough clout with a carrier to get great discounts. 3PLs have strong shipping volumes, and working alongside one can be that extra boost you need to access better pricing. Freight brokers can both leverage carrier relationships for discounts (passing them on to you), and may have a broader pool of carriers that offer budget-friendly options.
To really evaluate where you are at with your freight spend, brokers can also conduct audits on your current procedures. By looking at your past invoices, brokers can identify any areas that you may be spending more than average and check for opportunities to cut costs or increase efficiency. For example, by reviewing accessorial charges like recurring liftgate fees that are being implemented by the carrier, a quality 3PL can help identify potential solutions to eliminate or offset those costs. This may mean suggesting equipment solutions at your warehouse, or looking into alternate carriers who charge less for extra services. There are many ways you can manage your freight budget, but without expert assistance, you may be stuck wasting money while trying to find solutions.
Benefit #3 – Brokers are your advocates in the case of freight claims
Freight claims are a dirty word in this business, and a top stressor for any shipper. Should you find yourself in that predicament, however, working with a freight broker can give you a leg up during the claims process. Freight carriers can be difficult to work with – their primary goal is to limit payouts whenever possible. Because there are so many steps and policies you have to follow, it's best to have an expert on your side who's done this a few times before.
A broker can often help set you up for success by making sure you have as many pieces of documentation backing up your claim as possible. They can educate you on the process and make sure you're submitting the proper paperwork and adhering to any necessary deadlines. A qualified broker can help you understand the differences between carrier liability and freight insurance, and be your advocate during any negotiations and follow-up.
Benefit #4 – Freight brokers give you access to more quality carriers
Freight brokers work with many different carriers, and by using a broker, your pool of shipping options broadens greatly. This is a great benefit on a variety of levels. For example, if you're experiencing consistent issues like damages, timeliness, and reliability with one of your carriers, having access to some new options could be just what you need to eliminate the problem.
With the worldwide freight crisis hanging overhead, it's also a smart move to have as many carrier options available as possible. Many shippers have found it challenging to secure a quality carrier that meets their needs and budget. The more options you have, the more likely your freight is going to be picked-up and delivered on time.
Benefit #5 – If you're stumped on a load, they've got options
Freight brokers are experts at putting out fires - they've seen it all. If you have a shipment that needed to be delivered yesterday, brokers can help navigate expedited options that balance service level and budget needs. Or maybe your load needs a specialized piece of equipment like a box truck or flatbed. A freight broker will be able to quickly access a large pool of carriers to ensure you have the coverage you need. For any kind of tricky freight loads, a quality broker can help guide you through the process.
The case for using a freight broker
Gaining the benefits associated with working alongside a freight broker can be a game-changer for your business. The ins-and-outs of freight shipping can be complicated, and while you can try to navigate them on your own, it's always better to have an expert on your side. PartnerShip can help guide your team and help answer any questions you may have on whether working with a broker is right for your business.