2021 Year-End Planning for Your FedEx and UPS Shipments
11/15/2021 — Leah Palnik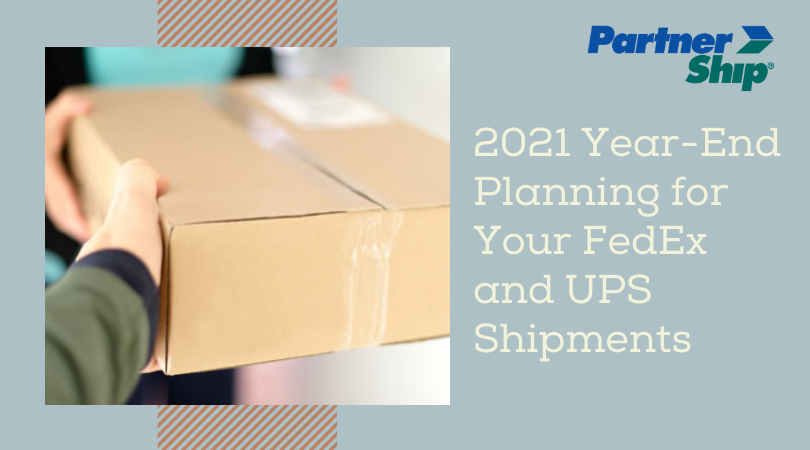 The end of the year is usually pretty hectic for a lot of businesses, but 2021 is proving to be one for the books. As you navigate the holiday season and prepare for the year ahead, you'll want to heed our warnings for your FedEx and UPS parcel shipments.
Ship early
We can't stress this enough. Delays are becoming more common and will likely get worse the closer we get to Christmas. The FedEx and UPS networks are very strained right now. Fueled by the pandemic and all of its ripple effects, demand for parcel services is at an all-time high. Both FedEx and UPS have suspended service guarantees for their ground services and some of their air/express services, which means you can't leave things up to chance. Ship early and build in plenty of extra time where you can so you don't run into major disruptions.
Review holiday shipping deadlines
For retailers, this is especially important. As customers place their orders for holiday gifts, they'll want to know that they'll receive them before the big day. FedEx and UPS have released their shipping deadlines, so make sure to review them and plan accordingly. That way you'll be able to manage expectations appropriately and keep your customers happy.
Prepare for the 2022 rate increases
Don't sleep on the fact that after you make it through the holiday season, your FedEx and UPS rates will be going up. Both carriers announced that they will be increasing their rates by an average of 5.9%. It's tempting to take that announced average and budget for your costs to go up by that much, but unfortunately it's not that simple.
How much your rates will go up in the new year will largely depend on which services you use, your package characteristics, and where you're shipping to/from. That 5.9% average also doesn't account for surcharges which can drive up your costs even more. If this all sounds like a major analysis that you don't have the time to conduct, you're not alone. That's why we've reviewed the updated rate charts for you. Download our free guide to see a full analysis of what you can expect.