2018: The Year of the Truck Driver
12/06/2017 — Jen Deming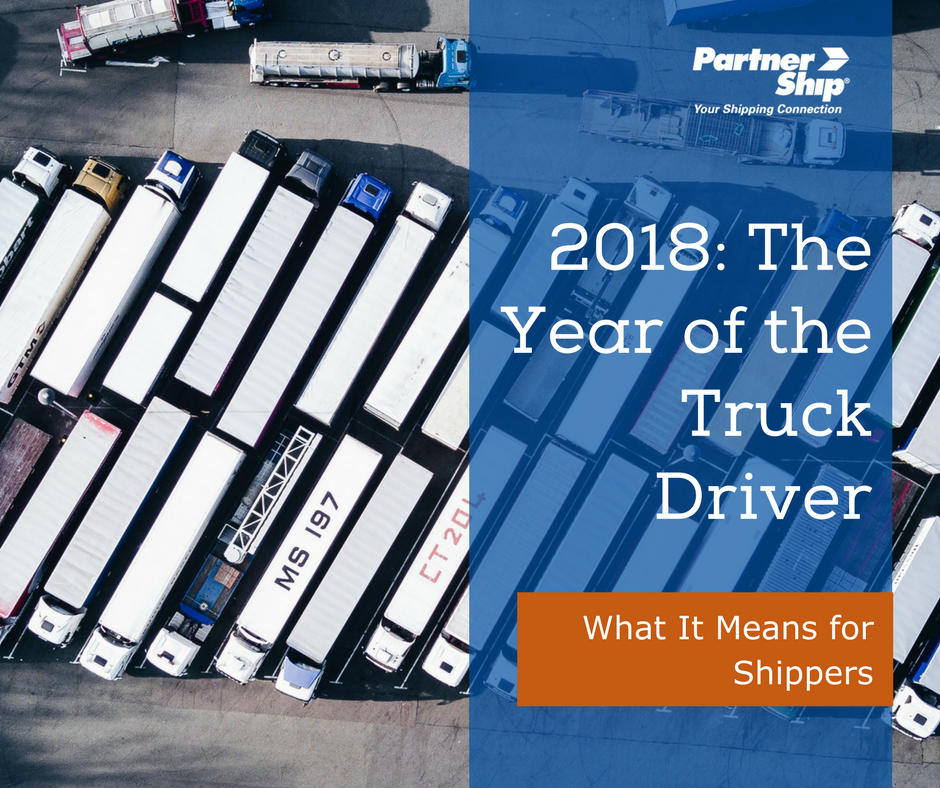 Ringing in the New Year means starting fresh and anticipating big changes for future, and truck drivers may be looking forward to 2018 more than anyone. The ELD mandate, driver shortages, fuel costs, and e-commerce boom are all components that leverage trucking companies' ability to determine cost and coverage.
As we covered in our previous blog post, truckload rates are going up due to a number of different factors. That means that drivers and trucking companies are going to be behind the wheel when it comes to determining how much shipping lanes will be going for. Having this leverage pushes the shipper to the passenger seat, with the potential for less bargaining power and high shipping costs heading into the new year.
A significant factor contributing to the higher truckload rates is due to an overall shortage of willing and capable truck drivers. Trucking analyst John Larkin suggests that the slow but steady economic increase will result in stronger demand with tighter supply. "The primary driver of the supply/demand tightness is the economy-wide shortage of skilled, blue collar labor," he says. "While driver pay scales began to rise in the 2nd half of 2017, the starting point for wages was so low, that it may take multiple wage hikes before we see any alleviation of this chronic challenge." The ELD mandate, which will be fully implemented on Dec 18, 2017, may add increased tension to an already volatile scenario. Many drivers view the mandate as an invasion of privacy, and may push an already limited number of qualified and experienced drivers from the pool of available carriers.
The amount of freight being hauled by trucks is expected to increase more than 3% annually over the next five years, as reported by the American Trucking Association. The industry has already seen a 2.8% increase over the past year, and the ATA estimates it could accelerate as much as 3.4% before slowing down again slightly. A notable increase in shipping economy means that though the available trucker pool has dwindled, those who are qualified are more in demand than ever. In addition, because those drivers may have to travel outside their normal area of operations, they can charge a premium. The ATA also reports that trucking will continue to be the dominant freight mode, and in 2017 "approximately 15.18 billion tons of freight will be moved by all transportation modes." The growing economy will further push demand and stretch the pool of available carriers. The ATA estimates that the current 50,000 driver-deficit could expand to 174,000 by 2026.
With that economic push, and labor shortage, truck drivers will demand higher wages and shippers will have to pay. The third-quarter hurricanes are also said to have played a factor, with drivers understandably asking more for lanes they had run at lower rates previously. Additionally, Florida and Texas, the two states hit the hardest by the storms, are typically some of the most reliable recruiting markets for new drivers. Until the economy recovers in these states, the pool of new drivers will be limited, with many potential recruits choosing the recent wave of construction positions over trucking. A jump in driver pay may keep them interested. According to Bob Costello, the American Trucking Association's economist, observes, "We've already seen fleets raising pay and offering other incentives to attract drivers." The driver pay structure is also evolving. Where once most carriers were being paid by load, many are now moving to an hourly pay model, specifically as the ELD mandate takes effect. Either way, with the anticipated changes for the new year, it's safe to say truck drivers and carriers are going to have a huge influence on shipping rates for the near future.
So, now that truck drivers have extra leverage, what can shippers do to help keep down their shipping costs in 2018? Working with a freight broker like PartnerShip can help add value and flexibility to your current shipping options. We shop rates and put in the legwork for you, negotiating on your behalf with carriers for both your LTL and your Truckload moves. If you have questions on how PartnerShip can help manage your shipping costs, call us at 800-599-2902 or get a free quote today!