New to LTL Freight Shipping?
If you've never shipped freight before, it can be confusing, a bit scary, and more than a little intimidating.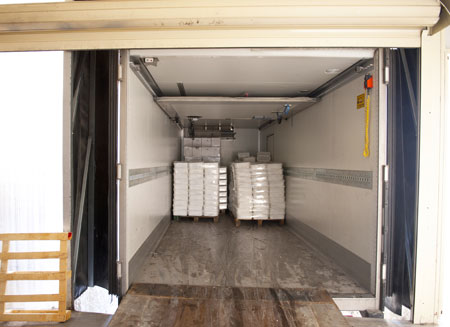 PartnerShip is here to help you ship smarter and answer all of your LTL freight shipping questions. Below are some common shipping terms, definitions, and things to remember when shipping LTL freight. For a more detailed list of shipping term explanations, please refer to our Shipping Terms Glossary.
What is LTL freight?
LTL stands for Less-Than-Truckload, which means the shipment does not completely fill an entire truck. An LTL freight shipment is typically arranged on a shipping pallet and can weight from 150 lbs to 10,000 lbs. Large Shipments over 10,000 lbs are usually moved by Full Truckload (FTL).
Palletizing LTL shipments
When to palletize:
» When pieces fit squarely within the edges of the pallet
» When height and width of shipment pieces are similar
» When individual pieces in a load exceed 100 lbs.
» When individual pieces are less than 84" high
When not to palletize:
» When pieces are light enough to be stacked on top of heavier goods
» When a shipment isn't large enough to fill the surface of a pallet
» When containers have considerable air space and can crush easily
» When the sides of the cartons overhang the sides of the pallet
Damaged or missing pieces of an LTL freight shipment
You should always record and check shipments for shortages, damages, and concealed damages immediately upon delivery.
» Always notify your vendor immediately of short or damaged shipments
» Have the driver precisely document all exceptions on the delivery receipt
» Claims must be filed within 9 months of delivery date
» Contact the carrier within 15 days of delivery date to report concealed shortages or damages
» Never pay for merchandise not received
» Always try to have your vendor file the LTL freight claim
What is an accessorial?
Any additional services required outside of the standard shipping procedure require additional fees from the carrier called accessorials. These include extra services such as:
» Lift gate service
» Inside pickup
» Residential service
» Collect on Delivery (COD)
» Fuel surcharge
» Inside delivery
» Arrival notification
What is the difference between Shipper and Consignee?
The Shipper is the person or company who is usually the supplier or owner of the goods shipped. The Consignee is the person or company receiving the shipment.
LTL freight class
LTL Freight Class refers to the National Motor Freight Classification (NMFC) and it is the category of your LTL freight as defined by the National Motor Freight Traffic Association (NMFTA). Your shipment's LTL freight class determines the carrier's shipping charges. It identifies the size, value and difficulty of transporting your LTL freight.
Bill of Lading (BOL)
Simply put, a bill of lading is the most important document in the shipping process. A BOL is required for each shipment, and acts as both a receipt and a contract. A properly completed bill of lading legally shows that the carrier has received the LTL freight as described, and is obligated to deliver that LTL freight in good condition to the consignee.
Inside pickup and inside delivery
If the driver is required to go inside (beyond the front door or loading dock) to pick up or deliver your shipment, instead of remaining at the dock or truck, additional fees will be charged. When obtaining quotes through PartnerShip shipping tools, please check inside pickup and / or inside delivery and the carrier's fee will be included in your quotes.
Lift gate service
When the shipping or receiving address does not have a loading dock, manual loading or unloading is necessary. A lift gate is a platform at the back of a truck that can raise and lower a shipment from the ground to the truck. Additional fees apply for this service because not all trucks are equipped with a lift gate.
NMFC number
This is the item number that specifically identifies each type of product that can be shipped by an LTL carrier. The National Motor Freight Traffic Association (NMFTA) assigns NMFC numbers to all products along with a LTL freight class. The NMFC number identifies what you are shipping and its LTL freight class.
Collect on Delivery (COD)
A shipment for which the transportation carrier is responsible for collecting the sale price of the goods before they are delivered. The additional administration required for this type of shipment necessitates an additional fee to cover the carrier's cost.
PRO or tracking number
A number assigned by the carrier to reference your shipment. It is also used for tracking your shipment.
Reweigh and inspection fee
If the carrier suspects that the weight or class of your shipment is inaccurate, they will charge a fee to reweigh and re-class your shipment.
How to determine density
Example: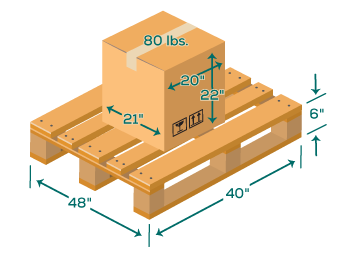 » Length = 48", Width = 40", Height = 28" (22" plus 6" of pallet)
» 48" x 40" x 28" = 53,760 cubic inches
» Convert to cubic feet by dividing by 1,728
Example:
» 53,760 ÷ 1,728 = 31.1 cubic feet
» The density equals the weight, 110 lbs (80 lbs for the carton and approximately 30 lbs for the pallet), divided by the cubic dimension
Example:
» 110 ÷ 31.1 = 3.54 lbs per cubic feet
Can PartnerShip help me save on my LTL freight shipments?
Absolutely! PartnerShip provides a comprehensive inbound and outbound LTL freight management program, designed to take the guesswork out of LTL freight shipping and help you ship smarter and stay competitive. PartnerShip gives LTL freight shippers a full suite of online management tools in addition to great discounts to positively impact your bottom line. And the best part of all — there is no additional cost to you to use the PartnerShip LTL freight management program. Contact Us for more information.