Tradeshow Shipping
Tradeshow shipping is like a blind date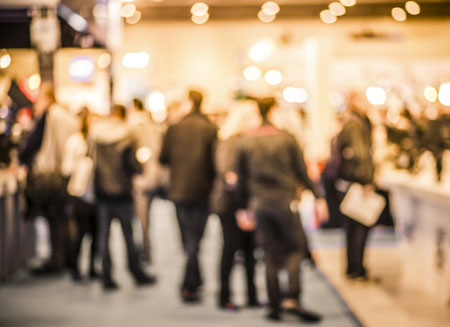 It's nerve-wracking, filled with unknowns, and no matter how well you prepare, there are always surprises. To make tradeshow shipping even more challenging, it is frequently handled by people that don't normally handle shipping; namely, marketing or tradeshow coordination team members.
It can be scary. We understand that. But with a tradeshow expert like PartnerShip helping you, it's much less intimidating.
You can rely on our expert knowledge of tradeshows to help you ship smarter and navigate the complex world of tradeshow shipping. Our dedicated Customer Service Representatives will help you with all of your tradeshow shipping needs — getting quotes, helpful advice to fill out the proper paperwork, scheduling shipments into and out of your show or conference, tracking your shipment, answering invoice questions, and resolving carrier issues.
Getting your tradeshow materials to and from a show demands specialized service and PartnerShip delivers:
» Tradeshow booth and marketing exhibitry, small (LTL) and large (truckload)
» Fast shipping rate quotes
» Help filling out the proper paperwork and shipping documents
» Shipment tracking from pickup to delivery
» On-time delivery guarantee
PartnerShip makes invoice processing easy. You'll receive audited and consolidated invoices for your tradeshow shipping as well as other shipping your company does, and you can pay your tradeshow shipping charges with Visa, MasterCard, or American Express for even further flexibility.
OK, let's get this blind date started!
It's easy to get started with your tradeshow shipping:
» If you don't have a PartnerShip account, use our Quote form to get a no-obligation rate quote on your tradeshow shipment, or call us at 800-599-2902
» If you're ready to create an account, we'll make the experience fast and easy
» If you have questions or need assistance, Contact Us and we'll get back to you ASAHP (as soon as humanly possible)
New to trade show exhibiting? Check out our how-to guide: The 411 on Tradeshow Shipping e-paper