COVID-19 Service Update: Please be advised that many carriers are making changes to their services, including prioritizing essential items and suspending service guarantees.
Learn More »
Coronavirus Updates
03/27/2020 — Leah Palnik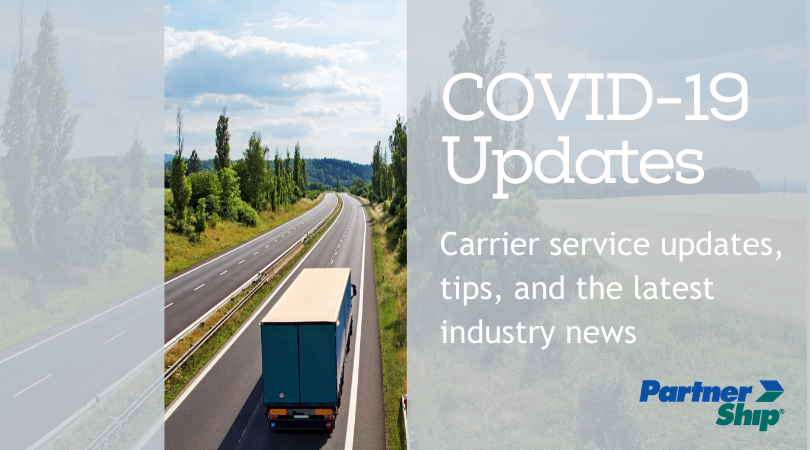 While you've been burdened with adjusting to the new normal that the coronavirus (COVID-19) outbreak has created, know that we are committed to supporting you and keeping your shipments moving.
Though this is an ever-changing situation, we will remain open. We are taking every possible measure to ensure the safety of our staff while also providing you with the same level of service you've come to expect from PartnerShip. Our goal is to minimize any further disruptions to your business.
We continue to monitor the situation and will make any changes needed to continue to serve you. If you have any concerns, we are here to help.
Service Updates
Service guarantees for all UPS Freight LTL services from and to all locations are suspended, with the exception of UPS Freight Urgent Services. Read more.
UPS Freight is prioritizing freight that is deemed essential in areas impacted the most by COVID-19.
All YRC Worldwide companies, including YRC, Holland, New Penn, and Reddaway, have suspended reimbursement for service failures on both guaranteed and time-critical shipments. Read more.
FedEx is suspending its Money Back Guarantee and has adjusted signature guidelines. Read more.
UPS has suspended the UPS Service Guarantee for all shipments. Read more.
Tips
To avoid redelivery fees or returned shipments, check with your recipient and confirm the delivery location will be open and available to accept your freight.
Latest News