Intermodal Transportation
Providing you shipping options is what we do best and intermodal transportation can help you ship smarter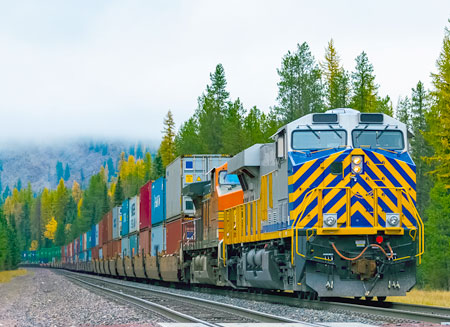 First of all, what is intermodal? Glad you asked! Intermodal transportation is using two modes of freight transportation, typically truck and rail, to move goods from the shipper to the consignee. Intermodal is mainly used for long-haul moves of shipping containers by rail with shorter truck moves at one or both ends, which is called drayage.
Intermodal transportation is another link in your supply chain strategy
Intermodal complements all of the ways you ship your freight. The key benefit of intermodal is that it blends rail and truck shipping and provides efficient and cost-effective freight moves, and is an option to move your freight as access to truckload capacity tightens and over-the-road freight costs increase.
Intermodal is another option in your shipping tool chest and having a competitive alternative to truckload is a great way to ship smarter and stay competitive. Intermodal can be a great value but it can also be complicated. That's the trade-off.
Benefits of intermodal transportation
Intermodal offers benefits that make it a serious consideration for anyone that manages shipping or their organization's supply chain.
» Comparable transit times. Unless you require time-sensitive, expedited service, rail transit times are comparable to truckload shipping transit times.
» Competitive costs. For hauls longer than 1,000 miles, intermodal costs can be 10 – 25% less than truckload pricing.
» Capacity. With increasing pressure on freight shipping capacity, intermodal can open up a new source of capacity for you, and decrease your reliance on truckload capacity.
» More environmentally friendly. The rail system requires less fuel, and by some estimations is four times more fuel efficient than road transportation, so intermodal is considered "greener."
» Drop trailer fees. If you utilize drop trailers, or are considering a drop trailer program, the cost of using containers instead of semi trailers can be significantly lower.
When should I use intermodal?
Intermodal transportation is a great alternative to truckload shipping, but it's not right for every shipper, or in every situation. Here are some instances when intermodal is a good option:
» High volumes in long shipping lanes. It is more efficient to ship ten 40' containers to the same destination using one railroad locomotive than it is to ship eight 53' trailers that need eight trucks to haul them. Lower fuel and driver costs account for this savings.
» Flexibility in transit times. If your freight is not time sensitive and has flexibility in arrival dates and times, intermodal is an attractive option.
» Shipping to and / or from major metropolitan areas. If your freight is being shipped to within 100 -200 miles of a major metropolitan area that has a rail "ramp" (an intermodal rail terminal), it might be more efficient to ship your freight on rail and then truck it the final miles to the destination.
» Many shipments, one location. If you are shipping multiple times from the same origin to the same destination, it may make sense to consolidate your shipments and use intermodal.
» If you are looking for a more eco-friendly shipping method. Intermodal can decrease your carbon footprint because large numbers of containers move together on the rail rather than needing multiple power sources to move them. We are a SmartWay partner, dedicated to improving environmental performance of your supply chain.
Why should I use PartnerShip for my intermodal transportation?
Intermodal can be complicated. There are a lot of variables, a lot of moving pieces, and a lot of factors to consider. With assistance from the freight experts at PartnerShip, we can simplify intermodal transportation, make the process seamless and provide you a single point of contact from pick up to delivery.
Getting Started
If you're interested in learning more about intermodal, call us at 800-599-2902 option 1, or send an email to sales@PartnerShip.com. If you're ready to ship, let us provide you with a no-obligation rate quote.